Again doomscrolling this afternoon to the music of Ukraine still afire, with the flames getting higher.
And an update from the Guardian's live blog not too long ago — results about the same as yesterday, but further along in being worse:
Russian forces stepped up overnight shelling of Ukrainian cities in the centre, north and south of the country on Sunday night, presidential adviser Oleksiy Arestovich has said.
"The latest wave of missile strikes came as darkness fell," he told a Ukrainian broadcaster.
Arestovich said Ukraine's second-largest city of Kharkiv in the north-east was still battling to fend off a Russian attack while all regions of Chernihiv in the north were coming under missile attack.

The official described a "catastrophic" situation in the Kyiv suburbs of Bucha, Hostomel and Irpin, where efforts to evacuate residents on Sunday failed.
He said the government was doing all it could to resume evacuations, the Associated Press reports.
There's a massive number of news sites to keep up with the general direction of the invasion, but no really precise knowledge of how bad Putin's army is doing, generally really badly, but there's so much misinformation, the bottom line numbers can be confusing. Putin's media war is a doozy:
This story is actually kind of nuts https://t.co/MYB1TtLcSx

— Molly Jong-Fast (@MollyJongFast) March 6, 2022
A must-read full story at Vice from Friday — highpoints:
A Kremlin-backed media outlet masquerading as a left-wing news source has spent the last week racking up likes and shares on its viral content designed to undermine U.S. support for Ukraine.

If you've spent much time on Twitter, Facebook, or Instagram over the last week consuming content about the war in Ukraine, you've probably come across a map showing locations of airstrikes around the world.
…
Left-leaning accounts that visibly support progressive causes like Black Lives Matter or LGBTQ rights were the majority of those sharing the image. All of them ignored the obvious issues with the map, like the fact Russia played a significant role in bombings in Syria. Instead, they earnestly urged their followers not to forget about wars happening in parts of the world that are not Ukraine.

What none of them pointed out, and likely none of them even knew, is that the image had been created by the Kremlin.
As I said, go read the whole piece, but it looks to be that the whole Putin-influenced shit is too much spent on getting way-less back.
Especially appealing to the world is music impromptu during a way-unjust, and horrific war.
Traveling through the station:
Outside Lviv station, which is thronging with exhausted refugees fleeing war in eastern Ukraine, an accomplished pianist is playing "What a Wonderful World." It's hauntingly beautiful. pic.twitter.com/Xm5itr8jl7

— Andrew RC Marshall (@Journotopia) March 5, 2022
Or waiting for the all-clear, scared shitless:
A girl in a bomb shelter plays the violin composition «??? ??? ???????» pic.twitter.com/VdGz7tdkoD

— NEXTA (@nexta_tv) March 6, 2022
And the horrible, awful sound of war:
Ukrainian infantry showing good small unit tactics consistently in this war. Effective ambush on isolated Russian tanks in rural terrain here. https://t.co/xJPObKx9bU

— Neil Hauer (@NeilPHauer) March 6, 2022
Miss Emily Dickinson responds — "It feels a shame to be Alive"
It feels a shame to be Alive—
When Men so brave—are dead—
One envies the Distinguished Dust—
Permitted—such a Head—

The Stone—that tells defending Whom
This Spartan put away
What little of Him we—possessed
In Pawn for Liberty—

The price is great—Sublimely paid—
Do we deserve—a Thing—
That lives—like Dollars—must be piled
Before we may obtain?

Are we that wait—sufficient worth—
That such Enormous Pearl
As life—dissolved be—for Us—
In Battle's—horrid Bowl?

It may be—a Renown to live—
I think the Man who die—
Those unsustained—Saviors—
Present Divinity—
Yet despite the 'wait-sufficient worth,' here we are once again…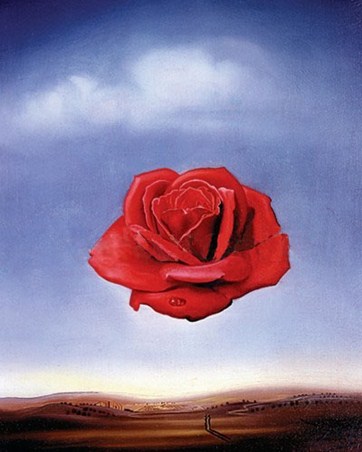 (Illustration out front: Salvador Dalí's 1958 painting, "Meditative Rose," and found here)