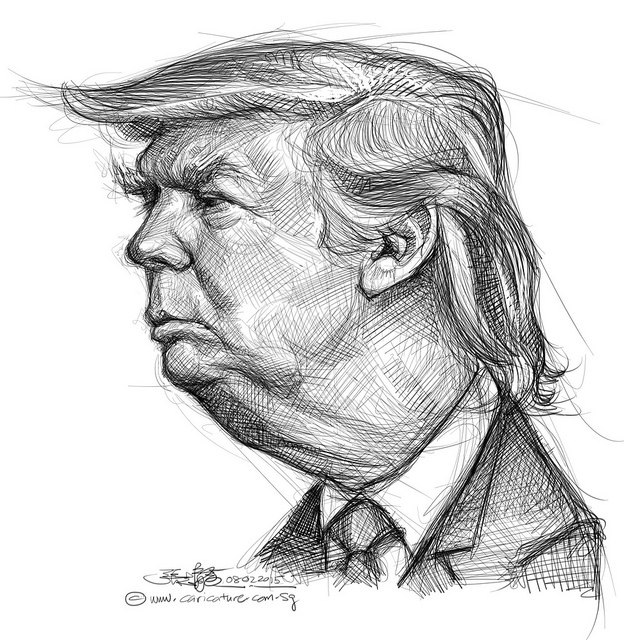 (Illustration: Donald Trump, 'Basic Shapes,' by caricaturist/illustrator Chong Jit Leong, found here).
As anticipated today, a couple of legal droppings on News Dump Friday. The first was for the T-Rump's former trickster-lawyer, Michael Cohen, a pair of sentencing memos  — and the second, a filing against the T-Rump's way-back campaign chairman, Paul Manafort. Apparently, a legal ratcheting-up of T-Rump criminal doings.
Those 'memos' on Cohen: One came from Bullet-Bob Mueller, the other from federal prosecutors in the Southern District of New York. And maybe for the first time, the phrase 'unindicted co-conspirator' sounds finally in tune.
Keep in mind, "Individual-1" has been identified as the T-Rump:
"During the campaign, Cohen played a central role in two similar schemes to purchase the rights to stories — each from women who claimed to have had an affair with Individual-1 — so as to suppress the stories and thereby prevent them from influencing the election.
With respect to both payments, Cohen acted with the intent to influence the 2016 presidential election.
Cohen coordinated his actions with one or more members of the campaign, including through meetings and phone calls, about the fact, nature, and timing of the payments.
In particular, and as Cohen himself has now admitted, with respect to both payments, he acted in coordination with and at the direction of Individual-1.
As a result of Cohen's actions, neither woman spoke to the press prior to the election," the memo read.
In my own self, the headline at Raw Story reminded me of a time long, long/not-so-long ago — the lede and main point in this New York Times story, dated June 7, 1974:
WASHINGTON, June 6—President Nixon was named last February by a Watergate grand jury as an unindicted co-conspirator in the alleged attempt to cover up the Watergate burglary, his lawyer, James D. St, Clair, confirmed today.
…
It is expected to have a significant impact on the upcoming trials, tying in the President's remarks and meetings with aides in the Watergate matter as possible evidence in the case, rather than excluding them as merely comments of an outsider whose aides were conspiring.
Meanwhile into the nowadays and a reminiscence of malfeasance is not far off for the T-Rump's used-to-be "Fixer" (BoingBoing): '"A substantial term of imprisonment is warranted," writes the Southern District of New York. The guidelines from Michael Cohen's plea agreement call for a prison term of between 46 and 63 months.'
Deputy US attorney Robert Khuzami of the SDNY scolds: '"After cheating the IRS for years, lying to banks and to Congress, and seeking to criminally influence the Presidential election, Cohen's decision to plead guilty — rather than seek a pardon for his manifold crimes–does not make him a hero."'
Mueller's version was a little more lenient (the Boston Globe):
Cohen's decision not only to admit to his prior false statements in proffer sessions with the Government, but to plead guilty to his criminal conduct in open court, demonstrates that Cohen has taken responsibility for his wrongdoing and is willing to face the consequences.
Cohen's acceptance of responsibility for this offense conduct is a significant mitigating factor given the circumstances of this case, his prior relationship with Individual 1 and the Company, and the intense public focus on this investigation.
Again, the noted "Individual 1" makes an entry.
The R-Rump must be feeling shitty, yet still delusional (HuffPost): '"Totally clears the President. Thank you!" Trump tweeted.'
Facts are still legal, however (Law&Crime):
We already knew that when Cohen entered a guilty plea in the SDNY he admitted that Individual-1 "directed" him to commit campaign finance violations by arranging hush payments to porn star Stormy Daniels and Playboy model Karen McDougal.
…
Then came to key line: "In particular, and as Cohen himself has now admitted, with respect to both payments, he acted in coordination with and at the direction of Individual-1."
…
But now we're seeing that in a court filing for the first time, which, as some legal observers have noted with varying emphasis on the fact, means federal prosecutors have concluded that Trump directed someone to commit a crime, which is a crime.
Put another way, SDNY prosecutors believe the president directed and coordinated felonies.
…
"Just to make it crystal clear, New York federal prosecutors concluded that the President of the United States committed a felony," said former federal prosecutor Renato Mariotti.
And in that separate Manafort filing, the consequences of lying could be shitty (The Hill):
The filing details four topics on which Manafort is alleged to have misled prosecutors.
These also include his interactions with Konstantin Kilimnik, a Russian who ran the offshoot of Manafort's firm in Ukraine and who was charged alongside Manafort with witness tampering earlier this year.
An earlier filing from Mueller suggested the FBI believes Konstantin had ties to Russian intelligence in 2016. Kilimnik has remained out of reach of U.S. prosecutors.
…
The filing also says that Manafort made "inconsistent statements" to investigators about a $125,000 payment he made to an unnamed firm working for him in 2017.
Finally, prosecutors allege that Manafort misled Justice Department officials working on a separate investigation, that is not described, by providing different versions of events about a subject relevant to the probe before and after his plea agreement.
Mueller said Manafort told "multiple discernible lies" in interviews with the special counsel's office and the FBI that "were not instances of mere memory lapses."
And like a shitload of previous legal-Mueller shit, only a redacted version was made public.
Maybe, just maybe the T-Rump's time will be shortened…