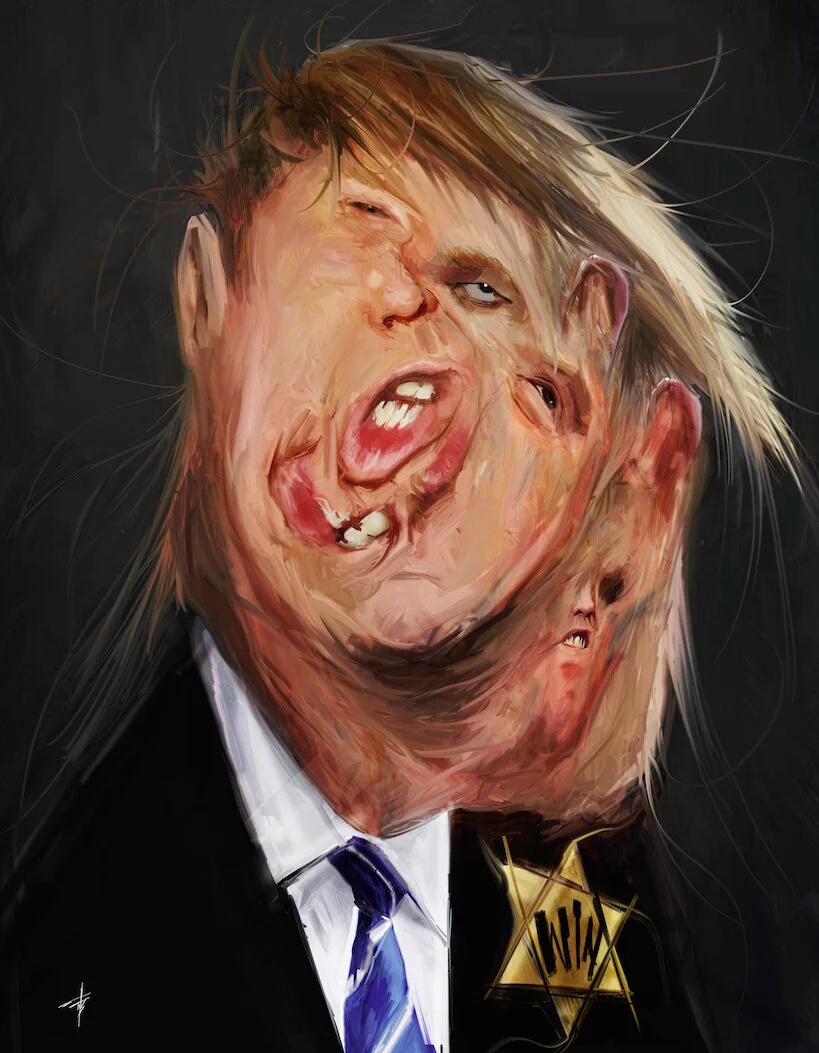 (Illustration: 'President Trump,' by Jonathan Bass, found here).
An outstanding Thursday here on California's north coast, bright, warm sunshine and clear skies for just about all day, and now in early evening, a bit of the winter chill, but nice outside.
Rain still forecast for tomorrow, and accordingly drizzle/showers/rain through the middle of next week.
In this delicate era of the T-Rump, where crazy shit happens near-daily, the dust-up with the intelligence community is both dumb-ass, and scary-as-shit — one of long list of scary shit in a worldwide way.
Last Tuesday, Christopher Wray, FBI director; Gina Haspel,  CIA chief; and  Director of National Intelligence Dan Coats (along with a ton of subordinates) testified before a Senate Intelligence Committee on the topic, "worldwide threats," and supplied a contradiction of reality: 'The intelligence chiefs' assessments broke with some past assertions by Trump, including on the threat posed by Russia to U.S. elections and democratic institutions, the threat Islamic State poses in Syria, and North Korea's commitment to denuclearize.'
And the T-Rump had a shit-fit, tweeting early Wednesday: '"The Intelligence people seem to be extremely passive and naive when it comes to the dangers of Iran…Perhaps Intelligence should go back to school!"'
And today (CNN):
President Donald Trump claimed Thursday that his intelligence chiefs, including Director of National Intelligence Dan Coats and CIA Director Gina Haspel, told him that they were misquoted when they publicly contradicted him during public on-camera testimony.
He made the claim a day after he tweeted that "Intelligence should go back to school!"
"They said they were totally misquoted and totally taken out of context," Trump said when asked by CNN if he raised the testimony with Coats and Haspel during his daily briefing on Thursday.
"They said it was fake news," Trump said.
An editorial late yesterday afternoon in the Washington Post:
On the facts, there's not much question: The intelligence community is right, and Mr. Trump is wrong.
Iran's behavior has not changed.
As in the last year of the Obama administration, Iran continues to pursue hegemony over Syria and Lebanon by violent means, while — as U.N. inspectors have confirmed — keeping its nuclear program on ice.
North Korea struck accords with both the Clinton and George W. Bush administrations that went far beyond that so far reached between Mr. Trump and Mr. Kim, who has not stopped North Korea's production of missiles and warheads. And so on.
…
Will overseas adversaries be emboldened by the sight of a president who feels compelled to publicly disparage his own intelligence community of 17 agencies and more than 100,000 people?
Daniel Coats, the director of national intelligence, and Gina Haspel, the CIA director, deserve credit for not ducking the responsibility to brief Congress and the nation forthrightly on the threats they see, even though they must have known Mr. Trump was likely to disagree.
They did leave one serious threat off their list: that of a president mired in his own delusions who refuses to hear the truth..
And the terror/horror — after the security/intelligence briefing this morning (Newsweek):
President Donald Trump admitted he had not read an intelligence report when speaking to the press on Thursday.
But that did not stop him criticizing how the press had reported on it.
"I didn't see the report from the intelligence," Trump said, before curiously adding, "When you read it, it is a lot different than what is covered in the news."
Due to your own idiot mouth/tweet bullshit.
And how can you tell the difference? You just admitted you haven't 'read it.'
We be fucked bad if something serious happens, requiring intelligence……