Sunny and pleasant this late-afternoon Wednesday here in California's Central Valley — rain maybe tomorrow, but that's another day.
Let's just wait and see as weather is always dry nowadays even when it's dampishly wet.
Scrolling the news cycle has hardened into some horrible shit, from physical brutal, deadly and bloody like in Ukraine (or less noticed similar shit happening in Ethiopia, Syria, Yemen, among others) to the crazy, cruel Republicans in America (mind-blowing just how ultimately-pure shitty the GOP — absolutely-destructively worthless) trying to straddle life with outrage toward everybody/everything not a white asshole. So you can see, shitty the news scroll and I find it hard to grasp a few items for a post. All is shit.
And then I came across this horror tweet — a circle of despair:
At 10 years old, Vanda Semyonovna Obiedkova survived the Germans by hiding in a basement in Mariupol.
81 years later, she died in a basement in the same city as a victim of the horrific war hiding from the Russians.

Read more: https://t.co/6QPx6vahFh pic.twitter.com/TyjiyfK09A

— Auschwitz Memorial (@AuschwitzMuseum) April 19, 2022
Sad, wild story via Chadbad.org yesterday:
As she lay dying in a Mariupol basement, freezing and pleading for water, Holocaust survivor Vanda Semyonovna Obiedkova wanted to know only one thing: "Why is this happening?"

Ill and emaciated during the last two weeks of her life, the 91-year-old could not even stand up. She died on April 4, not peacefully of old age in her own bed, but as a victim of the horrific 21st-century war that has engulfed her hometown.

"Mama didn't deserve such a death," says Obiedkova's daughter, Larissa, through tears, just hours after arriving with her family in a safe location.

She had watched helplessly as her mother's life ebbed away, remaining at her side until the last moment. After her mother passed away, Larissa and her husband risked their lives to bury Obiedkova, amid non-stop shelling, in a public park less than a kilometer from the Azov Sea.

"The whole Mariupol has turned into a cemetery," says Rabbi Mendel Cohen, director of Chabad-Lubavitch of Mariupol and the Ukrainian port city's lone rabbi.
Obiedkova and her family had long been active members of Mariupol's Jewish community, the matriarch regularly receiving medical aid from Cohen's synagogue.

"Vanda Semyonovna lived through unimaginable horrors," the rabbi says.
"She was a kind, joyous woman, a special person who will forever remain in our hearts."

Since the war began, Cohen has been working full-time to evacuate community members from the inferno, working the phones even on Shabbat, and most recently, Passover. Earlier this week he was able to evacuate Larissa and her family.

Vanda Obiedkova was born in Mariupol on Dec. 8, 1930. She was 10 years old in October of 1941, when the Nazis entered Mariupol and began rounding up the city's Jews. When the SS came to the family home and took away Vanda's mother, Maria (Mindel), the little girl managed to evade arrest by hiding in a basement.

"She couldn't scream; that's what saved her," says Larissa.
…
When the shelling and bombings began in the beginning of March, the family moved into the basement of a neighboring heating-supply store. The only assistance the family received throughout that time came from Rabbi Cohen's synagogue and community center.

"There was no water, no electricity, no heat — and it was unbearably cold," she says.
Larissa spent all her time caring for her immobile mother, but "there was nothing we could do for her. We were living like animals!"

Two snipers had set up positions near the closest sources of water, making every trip there intensely dangerous aside from the bombs raining down from the skies.

"Every time a bomb fell, the entire building shook. My mother kept saying she didn't remember anything like this during the Great Patriotic War [World War II]."
A most-incredible story, and Vlad Putin has a shitload of blood on his Russkie hands.
Despite the shit, we continue as once again here we are…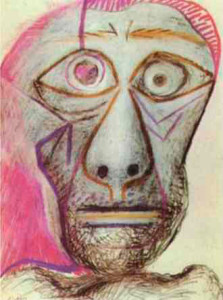 (Illustration out front: Pablo Picasso's 'Self Portrait Facing Death' [June 30, 1972], was originally found here).