Hot and delightfully breezy this late-afternoon Tuesday here in California's Central Valley – although it should be boiling and the air heavy as shit (supposedly right now we're just one-degree shy a hundred), the outside ambience is not so bad, making 'delightfully breezy' a true and poetic weather report.
Wind can shift the sense of well-being sometimes.
In that nut-whacked context, the fourth hearing of the House select committee investigating the Jan. 6 seditious insurrection at the US Capitol was held today, and once again it was 'Must-See TV' with another primer in one location of "a coup in search of a legal theory" carried out by cruel, nasty idiots.
The stories surrounding today's witnesses — Georgia's Secretary of State Brad Raffensperger and Gabriel Sterling, Raffensperger's chief operating officer — were not new, but become really potent when emotionally described/commented on in a public setting. If you follow the news at all you should be familiar with Raffensperger and Sterling from long ago (year-and-a-half) and their run-ins with the T-Rump (especially T-Rump's infamous phone call to Raffensperger four days before the Capitol riot/coup attempt), but hearing the break-down of the call and the illegal-by-far bullshit thrown around by the Orange Turd out in an open hearing is really good.
And in sound effects, emotional, too.
Along with the two Georgia guys, on tap was testimony of Rusty Bowers, not only describing election tomfoolery but the threats of personal violence instigated by the T-Rump's election lies (CBS News):
The Arizona House speaker also described what his personal life has been like since the election. In emotional testimony, Bowers said that until "very recently," his family had begun to dread Saturdays, when Trump supporters would drive around his neighborhood and falsely announce that he was a "pedophile" and a corrupt politician. He recounted an argument between a neighbor and a man with a pistol, and also talked about the reactions of his family.

"At the same time, on some of these, we had a daughter who was gravely ill who was upset by what was happening outside and my wife, that is a valiant person, very strong, quiet, very strong woman," he said, growing emotional. "So it was disturbing."
Bowers did not mention that in early 2021, his daughter died after her illness.
Also testifying today was Fulton County election worker Wandrea Arshaye ("Shaye") Moss, who showcased a horrible, crucial side effect of T-Rump's illegal, immoral crusade is ordinary folks:
Election workers Shaye Moss and Ruby Freeman are heroes on the front lines of our democracy – who never should have had to experience this vile, racist hatred. There must be accountability. #January6thHearings https://t.co/vLaBeIHnwu

— Jonathan Greenblatt (@JGreenblattADL) June 21, 2022
Moss has suffered needlessly — T-Rump doesn't give a shit:
Moss said that her life had been upended since the election.

"I haven't been anywhere at all — I gained about 60 pounds, I don't do nothing anymore, I second-guess everything I do," Moss said.
"It's affected my life in a major way, in every way. All because of lies for me doing my job, same thing I've been doing forever."

Moss said that she and none of her colleagues at Fulton County still work there.
A case of the deep, sweltering impact of the T-Rump's full-scale attempt to remain in power despite the overwhelming evidence of a fair and just election. Moss does reveal the near-hidden racism this shit produces.
Rayne at Emptywheel this afternoon noted the situation correctly and acutely:
Many of us are shocked, angry, dismayed by the harrying intimidation Moss and her mother and grandmother endured simply because Moss and her mother were election workers. Some of us have been moved to tears.

But what we're missing is what Dr. Johnson avoided saying in his care to avoid offending white Americans with 'performative Blackness'.

What was described by the testimony today was the mobilization of a lynch mob.

When watching or reading news coverage of today's hearing, written, produced, and delivered by predominantly white Americans, listen closely for the generalization of terror. Election workers in multiple states were all subjected to harassment by angry protesters incited by Trump.

But Shaye Moss and her family endured another layer of terror — that of recognizing the horror aimed at Black Americans since the Civil War for having the temerity of exercising their rights as citizens, for supporting others' right to vote.

As Johnson explained it, election officials — all of them white — were able to avail themselves of some security provided by the state due to their governmental roles.

But Moss and her mother and grandmother were only election workers, not officials.

They were on their own to work out how to protect themselves from the threat of mob violence over months' time.

The white election officials will go on about their lives, perhaps facing the occasional in-your-face annoyance from Trumpers, but they won't have to worry they'll continue to be targets of violence.

Moss and her family know how lynch mobs work. Her visually obvious stress today may reflect this deep cultural knowledge unfamiliar to white Americans.

This is not to minimize the experience of officials like Rusty Bowers, whose daughter was not only seriously ill but likely mortally so as she passed away 22 days after January 6. It must have been horrifying to know his wife and daughter were subjected to harassment at such a critical time in their lives.

It must have horrifying to know one's young teen was alone at home in the case of another election official, unable to predict how the protesters would act as time went on.

Neither, though, were targeted simply for being election workers who were Black in a white-minority county, doing their jobs while not having any authority to change anything about the election.

Hunted down and harassed by a mob because mother Ruby passed her daughter Shaye a mint. Fearful going forward, always looking over their shoulder, because they know these kinds of mobs and how they operate.

White pundits and reporters have and will discuss the terror Trump inflicted on election officials, but they've not yet mentioned the specific kind of terror Moss and her family experienced and continue to experience.
If we dodge the bullet this November and knock back the Republican horror hordes, it will take a while for America to rid the T-Rump stench from our national fabric. Although the Republican party has been on the move to where they are now since at least the late 1960s/early '70s, and was boosted by Reagan and later with the idiot cruelty of Sarah Palin and onward to the inevitable, the T-Rump. A monster in search of a home.
They need to be beaten way-way bad in the midterms.
Despite the pessimism, once again here we are…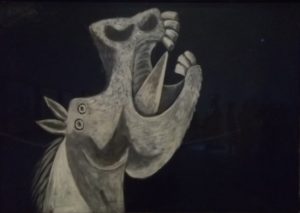 (Illustration out front: Pablo Picasso's 'Agonizing Horse,' found here)