Hot already near-noon Friday here in California's Central Valley — outside a soft breeze makes the shade nice, but the direct sunlight will scorch your ass.
Also hot right now is T-Rump and government documents on nuclear weapons. The InterWebs is teeming with 'nuclear' stories, covering all aspects of the FBI raid now affecting all things nuclear — documents that are so classified, T-Rump had absolutely no business having in his possession.
Additional details emerged this morning (via Raw Story):
During their search of the Donald Trump's Palm Beach resort this week, FBI agents recovered 11 sets of classified documents, including some marked as top secret and meant to "be only available in special government facilities," the Wall Street Journal reports.

Around 20 boxes of items, binders of photos, a handwritten note and the executive grant of clemency for Mr. Trump's ally Roger Stone, were on a list of confiscated items that was reviewed by the newspaper. Also on the three-page list was information about the "President of France."

One set of documents recovered was marked, "Various classified/TS/SCI documents," which, as the Wall Street Journal points out, is an abbreviation that refers to "top-secret/sensitive compartmented information."
Last night from The Washington Post: 'Classified documents relating to nuclear weapons were among the items FBI agents sought in a search of former president Donald Trump's Florida residence on Monday, according to people familiar with the investigation.'
T-Rump is a cornered rat:
Donald Trump appears to be admitting that the DOJ search of Mar-a-Lago found classified information about nuclear weapons https://t.co/cUFWbTV33E

— Citizens for Ethics (@CREWcrew) August 12, 2022
Digby has a good post on the nuclear question, as does Cheryl Rofer at Lawyers,Guns&Money, both worth the time to get the background on this shit.
The wondrous Alexandra Petri at The Washington Post this afternoon drums up some occasions the T-Rump could have inadvertently kept those classified documents — for instance:
Trump was busy flushing a big pile of documents and did not notice that he had gotten some classified materials stuck to his shoe. Unfortunately, the material was too classified to even be described, so nobody could tell him it was there, and he dragged it to Florida without even realizing he was doing it.

You know sometimes when you are browsing in a bookstore and you pick up a book off the shelf and you become so engrossed in it that when you walk out of the store without buying anything you are still holding it and have reached page 73, and you set off all the alarms and have to go rushing back in? That, but with the nuclear documents, and without the alarms or rushing back in.

Trump was out playing a round of golf. It was a beautiful spring day and the birds were singing and the grass looked especially verdant, and he was in the best golf form of his life. Unfortunately, there were none of those little cardstock score sheets available. Fortunately, he had some official documents with him, so he decided to keep score on those. When he got the first hole-in-one he was amazed, and when he got the second he was awestruck, and when he went around the entire course in 18 miraculous strokes, he simply could not bear to part with the piece of paper on which he had written down this accomplishment. Well, wouldn't you know? That piece of paper happened to be a nuclear document!

Trump was told it was important that these documents stay safe in the right hands because otherwise they might compromise national security, so he has been holding them in his right hand or safe for the past two years.
Other than that, there's no excuse.
Yet here we are once again…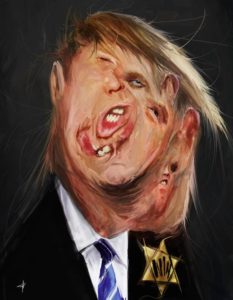 (Illustration out front: 'President Trump,' by Jonathan Bass, found here.)