In the last couple of weeks, good shit happened that maybe created some hope for America. The good shit came from a rising shift in the way the country is headed, and what possibly could be down the road a bit.
Instead of the death-strangle of democracy in the midterms, there a bright strobe of light at the end of the ballot box, which until a short space ago was way dark.
And the latest came this afternoon when the House passed the Inflation Reduction Act, a turn-around bill that could really come in handy, not only with our environment, and health care, the uplifting the morale of people who are sane, who care, and look to the future despite the ominous growl of Republicans.
Rep. Jamaal Bowman nailed the moment: '"I feel a sense of relief, a sense of pride, and a sense of excitement … This is great for the American people, it's great for the planet, it's great for seniors, and it shows Democrats are here getting stuff done and this really, really incredible."'
Democrats look together:
Been covering Congress for 36 years and don't think I can ever remember this happening before… https://t.co/204Hll0udS

— julie rovner (@jrovner) August 12, 2022
Further, from The New York Times this afternoon:
It is likely the last major legislative package to become law before the November elections, handing Democrats a significant victory before they defend their narrow congressional majorities. The vote comes just days after Mr. Biden signed both a $280 billion industrial policy bill that will shore up America's chip manufacturing in an effort to better compete with China and legislation that will expand medical benefits for veterans exposed to trash fires that burned on military bases, the latest in a string of legislative successes.

"Today is really a glorious day for us," Speaker Nancy Pelosi, Democrat of California, said on Friday. She declared that "this legislation is historic, it's transformative and it is really a cause for celebration."
Republicans hated it, voted to a single one against it, and of course, don't have much to say. The bill goes now to get Joe Biden's signature.
And they also lost their collective big mouths, too, on another most-excellent display of Republican asshole outlook on America's needs and wants — today details came from about the raid on T-Rump's Mar-a-Lago outhouse on Monday, apparently, the raid came for classified documents, and the whole affair down in Flordia has turned deadly serious for Republicans:
"The written inventory … says the FBI took about 20 boxes of items from the Mar-a-Lago Club on Monday, including photo binders, information about the president of France, and a variety of classified material."https://t.co/0ldfgm1Cvo

— Dan Lamothe (@DanLamothe) August 12, 2022
A most excellent, full story on the developments today from The Miami Herald late this afternoon:
Some of the U.S. government's most sensitive documents were in Donald Trump's possession at his Palm Beach estate before the FBI reclaimed them in a surprise search on Monday, according to a newly released warrant filed by the Justice Department.
The warrant, made public Friday by a magistrate judge in West Palm Beach, also revealed that Trump is under investigation for potentially violating a provision of the Espionage Act dealing with "national defense information," among other possible crimes.

The release of the previously sealed documents marked the culmination of a momentous week for the country, in which the former president and the nation's top law enforcement officials engaged in a dramatic, days-long showdown over the FBI's unprecedented search of Trump's residence and office at Mar-a-Lago.

As of Friday morning, it was still unclear if a federal magistrate judge in Florida would grant the Justice Department's unusual request to reveal what agents sought and pulled from the former president's home. But by Friday afternoon, the judge ordered the release of the warrant and receipts of seized items once it was clear that Trump's attorneys did not object to the move.
The documents showed that the FBI believes Trump may have violated the Espionage Act by "gathering, transmitting or losing defense information." The Justice Department is also investigating Trump on potential charges of obstruction of justice and removing government records, including destroying documents.
Good, in-depth reporting — go read the whole piece, complete with maps and diagrams of Mar-a-Lago. And once again, Marcy Wheeler at emptywheel has another way-good post on the story.
The shift in outlook is remarkable — Republicans were shitting on the FBI and DOJ until violation of the Espionage Act came into play this afternoon. The nuclear documents took a backseat to treason.
Max Boot at The Washington Post this afternoon responds accordingly:
This new information turns the Trump narrative — that he is being treated worse than anyone ever in all of U.S. history — on its head. Imagine what would have happened to a lower-level government employee who was suspected of taking highly classified documents without authorization. I very much doubt that the FBI would have dealt with such a person as gently as they dealt with Trump. Anyone else caught with top-secret documents — and suspected of obstructing justice and violating the Espionage Act — would probably be in federal custody by now. Reality Winner, a former National Security Agency contractor, was sentenced to more than five years in prison for leaking documents relating to Russian interference in the 2016 election a whole lot less sensitive than the ones Trump is suspected of taking.

The right now appears to be in disarray. The ex-president's old story has been rendered "inoperative," as Nixon press secretary Ron Ziegler used to say, and they need a new one.
They'll try and come up with something, but it's obvious they're just shitting their pants.
Change horses maybe, as once again here we are…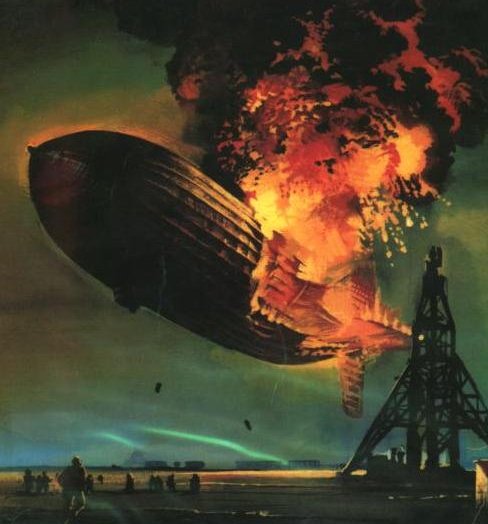 (Illustration out front found here.)