Near conclusion of another boiler day this early-evening Monday here in California's Central Valley — a heat wave is not waving bye-bye as right now it's 105 degrees outside.
Even in the shade it sucks.
Considering all the shit from last week, today has been a relatively slow news day. Except for the T-Rump, of course. When will the news cycle be rid of that asshole?
In the terrible case of the Mar-a-Lago FBI search, T-Rump and his cronies are throwing every kind of excuse out there on why he was holding boxes and boxes of classified materials at the golf-hole club. This morning he tallied out a new extra piece of shit to see how well it would stick to the wall of public understanding. We as a public are really, really sick of the sonofabitch.
Nonetheless, this morning a new lie:
is the former president a flight risk? pic.twitter.com/yr8tgKpBjl

— Aaron Rupar (@atrupar) August 15, 2022
Yet as always T-Rump is a dipstick: 'It's not clear why Trump has three passports, though U.S. citizens are allowed to hold more than one valid U.S. passport at the same time, according to the National Passport Information Center.'
Yet this afternoon, a checkmate on that lie:
Amazing https://t.co/SGkSFgseI5

— Molly Jong-Fast (@MollyJongFast) August 15, 2022
I couldn't find any other news outlets with the DOJ statement, but O'Donnell is a noted journalist, and it's probably all right. Other news outlets will get it later most likely.
In other awful T-Rump news today — one of his way-long financial henchmen might be going to jail in New York, but the Orange Julius-Turdmeister will most likely skate once again:
BREAKING NYT:

Allen Weisselberg, the Trump Org. CFO who was indicted on tax charges last summer, is nearing a plea deal with prosecutors from the Manhattan district attorney's office.https://t.co/oyMYDLUu3j

— Kyle Griffin (@kylegriffin1) August 15, 2022
And these noteworthy snips from The New York Times story;
If it becomes final, a plea deal for the executive, Allen H. Weisselberg, would bring prosecutors no closer to indicting the former president but would nonetheless brand one of his most trusted lieutenants a felon.

…

The district attorney's criminal investigation continued after Mr. Weisselberg was charged last summer with taking part in a 15-year scheme to receive off-the-books perks at Mr. Trump's company, the Trump Organization, which was also indicted in the case.

The company will not join Mr. Weisselberg in pleading guilty on Thursday, two people with knowledge of the matter said. And Mr. Weisselberg, while admitting his own guilt, is not expected to implicate anyone in the Trump family.
Another wall. The T-Rump has done this his entire, shitty life. Is there no end to such?
Despite the heat and T-Rump's mug not ever going away, once again here we are…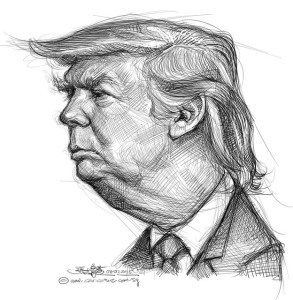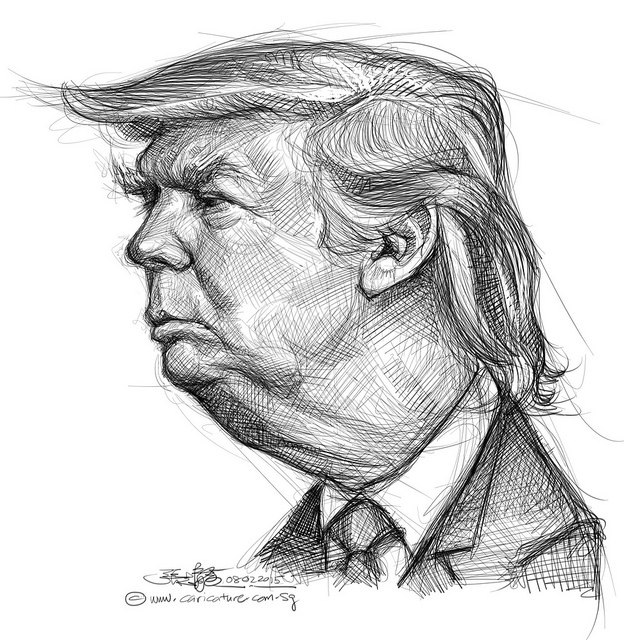 Image out front is my favorite of the T-Rump mugs, though, 'favorite' does not mean in any form or fashion, as in, 'my favorite movie,' or 'my favorite song.' It's more of an anti-appreciation/like.
And aptly titled, 'Basic Shapes,' by caricaturist/illustrator Chong Jit Leong (and found here), it's an image that displays the elemental form of a purloined sociopath — a bloated profile of flatulent bile and arrogant ignorance.