Overcast gray this late-afternoon Friday in California's Central Valley — rain forecast for next week as the season changes slowly from one scene to another. Although a bit chilly, the outside air carries a strange warmth from maybe this past year's heat.
A bit of whim and fantasy there as it's just an aftertaste.
And so it goes on an above average Friday news dump day of shit happening on its own, like from last night Elton Musk taking control of Twitter and firing the sanest of its executives — a story that's to play out shitty-like in the days and weeks to come. No word as of yet on the return of the T-Rump, though, most likely will be soon.
Of course, the big, hard case story today is the attack on Paul Pelosi, Nancy's husband, who was attacked with a hammer in their San Franciso home early this morning — she was in DC. He underwent surgery (the LA Times late this afternoon): 'Drew Hammill, a spokesperson for the Democratic speaker's office, said in a statement that Paul Pelosi was taken to Zuckerberg San Francisco General Hospital, where he "underwent successful surgery to repair a skull fracture and serious injuries to his right arm and hands."'
All the news sites have updates. Yet despite the horror of a terrorist attack/assassination attempt — the assailant screamed, '"Where's Nancy?"' — Republicans/rightnutters played it naturally — cruelty the point:
"A lot of people get hit with hammers?"

this is kinda wild, even for Faux News https://t.co/6eBJ4M74o5

— Britni Danielle (@BritniDWrites) October 28, 2022
And funny, assholes holding GOP office:
Gov. Glenn Youngkin (R-VA) seems to joke about the assassination attempt on Speaker Nancy Pelosi while campaigning for GOP congressional candidate Yesli Vega:

"There's no room for violence anywhere, but we're going to send her back to be with him in California." pic.twitter.com/K3D7X8NEcM

— The Recount (@therecount) October 28, 2022
Further along in the same vein, RNC Chair Ronna McDaniel blubbered: '"Are you ready to fire Nancy Pelosi?"'
As I mentioned, we're expecting rain next week, and it's falling already as far as a certain mental state is concerned — falling on my head like a tragedy:
Weekend or not, once again here we are…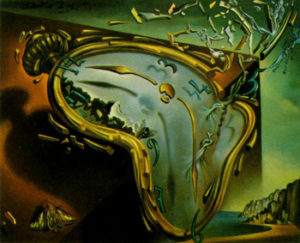 (Illustration out front: Salvador Dali's 'Soft Watch at the Moment of First Explosion,' found here.)