On the eve of maybe the last weekend of American, old-school-real democracy. a big chunk of those Americans are scared of political violence, primarily as spewed by Republicans. If the tide runs against us, we are indeed f*cked in the dark.
Sunny and chilly this near-noon Friday here in California's Central Valley, but the lifestyle across the country looks less sunny, but more chilly — shit's about to hit the fan, one way or another:
Post-ABC poll: A wide majority of Americans are concerned about politically motivated violence https://t.co/PbeinNUpDQ

— The Washington Post (@washingtonpost) November 4, 2022
And just yesterday, 82-year-old Paul Pelosi, husband of House Speaker Nancy, was released from a San Franciso hospital after undergoing surgery to repair a skull fracture and '"serious injuries to his right arm and hands,"' after an attack in their home. He's expected to make a full recovery.
The Pelosi attack/assassination attempt has unglued Americans — from The Washington Post this morning:
A wide and bipartisan majority of Americans worry there is increased danger of politically motivated violence in the United States, according to a Washington Post-ABC News poll.

Nearly 9 in 10 Americans (88 percent) are concerned that political divisions have intensified to the point that there's an increased risk of politically motivated violence in the United States, including over 6 in 10 who are "very concerned."

Of the two parties, more Americans blame the Republican Party more for the risk of violence, but the difference is not wide — 31 percent, vs. the 25 percent who blame the Democratic Party more. Another 32 percent blame both parties equally. Most Democrats and Republicans blame the opposing party.

The poll was conducted in the week after Paul Pelosi, husband of House Speaker Nancy Pelosi, was attacked at their home by an assailant with a hammer and subsequently hospitalized. The alleged attacker, David DePape, 42, shouted "Where is Nancy? Where is Nancy?" after he broke into the Pelosis' home, according to someone briefed on the assault. DePape's online writings contain "deeply racist and antisemitic writings — as well as pro-Trump and anti-Democratic posts," The Washington Post reported.

…

The Post-ABC poll finds 95 percent of Democrats, 87 percent of Republicans and 86 percent of independents are at least somewhat concerned that there is an increased risk of politically motivated violence. Three-quarters of Democrats are very concerned, compared with smaller majorities of independents and Republicans (61 percent and 56 percent).

Two-thirds of Democrats (66 percent) say the Republican Party is more to blame for the risk of political violence, while 56 percent of Republicans blame the Democratic Party. A plurality of independents, 39 percent, say both parties are to blame, while 24 percent blame Republicans more and 20 percent blame Democrats.
Film not at 11, but now:
Poll or not, here we are once again…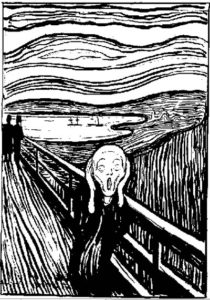 (Illustration out front: Edvard Munch's 'The Scream,' lithograph version, found here.)