Wow, step away from the InterWebs for a couple of days — my son made a wonderful surprise visit and I had no time to post, or even barely follow the news — and the shit hits the fan.
T-Rump was indicted by the DOJ in a mass of charges, 37 in all, on the classified documents case, and appears in the unsealing seriously as shit. Stories on a ton of websites are carrying the latest, so I won't go into detail here (there's way-more-better analysis elsewhere/anywhere), other that this precise nutshell from the Guardian's live blog minutes ago:
The indictment alleges that Trump "endeavored to obstruct the FBI and grand jury investigations and conceal his continued retention of classified documents."

It reads that the former president tried to obstruct investigations including by "suggesting that his attorney falsely represent to the FBI and grand jury that [he] did not have documents called for by the grand jury subpoena" and even "suggesting that his attorney hide or destroy documents called for by the grand jury subpoena."
Including some up-close particulars:
Trump telling his attorney to take a box of docs to his hotel room and to go through it. If he found anything incriminating he was to "pluck it out" and get rid of it. pic.twitter.com/oyzHzZ1szn

— Ron Filipkowski (@RonFilipkowski) June 9, 2023
The 49-page indictment has some serious, illegal, lying shit (New York Times):
The indictment described Mr. Trump as willfully hanging onto documents that were called by some aides "his papers." It detailed how Mr. Trump suggested to one of his lawyers that it was possible to tell prosecutors that "we don't have anything here" after a grand jury subpoena had been issued for all remaining classified material in his possession.

"I don't want anybody looking through my boxes, I really don't," Mr. Trump also told the lawyer during that meeting, according to the indictment.

[…]

And there was shock value to the fact that Mr. Trump, who has spent years avoiding having people close to him take notes of his conversations, being charged in part based on notes from one of his lawyers and an audiotape of a meeting that he was aware was being recorded.

According to his lawyers' notes, Mr. Trump made a "plucking motion" that he believed implied, "why don't you take them with you to your hotel room and if there's anything really bad in there, like, you know, pluck it out."
Although this appears at first look as wonderful news, the T-Rump has a lifelong ability to skate on everything illegal — there are some instances, but are rare — and the case of the document appears notably strong, there's already a thunk on the scales: 'U.S. District Judge Aileen Cannon has been assigned, at least for now, to oversee the case stemming from Donald Trump's indictment, a source confirmed to NPR on Friday.'
Cannon handled T-Rump's original filings after an FBI search of Mar-a-Lego last summer and okayed his request for a special master, which temporarily put a hold on the investigation into the documents — Cannon was later smacked down twice by the 11th U.S. Circuit Court of Appeals, so we'll have to wait and see if she has learned anything. Probably not.
In that point of T-Rump always skating from justice (since the early 1970s), Michael Tomasky at The New Republic concluded:
In other words: What Trump did here is alarming, in terms of law and process. It's also, maybe, an open-and-shut case. Former Attorney General Eric Holder told MSNBC's Chris Hayes on Thursday night: "This is not a particularly difficult case." That may be, legally. But politically, the American people will want to see that what Trump did was genuinely reckless. My bet is that Smith has that political horse sense. We'll soon see.

But the bottom line here, and the One Big Thing that we know above all else? Donald Trump has had this coming. For years. This feels like justice coming.

It's not just that he mocked and ignored the law for decades when he was in the skuzzy world of New York real estate, although it is that, to some extent. But it's much more: He became, by means fair or foul, the president of the United States. Presidents have obligations to the people—all the people—that no one else in our system has. They have to, or certainly should, embody the best of our traditions. They should, like Biden does, genuinely and from the heart, venerate the Americans who gave their lives for this country. I have very mixed feelings about a lot of our wars. But I want the president, who by the bye is also the commander in chief, to humble himself before the memory of people who died in them. I do not want him to call them suckers and losers, as Trump did.

And they have to revere the law. This has been a given, throughout our history—until Trump. Well, Dick Nixon, but once he was caught, he, too, admitted he was wrong and surrendered power. Only Trump knows and respects no law. He got away with that when he was in the inherently sleazy business of slapping his name on casinos. But the presidency of the United States is not an inherently sleazy business. Or at least it's not supposed to be. Trump made it that. If there is any justice left in this country, he will die in a jumpsuit that matches his cratered skin.
Hear! Hear!
Orange is the proper color:
Perp walked, or not, here we are once again…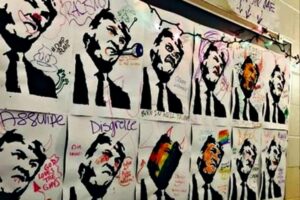 (Illustration out front is of a New York state high-school student exhibit: 'The piece was displayed during student-driven art show at Shenendehowa High School. It consisted of at least 12 identical black-and-white pictures of Donald Trump. There was also a sign above the pictures that read, "Draw on Me." Using markers from the art classroom, Isome students opted to scribble critical messages and profanities on the pictures' — and found here.)