Another bright end to another weekend this early-evening Sunday here in California's Central Valley — we've been fortunate beyond belief the past few weeks as storms struck right, left and all across the globe. Still, we are so far in a quiet, warm autumn.
Weather is hugely location-based — at least for the time being.
Yet we all know it won't continue that way. Beyond the shitty news — I get really lethargic in old age and lose the energy to write after doomscrolling the InterWebs with so much really-bad shit going on — the crisis that's become 'normal' in an 'abnormal' way is climate change, especially after the hottest summer in recorded history cooked the brains of humanity from all across the globe. And despite the obvious, in-your-reality of it, the news media and the public is nearly ho-hum.
Just last Wednesday is an example of this lazy eye toward impending, completely catastrophic disaster:
"There is simply a huge mismatch between the depth of actions governments and businesses are taking and the transformative shifts that are needed to address the climate crisis." The Climate Ambition Summit ends with little fanfare.https://t.co/mgJ048OzaD

— Inside Climate News (@insideclimate) September 24, 2023
A look-see at the one-day UN event from Inside Climate News this morning — not inspiring:
For a conference aimed at inspiring world leaders to dramatically ramp up their efforts to combat climate change, the United Nations' Climate Ambition Summit was anything but ambitious.

That's the message from climate activists after the day-long special summit came to a close without any notable commitments from the nations most responsible for causing global warming. The event was held Wednesday in New York City during the U.N. General Assembly.

"There is simply a huge mismatch between the depth of actions governments and businesses are taking and the transformative shifts that are needed to address the climate crisis," David Waskow, director of the World Resources Institute's International Climate Initiative, wrote in a statement shortly after the summit adjourned. "And some of the biggest emitters were noticeably absent from the stage."

But the countries missing from the talks—the United States, China, India, Russia, France and the United Kingdom—were left out by design. The leaders of those nations, which altogether account for more than half the world's total greenhouse gas emissions, were not invited by U.N. Secretary-General António Guterres to speak at the summit in order to send a message: Step up your climate game or we're all in trouble.

The world is not on track to meet the goals of the Paris Agreement, the U.N. warned in a major report earlier this month. Guterres reiterated that warning in his opening speech Wednesday, noting that Earth would warm by an average of 2.8 degrees Celsius compared to pre-industrial levels by the end of the century—well beyond the targets set by the international climate pact—if far more isn't done by top-polluting nations. The U.S. and other wealthy nations have drawn criticism from Guterres and other climate advocates in recent years for not only failing to curb their use of fossil fuels, but actually expanding it, often justifying broken climate promises on rising inflation and the Russian war in Ukraine.

In fact, the U.K. walked back one of its climate commitments as the summit was underway. On Wednesday, Prime Minister Rishi Sunak announced that the country's plan to ban new gas and diesel cars by 2030 would now go into effect in 2035, saying the previous goal would impose "unacceptable costs" on U.K. citizens.

The move was one of many decisions by wealthy countries over the last two years that have disappointed climate activists and raised concerns among scientists, who say the window to slow down global warming enough to avoid its worst consequences in the coming decades is quickly closing, despite whatever the market forces and geopolitical circumstances may be.

"The move from fossil fuels to renewables is happening, but we are decades behind," Guterres said in his speech. "We must make up time lost to foot-dragging, arm-twisting and the naked greed of entrenched interests raking in billions from fossil fuels."
In fact, I spied the news story on the summit in the Guardian last Wednesday evening and was going to write about it, but I think the T-Rump did something even more shitty, and the idea was tossed away, I guess — as the real summit was in itself. The 'abnormal' is the 'normal.'
And seemingly we're already on the brink of losing the game — the UN's ambition will fall short:
Earth is hurtling towards its average temperature rising by 1.5 °C above pre-industrial levels https://t.co/audUYw9Dfv

— nature (@Nature) September 22, 2023
The outlook on our heating-up situation via the analysis published last Friday at Nature — if we don't get off our collective asses we heap a shit:
Earth is hurtling towards its average temperature rising by 1.5 °C above pre-industrial levels. One climate model suggests that the likelihood of reaching that threshold in 2023 is now 55%.

The 1.5 °C figure was a preferred maximum warming limit set by the United Nations in the landmark 2015 Paris agreement on climate change. Climate scientists use different models to make predictions. In Breaching the Paris limit requires a long-term trend of warming of 1.5 °C or more, but some research groups tracking average annual temperatures in isolation are already predicting 1.5 °C of warming this year. In May, a World Meteorological Organization report said that there was a 66% chance that the average annual temperature would breach 1.5 °C of warming between 2023 and 2027.

In its August 2023 monthly update, Berkeley Earth — a non-profit climate-monitoring organization — has put the chance of 2023 being on average 1.5 °C warmer at 55%. This is up from a chance of less than 1% predicted by the team before the start of the year, and the 20% chance estimated using July's figures. "So this year has played out in a very unusual fashion," says Robert Rohde, Berkeley Earth's lead scientist in Zurich, Switzerland.

"I will admit to being surprised," says Rohde. "I was surprised at how warm August came in."

[…]

The US National Oceanic and Atmospheric Administration (NOAA) also tracks temperature changes closely. Its analysis does not show that 2023 will reach an average of 1.5 °C of warming. "Our analysis broadly agrees with Berkeley in that Aug 2023 was the warmest Aug in our record (by a long shot) and that the odds of 2023 being the warmest year since 1850 exceed 90%," says climate scientist Russell Vose, at NOAA's National Climatic Data Center in Asheville, North Carolina. "Our Aug 2023 anomaly is 1.25 °C, but that is relative to the twentieth-century average, whereas Berkeley uses 1850–1900. That accounts for some of the difference between our numbers."
Time indeed is actually melting away.
As last summer's primer on the heat per PBS:
Melting away, or not, yet once again here we are…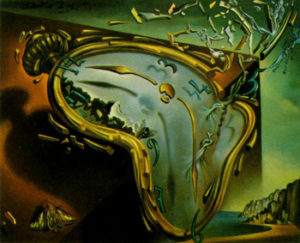 (Illustration out front: Salvador Dali's 'Soft Watch at the Moment of First Explosion,' found here.)