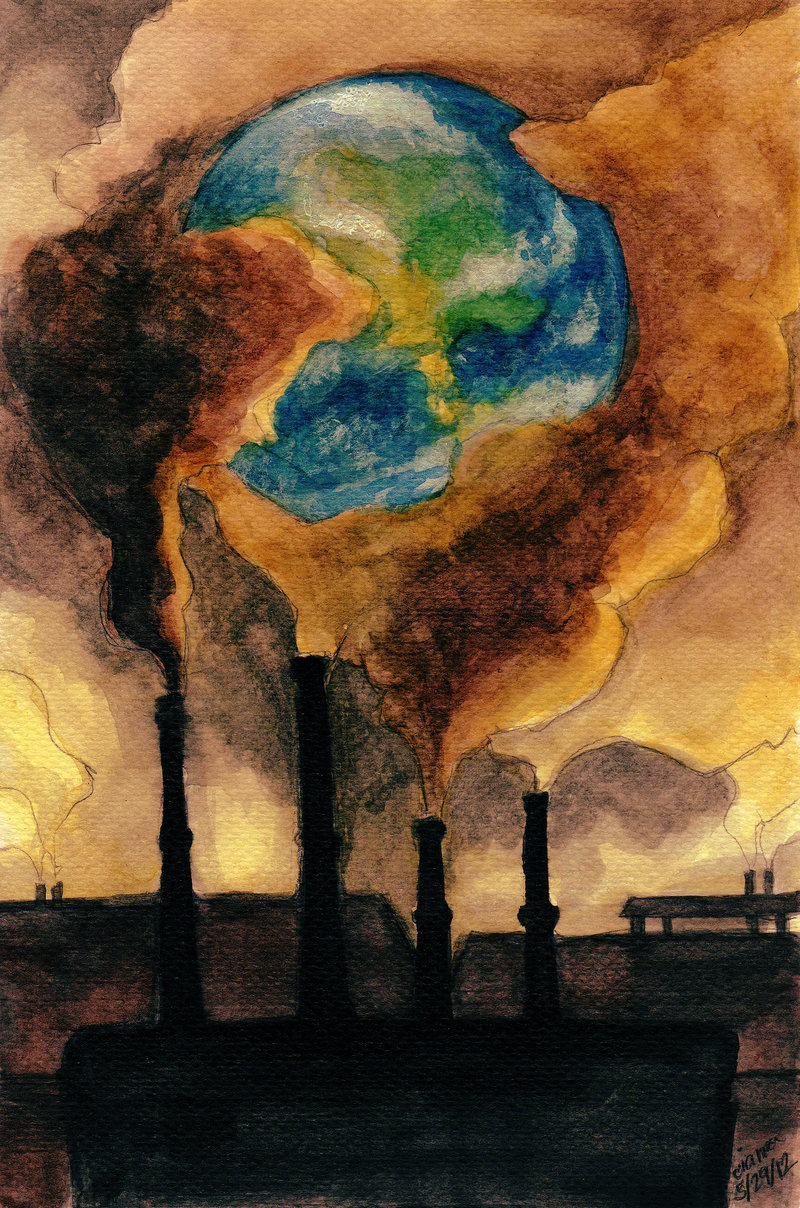 Clear, quiet and seemingly calm this early Tuesday on California's north coast — I say 'seemingly' because you really never know.
First work day for the average asshole after the Memorial Day weekend, and shit is just as shitty as they were on Friday.
Although I'd posted on this a couple of weeks ago — CO2 concentration in our atmosphere topped 400 ppm — and yesterday it was made official:
"This should serve as yet another wakeup call about the constantly rising levels of greenhouse gases which are driving climate change," WMO chief Michel Jarraud said in a statement.
"If we are to preserve our planet for future generations, we need urgent action to curb new emissions of these heat-trapping gases. Time is running out," he warned.
(Illustration found here).
Further:
Spring values in the northern hemisphere had previously spiked over the 400 ppm level, but this was the first time the monthly mean concentration of CO2 in the atmosphere exceeded the threshold.
The global annual average is set to exceed the 400 ppm level in 2015 or 2016, the agency added.
The threshold is of symbolic and scientific significance, and reinforces evidence that the burning of fossil fuels is responsible for the non-stop increase in heat-trapping gases, the WMO underlined.
CO2 stays locked in the atmosphere for hundreds of years, and its lifespan in the oceans is longer still.
It is by far the most important greenhouse gas emitted by human activities and was responsible for 85 percent of the increase in radiative forcing, the warming effect on the climate, from 2002-2012.
According to the WMO, the concentration of CO2 in the atmosphere reached 393.1 parts per million in 2012, or 141 percent of the pre-industrial level of 278 parts per million.
The amount of CO2 in the atmosphere has increased on average by two parts per million every year for the past decade.
A shitload of people will ho-hum this news, but the horror coming is still there, still coming. If the terror of the environment were defined in some other way, maybe the powers-that-be would do something.
But alas…
Tom Engelhardt at Tomdispatch has posted a unique view of climate change — why don't we view our catastrophically-shifting environment as WMD, mass destruction unprecedented.
Money quotes:
Of course, there was a weapon of mass destruction that could indeed do staggering damage to or someday simply drown New York City, Washington D.C., Miami, and other East coast cities.
It had its own efficient delivery systems — no nonexistent drones or Islamic fanatics needed.
And unlike the Iraqi, Iranian, or al-Qaeda bombs, it was guaranteed to be delivered to our shores unless preventive action was taken soon.
No one needed to hunt for its secret facilities.
It was a weapons system whose production plants sat in full view right here in the United States, as well as in Europe, China, and India, as well as in Russia, Saudi Arabia, Iran, Venezuela, and other energy states.
…
When we speak of WMD, we usually think of weapons — nuclear, biological, or chemical — that are delivered in a measurable moment in time.
Consider climate change, then, a WMD on a particularly long fuse, already lit and there for any of us to see.
Unlike the feared Iranian bomb or the Pakistani arsenal, you don't need the CIA or the NSA to ferret such "weaponry" out.
From oil wells to fracking structures, deep sea drilling rigs to platforms in the Gulf of Mexico, the machinery that produces this kind of WMD and ensures that it is continuously delivered to its planetary targets is in plain sight.
Powerful as it may be, destructive as it will be, those who control it have faith that, being so long developing, it can remain in the open without panicking populations or calling any kind of destruction down on them.
The companies and energy states that produce such WMD remain remarkably open about what they're doing.
Generally speaking, they don't hesitate to make public, or even boast about, their plans for the wholesale destruction of the planet, though of course they are never described that way.
Nonetheless, if an Iraqi autocrat or Iranian mullahs spoke in similar fashion about producing nuclear weapons and how they were to be used, they would be toast.
…
Perhaps we need a new category of weapons with a new acronym to focus us on the nature of our present 95%-100% circumstances.
Call them weapons of planetary destruction (WPD) or weapons of planetary harm (WPH).
Only two weapons systems would clearly fit such categories.
One would be nuclear weapons which, even in a localized war between Pakistan and India, could create some version of "nuclear winter" in which the planet was cut off from the sun by so much smoke and soot that it would grow colder fast, experience a massive loss of crops, of growing seasons, and of life.
In the case of a major exchange of such weapons, we would be talking about "the sixth extinction" of planetary history.
Though on a different and harder to grasp time-scale, the burning of fossil fuels could end in a similar fashion — with a series of "irreversible" disasters that could essentially burn us and much other life off the Earth.
This system of destruction on a planetary scale, facilitated by most of the ruling and corporate elites on the planet, is becoming (to bring into play another category not usually used in connection with climate change) the ultimate "crime against humanity" and, in fact, against most living things.
It is becoming a "terracide."
This is the future and time is not on our side.
(Illustration out front found here).