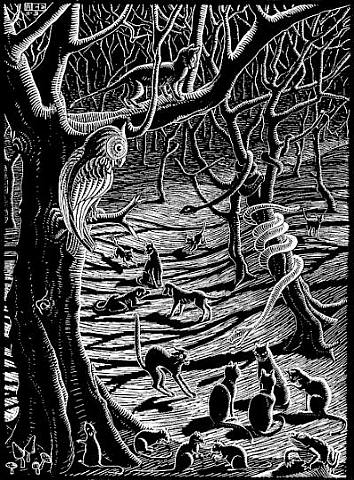 Early, pre-dawn dark this Thursday on California's north coast, the outside as partially-peeped from my back patio, appears cloudy up-top, layered with a fine mist of floating ground fog down around street-light level, and off in the trees.
A way-slight chance of rain today, and according to the NWS, 'mostly cloudy' the next week or so.
Down south, though, it's 'mostly way-shitty.'
The oil-pipeline spill in Santa Barbara has ballooned into one nasty sonofabitch — leakage totals have belched way-up to at last 105,000 gallons, and covering nine miles of beach.
And seemingly a required afterthought nowadays (the LA Times): 'Plains Pipeline, the large Texas-based company responsible for the pipe that ruptured in Santa Barbara County, has accumulated 175 safety and maintenance infractions since 2006, according to federal records.'
(Illustration: M.C Escher's 'Scholastica,'  found here).
Gov. Jerry Brown issued an emergency proclamation yesterday, as the wrenching-slowness of an oil-spill clean-up takes place along Refugio State Beach in Goleta, about 10 miles south of Santa Barbara — and as the Memorial Day weekend looms, the popular Refugio beach is closed, and will stay that way awhile.
Originally, just 21,000 gallons had been reported to have spewed from the above-ground pipeline rupture, but apparently that was a 'mis-speaking.'
From CBS News this morning:
Santa Barbara County District Attorney Joyce Dudley is considering criminal and civil charges against the pipeline owner.
"Animals have died and suffered. … The kind of effect that this oil will have will last a lifetime, and we want to hold whoever's responsible for this responsible," Dudley said.
Another energy asshole — Plains All American Pipeline, another industry incompetent will attempt to dodge the financial bullet.
From Aljazeera:
In 2014 a Plains pipeline ruptured in Los Angeles' Atwater Village, sending more than 18,000 gallons of crude running through the city's streets.
Toxic fumes were reported in the industrial area for days after the spill.
The company has been cited for 10 oil spills that violated the Clean Water Act in Texas, Louisiana, Oklahoma and Kansas.
In 2010, Plains settled with the EPA after agreeing to pay $3.2 million in civil penalties.
In April 2011 a pipeline operated by the company's Canadian branch, Plains Midstream Canada, ruptured in a remote area of Alberta's boreal forest, releasing at least 37,000 barrels of crude oil.
The same line ruptured in 2006, spilling about 180 barrels.
In a 2012 spill, a smaller line operated by Plains Midstream Canada ruptured, spilling 2,900 barrels of crude into the Red Deer River in central Alberta.
The company was ordered in January to hire a third party to audit its pipelines in Alberta, Saskatchewan, Manitoba and Ontario after regulators said the company failed to comply with previous safety directives.
Despite its spill record, Plains has plans to construct a pipeline in Arkansas, where an Exxon Mobil pipeline ruptured in March 2013, spilling more than 134,000 gallons of crude oil into a housing subdivision, forcing hundreds of residents to evacuate.
Meanwhile, in another spill that will never-ever go away, or finish with killing.
Five years later and the BP Deepwater disaster reveals again how enormous the repercussions — from Newsweek:
A study released by the federal government Wednesday adds certainty to the conclusion that the 2010 BP oil spill led to an ongoing spike in bottlenose dolphin deaths in the Gulf of Mexico.
…
Nearly half the dead dolphins recovered between 2010 and 2012 from Barataria Bay, Louisiana, had a thin adrenal gland cortex, indicating insufficient adrenal function, and died "without another clear explanation," according to the research.
Barataria Bay was one of the areas along the Louisiana coast most heavily oiled from the spill….
…
The spike in deaths, referred to in scientific literature as an Unusual Mortality Event (UME), began in 2010.
Now, five years after the spill, the UME—the largest ever recorded in the northern Gulf of Mexico—is still ongoing.
At various points since the UME began, the rate of dolphin deaths has been recorded at four to five times greater than what is considered normal for the area.
And Shell oil company is to drill in the Arctic?
No worries…