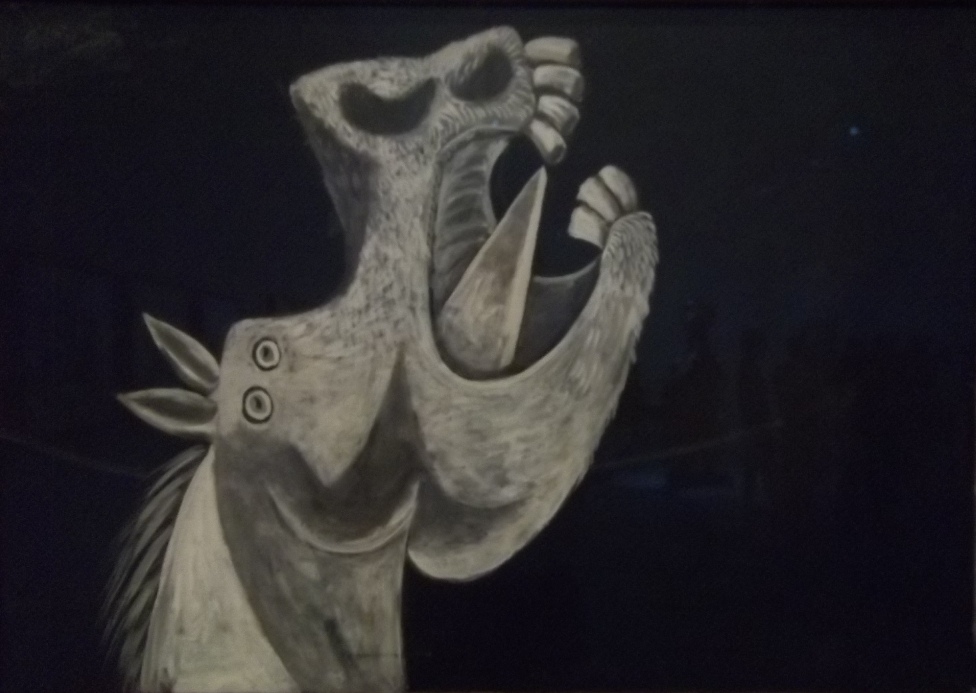 Illustration to the left, Pablo Picasso's 'Agonizing Horse' (found here), is another in that category of artwork epitomizing our era, fashioned on suffering: 'Some have interpreted the horse as Franco's Nationalism, with Picasso predicting its downfall…Picasso has heightened the effect of agony by turning the animal's tongue into a sort of dagger protruding from its jaws.'
Picasso reflected brutality — we nowadays face possible violent chaos of our own with national survival at stake.
Events with the T-Rump and his really-turdish minions have carried our government into unknown, dangerous territory without an ending in sight — at least right now. Due to the T-Rump strongly-stonewalling against releasing 'any' form or document whatsoever, and not allowing people to appear before Congress, a honest-to-shit-goodness Constitutional crisis has enveloped the American experiment.
And for the real first time. Dick Nixon and Watergate was minor league, the T-Rump is beyond the pale…
A game of law:
House Judiciary Chairman Jerry Nadler says if Attorney General William Barr doesn't provide the unredacted Mueller report to Congress in the next day or two, "the next step is seeking a contempt citation against the attorney general." https://t.co/muIkjgd0aT pic.twitter.com/s0q6kBctHw

— ABC News (@ABC) May 1, 2019
Background via the New York Times this afternoon, following Bill Barr's 'snitty' time before the Senate Judiciary Committee:
The conflict escalated afterward when Mr. Barr announced that he would not show up for a parallel hearing on Thursday before the Democrat-controlled House Judiciary Committee.
Mr. Barr objected to the format of questioning, which would have included questioning by staff lawyers, not just lawmakers.
Democrats may now opt to subpoena him, setting up a possible showdown in court.
"He is terrified of having to face a skilled attorney," said Representative Jerrold Nadler of New York, the committee's chairman.
In just 11 weeks in office, Mr. Barr has become a lightning rod for criticism for minimizing the findings of Mr. Mueller's report and publicly embracing the president's explanations of his actions.
Senate Democrats took the opportunity on Wednesday to excoriate him before a national television audience.
"Mr. Barr, now the American people know that you are no different from Rudy Giuliani or Kellyanne Conway or any of the other people who sacrifice their once decent reputation for the grifter and liar who sits in the Oval Office," Senator Mazie K. Hirono, Democrat of Hawaii, told him, likening the attorney general to the president's personal lawyer and White House counselor.
"You put the power and authority of the office of the attorney general and the Department of Justice behind a public relations effort to help Donald Trump protect himself," she added.
"Finally, you lied to Congress."
Senator Lindsey Graham, Republican of South Carolina and the committee chairman, scolded Ms. Hirono for being unfair.
"You slandered this man from top to bottom," he said.
No, bottom to top, Miss Lindsey!
Also in that hearing this morning, Sen. Kamala Harris' (D-Calif) asked Barr a simple question, it fucked Bill's brain, and slightly-opened an ugly door:
Harris, a 2020 presidential contender, started her five minutes with Barr with one question: "Has the president or anyone at the White House ever asked or suggested that you open an investigation of anyone?"
Barr stumbled for a second, asked Harris to repeat the question, and then said he was "trying to grapple with the word 'suggest.'"
So Harris provided a few synonyms — and Barr still didn't quite give an answer.
.@KamalaHarris: "Has the president or anyone at the White House ever asked or suggested that you open an investigation of anyone?"

Barr stumbles over his answer before saying he's "trying to grapple with the word 'suggest'" pic.twitter.com/SKpDTzVIbu

— TicToc by Bloomberg (@tictoc) May 1, 2019
Later: 'Shortly after their exchange, Harris spoke to reporters outside the Senate hearing chamber, saying Barr lacks "all credibility" and calling for him to resign.'
Mazie Hirono. who Miss Lindsey claimed slander, called today for Barr to leave: '"Being attorney general…is a sacred trust. You have betrayed that trust, America deserves better. You should resign."'
In the overview, the shape of America is at issue — another five years of the T-Rump and we're toast as a democracy, or least the version we've had the last 240-plus-years. Time is of the essence, a striking similarity to climate change, with a shift in power.
David Faris today at The Week has a must-read on the playbook of this raw, particular situation, and consequence — main snips:
The Trump administration has triggered the most serious constitutional crisis since the Civil War, and if Democrats don't take urgent action, they will have capitulated to the permanent marginalization of Congress and helped usher in a new era of unaccountable presidential supremacy.
…
Today's testimony must not be considered in isolation, but rather in concert with the DOJ's handling of the Mueller report, President Trump's determination to resist all subpoenas of his financial and business history, and his intent to coordinate the refusal of all current and former administration officials to testify about any of these matters.
Together these maneuvers amount to a frontal assault on the rule of law in America.
The Trump administration, in effect, is claiming total immunity from any Congressional oversight, as well as the right to obstruct any investigations into the executive branch as long as that obstruction is not undertaken with "corrupt intent."
…
Taken to its logical conclusion, Barr's stance is that investigations can be obstructed so long as the president believes the inquiry is illegitimate.
In essence, in order for the president or his team to obstruct any probe of the executive branch under the Barr Doctrine, investigators must know in advance that their target is guilty.
And because the attorney general can now use whatever circular logic he wants to determine that guilt, Barr has twisted the separation of powers into an ouroboros, with the executive branch as the snake's head devouring all evidence of misconduct and all attempts to deliver that information to the public.
Democrats in Congress need to get aggressive, and fast, lest they give the impression that they consider getting their hands on this newly imperialized presidency next year more important than taking a stand for the rule of law.
…
Democrats need to set aside, for the moment, any concerns about how these events will affect the 2020 elections.
They need to get radical.
They need to do it fast, while they still can.
And if they don't, they really do deserve to lose.
Not a happy note at all — agonizing horse…