Apparently the T-Rump is losing the sharp-edge of his malevolent, narcissist brain as his daily encounters with the media is causing him to act even-more petulant and nasty.
The asshole is cratering at the polls, and he knows it, and evidently the strain pulls his moldy skin tighter-n-drum:
Trump: Why do you say he has great gifts? Do you know him? Have you reviewed him? Have you studied him?
Reporter: He worked his entire career developing vaccines
Trump: That doesn't mean he has gifts. I know a lot of people who play baseball who can't hit 150 pic.twitter.com/ku34NNGXta

— Acyn Torabi (@Acyn) April 22, 2020
A couple of episodes today — first per Raw Story this afternoon:
At Wednesday's coronavirus press briefing, President Donald Trump was asked by CBS News' Weijia Jiang about Dr. Rick Bright, the official who was mysteriously reassigned after warning against the use of hydroxychloroquine to treat COVID-19.

The president cut her off aggressively, then, even while acknowledging he knew little about Bright, spoke dismissively of him, saying "Why do you say he has great gifts? Do you know him? Have you reviewed him?
When Jiang pointed out he had extensive experience developing vaccines, Trump said, "That doesn't mean he has gifts. I know a lot of people who play baseball who can't hit .150."
Meanwhile, at the same briefing — this via Mediaite, also this afternoon:
President Donald Trump and ABC's Jon Karl battled over earlier reporting that the CDC Director had warned that a winter return of the Covid-19 contagion would be worse than what we are seeing now.

Trump opened Wednesday's coronavirus press briefing by introducing CDC director Robert Redfield, who was correctly quoted in by the Washington Post in a report that warned that a second wave this of the deadly virus could be worse than the first.

"There's a possibility that the assault of the virus on our nation next winter will actually be even more difficult than the one we just went through," Redfield said. "We're going to have the flu epidemic and the coronavirus epidemic at the same time."
Redfield revealed at the briefing room lectern, however, that he had, in fact not been misquoted, as Trump alleged. "I'm accurately quoted in The Washington Post," Redfield said.

This was the context that Trump went off over what he called "bad reporting," in particular, the lack of coverage of the surplus of ventilators now on hand, which Trump sees as a victory.
After the Commander in chief particularly called out what he deems as bad reporting to Karl, the ABC White House reporter shot back, "but that's not true!"
More on that particular incident at Deadline.
And on top of that gosh-awful shit, Joseph Stiglitz, the noted Nobel prize-winning economist, believes most-likely we're fucked by the T-Rump via COVID-19 — in an interview at the Guardian, Stiglitz was asked if we could be heading for another Great Depression:
"Yes is the answer in short," he said.
"If you leave it to Donald Trump and Mitch McConnell [the Republican Senate majority leader] we will have a Great Depression. If we had the right policy structure in place we could avoid it easily."

Stiglitz said that as a result of Trump's mismanagement, the White House office responsible for pandemics had been closed, funding for the Centers for Disease Control and Prevention had been cut, and the US had gone into the crisis without enough testing kits, masks and protective gear.
Encouraged by Trump, some parts of the US were determined to reopen in a way that would facilitate the transmission of the disease and lead to a fresh outbreak, he added.

"In those circumstances it won't be the government enforcing the lockdown, it will be fear. The concern is that people are not going to be spending on anything other than food and that's the definition of a Great Depression.
"We were unprepared but, even given the degree of unpreparedness, Trump's decision to make this about politics rather than about science has meant we have responded far more poorly."
Worse-case scenario appears the only-case scenario…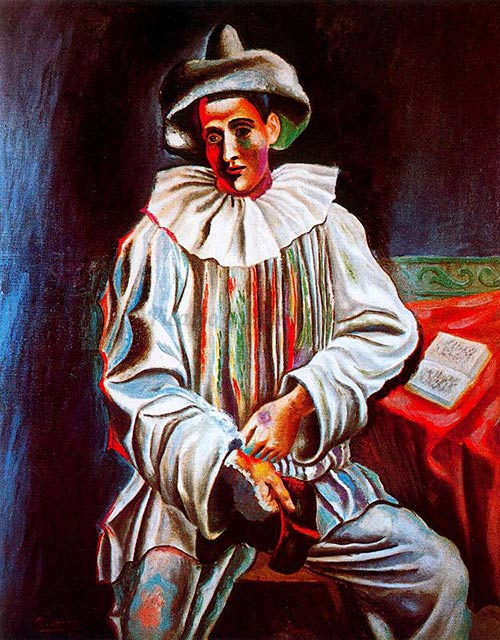 (Illustration: Pablo Picasso's 'Seated Pierrot,' found here).