(h/t Miss Cellania):

In the current state of affairs, there's really no conversation, dialogue or discussion about just about anyting in the good, old US of A. One of the two parties to this colloquy is mean spirited, and thrives on lies. Neither of the two biggest subjects right now – the runaway COVID-19 virus, and the presidential election — can be broached in any kind of a rational, constructive way.
Obvious in both, however, are the facts of each. All proven stats on the virus indicates the country is quickly approaching a massive health-care breakdown due to the rise in cases and corresponding deaths. Also clear-cut is Joe Biden won the election, though the lesser concern of the two, is obstructing work toward handling the pandemic.
Duh!
Bigly concern is that one side is infested with malignant idiots (h/t Guardian live):
Update from U.S. district court in Williamsport, Pa., one of the Trump campaign's last stands:

GIULIANI: "I'm not sure what 'opacity' means. It probably means you can see."

JUDGE BRANN: "It means you can't."

— Dan Zak (@MrDanZak) November 17, 2020
Furthermre, you won't:
Philadelphia election officials did not improperly block Donald Trump's campaign from observing the counting of mail-in ballots, the Pennsylvania supreme court ruled on Tuesday, a major blow to the president's already flailing legal efforts.
The decision is significant because one of the Trump campaign's loudest claims since the election has been that they were improperly blocked from observing the counting of ballots in Philadelphia.
…
Even the two Republican justices who dissented from the majority opinion disagreed with the idea, advanced by the Trump campaign, that legitimate votes should be rejected because of improper observation practices.

"Short of demonstrated fraud, the notion that presumptively valid ballots cast by the Pennsylvania electorate would be disregarded based on isolated procedural irregularities that have been redressed — thus disenfranchising potentially thousands of voters — is misguided," wrote chief justice Thomas Saylor in his dissenting opinion.

"Accordingly, to the degree that there is a concern with protecting or legitimizing the will of the Philadelphians who cast their votes while candidate representatives were unnecessarily restrained at the convention center, I fail to see that there is any real issue."
The T-Rump's attacking the validity of the election is a nefarious farce. He's losing out all over the country, and most of the legal shit is blowing up in his puffed-orange face, and he's only maintaining his path because he's indeed a mean-spirited psychopath. And he just can't abide being a loser. Or at least in such a public fashion.
He's an asshole, though, and proved it again this afternoon:
Trump said Chris Krebs, the director of the Department of Homeland Security's Cybersecurity and Infrastructure Security Agency (CISA), "has been terminated".

Krebs had indicated he expected to be fired.
Last week, his agency released a statement refuting claims of widespread voter fraud.
"The November 3rd election was the most secure in American history," the statement read.
"There is no evidence that any voting system deleted or lost votes, changed votes, or was in any way compromised."

Trump mentioned the note in his tweet firing Krebs.
He also repeated baseless, false claims that dead people had voted and machines changed votes.
Again, asshole!
And in keeping-up this farce, Trump is obstructing COVID-19 work, especially in the roll-out of a vaccine — via the Guardian this afternoon:
Vivek Murthy, co-chair of Biden's Covid-19 taskforce, said the experts had not been able to speak to current administration officials dealing with the virus, even as infections surge in many parts all across the nation.

And that could damage the incoming administration's ability to distribute a vaccine, for example, Murthy said.

"We need to talk to those individuals, we need to work together with them," Murthy said on a call with reporters.

The Biden team were unable to access real-time data, including on hospital bed capacity and the amount of drugs and equipment in government stockpiles, said Murthy, a former US surgeon general.

American doctors and nurses, in a letter published on Tuesday, urged the Trump administration to share detailed information.

"Real-time data and information on the supply of therapeutics, testing supplies, personal protective equipment, ventilators, hospital bed capacity and workforce availability to plan for further deployment of the nation's assets needs to be shared to save countless lives," said the letter, signed by the leadership of the American Medical Association, the American Nurses Association and the American Hospitals Association.

In the last week, the US has recorded on average 150,000 new coronavirus cases a day, according to the Covid Tracking Project.
During a summer peak in southern and western states, positive tests reached a high of about 70,000 a day.
And of the vaccine, reported today:
In April, less than a month after Covid-19 was officially declared a pandemic, Dolly Parton donated $1 million to coronavirus research at Vanderbilt University.

More than seven months later, it's been revealed that the legendary performer's donation helped fund Moderna's Covid-19 vaccine, which this week became the second coronavirus vaccine with a stunningly high success rate.
Supposedly, she has shunned any publicity surrounding the donation, revealing it only after being asked by an interviewer. Parton is a national treasure — I even remember her back performing on the old .Porter Wagoner Show.
In tribute, a couple versions of Dolly's 'Jolene.'
The gorgeous original:
And a hot cover by The White Stripes:
Yeah…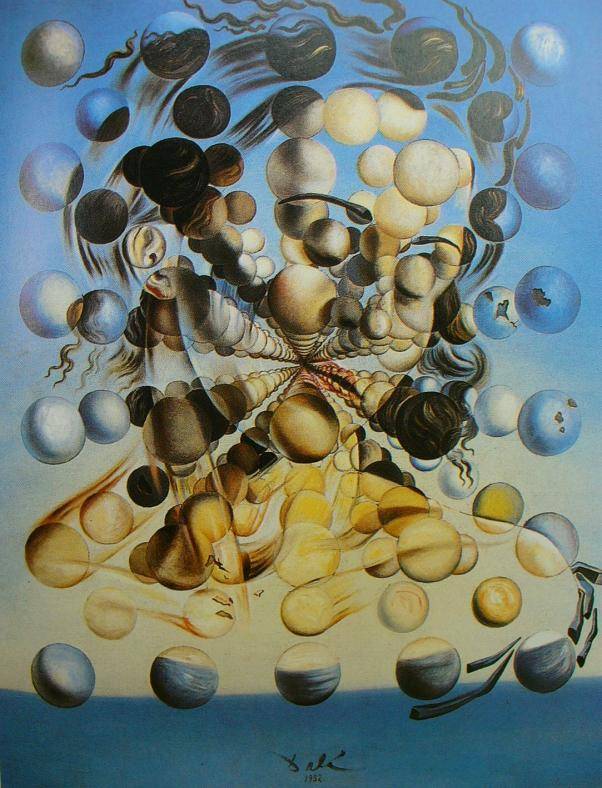 (Illustration: Salvador Dali's 'Galatea of the Spheres,' found here).