In an age of near-instant communications, especially in the political theater of the Republican party with its lies and bullshit-whinning, how long does it take for shit to catch up with asshole actions.
Hard to even speculate since the GOP is near-delusional right now, but it's all forming in a new timeline:
"Ted Cruz is feeling the first post-Trump controversy," said New Hampshire-based Republican strategist Mike Biundo.
"I don't think anybody knows exactly what will happen in this new reality that we're living in."
Cruz fucked-up in the middle of a natural disaster that effected all of Texas, and the optics in handling the weather chaos has been bad for Republicans who run the state. They've acted like shitheads. And how will those observable situations right now play in next year's elections.
Although a couple months old, a study published in December at ScienceDirect indicates natural disasters have a whack on perception for awhile.
From the Abstract:
The increase in weather and climate disasters in recent years has prompted an interest in analyzing their consequences and the mitigation and adaptation measures that can help minimize their potentially large impacts on individuals' welfare.
We match thirty-one billion-dollar disasters with individual survey data from the Behavioral Risk Factor Surveillance System to estimate the effect of extreme weather events on the subjective well-being of U.S. residents.

Our results indicate that natural disasters have a negative and robust impact on subjective well-being in the affected communities, and that, on average, this impact peaks 6 months after the event, and then decays over time.

We then investigate the attenuating impact of health care access, flood insurance, and governmental assistance programs and find a partial compensating role for risk-transfer and relief measures. We also find that stronger emotional and social support mitigates the negative impact of natural disasters.
So, according to the study results, in about August the people of Texas will reach peak-pissed at Cruz for his out-of touch antics and remember the asshole less and less over time. Or maybe shortly.
Instead, hopefully Texas memories might/should get warm feelings way-sooner than summer for a positive, helpful hand that was there when it was needed:
We hit $3.2 MILLION in Texas relief support last night!

One of the places it's going is the Houston Food Bank. I'm visiting Reps. @JacksonLeeTX18 & @LaCongresista with volunteers to pack meals.

The bank REALLY needs helping hands.

Can you join a shift? https://t.co/93wBfD4YdI pic.twitter.com/62AvCb4CL7

— Alexandria Ocasio-Cortez (@AOC) February 20, 2021
After helping raise the money, Ocasio Cortez of New York, toured parts of Houston today with fellow House members Sylvia Garcia and Al Green — Garcia and Green represent Houston — and later volunteered at a food bank. AOC put people in need first: 'When ABC13 asked her what she will take back to D.C. from this trip, Rep. Ocasio-Cortez said, "I think the message in Washington is, let's not let people get caught up in a bunch of red tape. Let's try to get this assistance out the door as much as people need and as quickly as we can."'
If life was just, the Republican party should be washed up, adding natural disasters to an already bigly list of fucked-up shit under their watch, and swept away by voters next year. It's early yet in the Biden presidency and Democratic governance to tell how people will hit the ballot box in 2022, which will be here faster than you can say,'shit dog!' They should remember…
If GOP lawmakers continue to fuck up, maybe not so hard, but it needs to be kept in perspective. A snuff-out response to the Cruz story was displayed yesterday by White House press secretary Jen Psaki on board Air Force One enroute to Michigan, where Biden toured a Pfizer manufacturing plant, and after suppling detail answers to a variety of questions, she quickly closed the door on the asshole Texas senator (Mediaite):
But toward the end of the gaggle, there was one question she did not appear interested in engaging.

"Have you talked to the President at all about how Senator Cruz has been handling the situation in Texas and, sort of, the backlash around his travel to Mexico and back?" Psaki was asked.

"I can assure you that with millions of people in Texas still suffering, we're not spending any time, energy, or breath analyzing Senator Cruz's whereabouts or his — or his group chat," she responded.
Enough of that shit…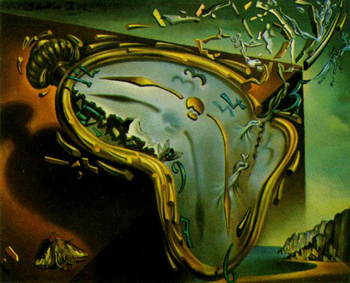 (Illustration: Salvador Dali's 'Soft Watch at the Moment of First Explosion,' found here).