As Joe Biden gets ready to make his first speech to a joint session of Congress tonight, rolling with a theme of "America is on the move again," there's a bit of history, too: 'He'll deliver a speech more than a year into the pandemic with the smallest audience in recent memory and a backdrop of two women sitting behind a president for the first time.'
Beyond the subject matter and context, Biden takes the podium being in good job-approval status by a majority of the American public:
President Biden's speech to Congress will be a "call to action," according to his advisers, and the launch of an effort "to prove our government can deliver again" https://t.co/DkXTtOjJWN

— Bloomberg (@business) April 28, 2021
On Biden's popularity — via CNN this afternoon:
On the cusp of the 100-day mark of Joe Biden's presidency, a new CNN Poll conducted by SSRS finds 53-percent of Americans approve of the way he is handling the job and say he has had the right priorities, and 59-percent say he is doing a good job keeping his campaign promises.

Biden earns broad approval for his handling of the defining issue of the last year of American life, the coronavirus pandemic.
Overall, 66-percent approve of his handling of it, up 6 points since early March. He earns near universal approval on the issue from Democrats (97-percent approve), 65-percent approval among independents, and 30-percent approval from Republicans — 16 points higher than GOP approval for Biden on any other issue tested in the poll.

Biden earns net positive approval ratings on seven of the nine issues tested in the poll.
After coronavirus, the President earns his highest ratings for his handling of environmental policy and racial injustice (54-percent approve of each). Further, 52-percent approve of his handling of the role of commander-in-chief, and about half each approve of his handling of the economy (51-percent), taxes (50-percent) and foreign affairs (48-percent)

The poll suggests Americans are starting to see signs of life in an economy that has been stalled for much of the last year.
Most, 54-percent, say economic conditions are very or somewhat good, up from 43-percent who felt that way in January. And nearly 6 in 10 say they expect the economy to be in good shape a year from now (58-percent).
And on top of that, Biden is transforming not only the country, but himself. In taking possession of the White House, he's grabbed history by the nape of the neck and is shaking it into greatness. He's no longer just old Joe, but seemingly since being elected scope of his administration's approach has become more in line with FDR and the rails of a changing American landscape. I myself didn't really see this coming as Biden has always appeared a bit hard-headed from the 'old school' of politics, and way-not a reformer, progressive instigator of new (and needed) ideas.
A look at that view from the New York Times this evening (I finally broke down and got a subscription):
The $1.8 trillion plan he unveiled in advance of his first address to a joint session of Congress along with previous proposals to build roads and bridges, expand other social programs and combat climate change represent a fundamental reorientation of the role of government not seen since the days of Lyndon B. Johnson's Great Society.

"We have to prove democracy still works, that our government still works and can deliver for the people," Mr. Biden planned to say in his nationally televised speech, according to excerpts released by the White House earlier in the day.

Taken together, the collection of initiatives that Mr. Biden has introduced in his first 100 days in office suggest a breathtaking scope of change sought by a 78-year-old president who spent a lifetime as a more conventional lawmaker.
After presenting himself during last year's campaign as a "transition candidate" to follow the volatile tenure of Donald J. Trump, Mr. Biden has since his inauguration positioned himself as a transformational president.
…
The president's own prime-time speech to Congress was to be the functional equivalent of a State of the Union address.
But coming in the latter days of the coronavirus pandemic and less than four months after a mob of Trump supporters stormed the Capitol in a vain effort to overturn his election defeat, the event was set to be unlike any other presidential speech.

On the advice of the Capitol physician, only 200 members of Congress and other officials were invited instead of the usual 1,600, and none of the traditional guests were to be in the first lady's box.
The president and his limited audience were to gather amid tighter security than usual, with streets around the building closed and patrolled by swarms of police officers and National Guard troops.
…
But as striking as anything else in the speech was Mr. Biden's vision of a profound pivot in America's eternal debate about the role of government in society.
Four decades after a newly inaugurated President Ronald Reagan declared that government was the problem, not the solution, Mr. Biden aimed to turn that thesis on its head, seeking to empower the federal state as a catalyst to remake the country and revamp the balance between the richest and the rest.

The "American Families Plan," as he called his latest, $1.8 trillion proposal, would follow the "American Rescue Plan," a $1.9 trillion package of spending on pandemic relief and economic stimulus that he has already signed into law, and the "American Jobs Plan," a $2.3 trillion program for infrastructure, home health care and other priorities that remains pending.
Sounds decent, and I hope he delivers it with power and aplomb.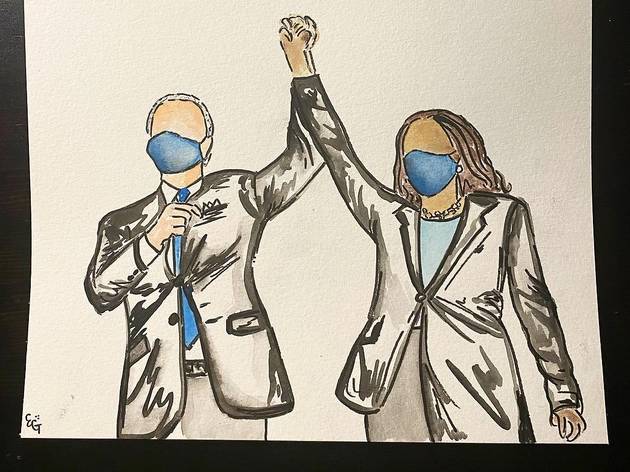 (Illustration by Emily Grace Tucker and found here).