Big news this morning on the legal side of the T-Rump world as it was announced New York prosecutors are not only pursuing a criminal angle, but also now going after the orange turd's CFO of all the T-Tump bullshit business dealings, inide and out — I have my doubts T-Rump will ever see the inside of a jail cell, but this does add hope:
The New York attorney general's office has opened a criminal tax investigation into top Trump Organization officer Allen Weisselberg.https://t.co/l4tNYzcl89

— Kyle Griffin (@kylegriffin1) May 20, 2021
Details per today's the New York Times:
The New York attorney general's office has been criminally investigating the chief financial officer of former President Donald J. Trump's company for months over tax issues, according to people with knowledge of the matter.

The office of the attorney general, Letitia James, notified the Trump Organization in a January letter that it had opened a criminal investigation related to the chief financial officer, Allen Weisselberg, the people said.
The investigators have examined whether taxes were paid on fringe benefits that Mr. Trump gave him, including cars and tens of thousands of dollars in private school tuition for at least one of Mr. Weisselberg's grandchildren.
…
In recent weeks, Ms. James's office suggested to the company in a new letter that it had broadened the criminal investigation beyond the focus on Mr. Weisselberg, one of the people said.
It was unclear how the inquiry had widened.

In general, fringe benefits — which can include cars, flights and club memberships — are taxable, though there are some exceptions. Companies are typically responsible for withholding such taxes from an employee's paycheck.

Rather than risk bumping into each other, the two investigative offices recently began collaborating, another person with knowledge of the matter said. Two assistant attorneys general from Ms. James's office have joined the district attorney's team, which has been seeking to turn Mr. Weisselberg into a cooperating witness against Mr. Trump and the Trump Organization, people with knowledge of that effort said.
…
Mr. Trump has been described by advisers as agitated by the two investigations.
After moving last week from his private Florida club, Mar-a-Lago, to another of his clubs in New Jersey, he then decamped to Trump Tower for his first extended stay in years, spending time at the office where aides have been grappling with the inquiries for many months.
He could be more than agitated if he gets charged, and if he has to acually go to court. A wondrous possibility in that scenario, and it could come about if the prosecutors get their shit together and find evidence that would stand up to legal scrutiny. And the T-Rump can't evade shit.
Kimberly Wehle, a Never-Trump Republican, former assistant U.S. attorney, and Professor of law at the University of Baltimore, wrote yesterday at The Atlantic that the New York cases against the T-Rump might find a bumpy road to a courtroom/conviction, but authority is there:
Whether the joint efforts of the Manhattan DA and the New York State AG will lead to indictments is unknowable at this point, but the matter is clearly ramping up. One question of late is whether either jurisdiction could force Trump to appear in New York in the event that he is criminally charged, given that he is lodged primarily in his Mar-a-Lago estate in Florida, though he recently moved to his country club in Bedminster, New Jersey.
Florida Governor Ron DeSantis is a staunch Trump ally, and Palm Beach County State Attorney Dave Aronberg has publicly acknowledged that "informal conversations" have occurred regarding whether DeSantis could intervene "in case an indictment happens."

But as Aronberg noted, DeSantis "can try to delay it, he can send it to a committee and do research about it, but his role is really ministerial, and ultimately the state of New York can go to court and get an order to extradite the former president."
In fact, this is a rare circumstance in which the Constitution is quite explicit regarding a governor's obligation to respect an extradition request from another state: Article IV, Section 2 provides that "a person charged in any state with treason, felony, or other crime … shall on demand of the executive authority of the state from which he fled, be delivered up, to be removed to the state having jurisdiction of the crime."
A statute of troubling origins dating from 1793 and known as the Fugitive Slave Act sets forth procedures for extradition, which the Supreme Court has affirmed.

As president, Donald Trump dodged conviction despite two impeachment trials on three counts of constitutional wrongdoing. Now his own criminal and civil liability, as well as that of his businesses, his staff, and his children, are squarely within the sights of the rule of law.
Former Senate Majority Leader Mitch McConnell put it plainly in his remarkable speech justifying his vote to acquit Trump for his role in the January 6 insurrection at the United States Capitol: "We have a criminal justice system in this country. We have civil litigation. And former presidents are not immune from being held accountable by either one."
MoscowMitch doesn't know his shit from a hole in the ground — he's running scared from the T-Rump's actions inciting the Jan. 6 insurrection/riot, his own party's eyeball-deep guilt in it, and the impact that would cause the mid-terms next year.
However, one guy who can read the T-Rump is his former longtime fixer, Michael Cohen. Yesterday, Cohen was on Joy Reid's MSNBC program and said not only could the T-Rump go down, but he'd 'flip' on everybody, including his own children, if that happened.
T-Rump's business life is a total sham (h/t Digby);
Watch the whole clip, Cohen has an amazing view on the workings of a way-shitty operation. If not, main point was probably of the T-Rump being a self-centered, easy-betrayer — Cohen explains (Mediaite):
"I really believe that Donald Trump cares for only himself, and he realizes that his goose is cooked. So when he turns around and he gets questioned about what you were just asking about — inflation — 'It wasn't me. It was Allen! It was my accountant. It was the appraiser.'

It's never Donald. See, this is the problem. It's never, ever Donald Trump. It's always somebody else. It wasn't Donald Trump who had the affair. It wasn't Donald Trump who directed me to make the payments to Stormy Daniels. It wasn't Donald Trump who got the benefit of the relationship and the actions. It was Michael Cohen. And I'm the bad guy into it. Why? Because I didn't take the fall.
…
What's going to happen when all of a sudden they turn around and start asking him about his tax returns or about the devaluation of the assets or the way that he took deductions?

'I don't do my taxes. It's my accountant.' So he's going to turn on his accountant and point the finger. He's going to say 'Don Jr. handled that, Ivanka handled that. Melania. Don't take me. Take Melania!' He's going to tell them to take everyone except for himself."
Cohen has his faults and he did work for the T-Rump for a long time, but he's covered some new ground the last couple of years and he appears to understand/know the inner workings of one of the worse human beings who's ever lived. I don't know if it will work out the way Cohen describes, but it would be nice, though.
Continuing on with the T-Rump shit — off the legal path and into 'Pulp Fiction' lingo-land, former President Obama reportedly had some salty words to characterize the orange turd from a new book to be published next week, "Battle for the Soul: Inside the Democrats' Campaigns to Defeat Donald Trump," by Edward-Isaac Dovere, a staff writer at The Atlantic. Obama took his time talking about T-Rump, but after a couple of years he let loose the language.
From a review of 'Battle for the Soul' at the Guardian yesterday:
"'He's a madman,'" Dovere reports Obama telling "big donors looking to squeeze a reaction out of him in exchange for the big checks they were writing to his foundation."

"More often: 'I didn't think it would be this bad.'
Sometimes: 'I didn't think we'd have a racist, sexist pig.'
Depending on the outrage of the day … a passing 'that fucking lunatic' with a shake of his head."

Obama's strongest remark, Dovere reports, was prompted by reports that Trump was speaking to foreign leaders — including Vladimir Putin, amid the investigation of Russian election interference and links between Trump and Moscow — without any aides on the call.

"'That corrupt motherfucker,' he remarked."
We can all live with that. Although having the 'corrupt motherfucker' in a upcoming version of orange-jumpsuit is the new T-Rump color would be way-way-better.
Four years ago, if lips could truly whisper:
"You're a creep."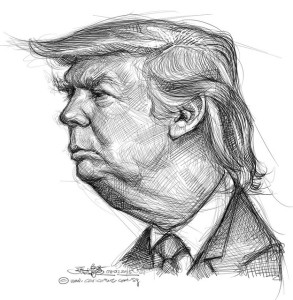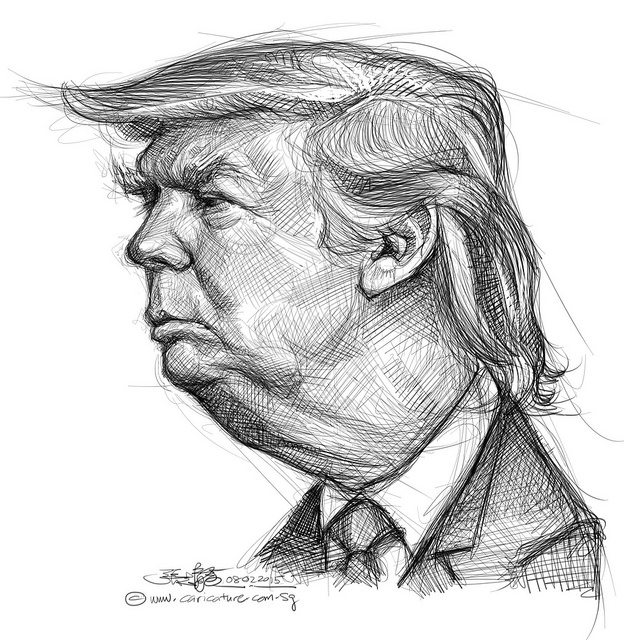 This is my favorite of the T-Rump mugs, though, 'favorite' does not mean in any form or fashion, as in, 'my favorite movie,' or 'my favorite song.'
It's more of an anti-appreciation/like.
And aptly titled, 'Basic Shapes,' by caricaturist/illustrator Chong Jit Leong (and found here), and displays the elemental form of a purloined sociopath — a bloated profile of flatulent bile and arrogant ignorance.