Sunny, hot, and somewhat-humid this mid-day Wednesday here in California's Central Valley. Even with scattered-overcast skies, it's going to get warm — we're in the mid-80s right now, forecast for 103 later this afternoon.
Just out back doing a B&M (Wine, Wood-tip), and I could feel the truth in that temperature prediction.
Anyway, one of the news topics today is the impact yesterday's Select Committee hearings has made on the political psyche and how far way-down the rabbit hole have Republicans gone in attempting to swat the whole affair out of the air. They're going to have a shit-hard job as the testimony from those four law enforcement officers was pointed, dramatic, and emotional.
Top-ranked GQPers were too-pre-occupied with the people's business to watch — Moscowmitch: '"No, I didn't … I was busy doing work. I serve in the Senate."'
And it was revealed: 'House Minority Leader Kevin McCarthy tells me he was not able to watch the Jan. 6 select committee hearing today because he was stuck in "back to back meetings."'
As the kids used to say, 'Yeah, right!'
Obvious Republicans are going to downplay, bullshit and flat-lie throughout all of this. During my routine doomscrolling earlier this morning, I can across a couple of write-ups, both at The Washington Post, on influence of the political order, not only from the committee hearings, but also how the news media in general should handle the continuing Republican bullshit.
The first an op/ed from Jennifer Rubin on the impassioned testimony and its direct language:
Opinion: The Jan. 6 select committee is already exceeding all expectations https://t.co/VfG85dS6Lo

— The Washington Post (@washingtonpost) July 28, 2021
Rubin, a former long-time conservative, pretty-much hits the mark — some snips:
Rep. Liz Cheney (R-Wyo.), who has pulled no punches concerning the insurrection, was even more emphatic in skewering her own party. "On Jan. 6 and in the days thereafter, almost all members of my party recognized the events of that day for what they actually were," she said.
She added, "No member of Congress should now attempt to defend the indefensible, obstruct this investigation or attempt to whitewash what happened that day."
It's no wonder she gives Republican toadies the shakes, especially when she warns that failure to hold all those involved responsible would allow the cancer on our democracy to go unchecked.
As she put it: "We must know what happened here at the Capitol. We must also know what happened every minute of that day in the White House. Every phone call. Every conversation. Every meeting leading up to, during, and after the attack."
…
The use of clear language — Rep. Jamie B. Raskin (D-Md.) spoke of "fascist traitors" while D.C. Police officer Daniel Hodges referred to "terrorists" — was a refreshing departure from mealy-mouth descriptions that obscure the violence and the ideology of the insurrectionists.
It was critical to hear the granular description of that day, especially as it helps to expose the galling dishonesty and appalling bad faith of Republicans.
…
Speaker Nancy Pelosi's judgment in refusing to seat two Republicans bent on making a mockery of the committee proved wise. For several hours, serious questions engendered serious answers.
In place of flat-out lies or attempts to blame the victims of the attack for not being prepared, the hearing provided a poignant, precise account of the events of Jan. 6.
It clarified who was defending democracy and who was seeking to destroy it. Without the antics of unhinged MAGA Republicans on the committee, a coherent narrative emerged.

The media coverage of the GOP's ongoing attempt to undermine democracy has too often devolved into false "balance" and an inaccurate portrayal of a movement that now accepts violence and disdains elections.
Journalists would do well to watch the full hearing and emulate the clear language offered by committee members and the witnesses.
They must do better if they are to keep Americans informed about the ongoing threat to democracy. The days of putting Jan. 6 apologists and deniers on mainstream news programming must end.
The media must stop acting as a conduit for Republican disinformation.
Straight-on bridges the next piece from Margaret Sullivan, the Post's media columnist, and the danger to 'both-siding' our current political one-sided shitstorm:
Perspective: Our democracy is under attack. Washington journalists must stop covering it like politics as usual. https://t.co/V3GTECrmh2

— The Washington Post (@washingtonpost) July 28, 2021
Sullivan starts by going back to the 2012 book, "It's Even Worse Than It Looks," by Norman Ornstein and Thomas Mann, on the horrible craziness of the Republican party and its threat to democracy. Shit's even way-off the charts now nine years later.
Journalism, however, still hasn't changed:
Ornstein and Mann didn't use the now-in-vogue terms "both-sidesism" or "false equivalence," but they laid out the problem with devastating clarity (the italics are mine):

"We understand the values of mainstream journalists, including the effort to report both sides of a story. But a balanced treatment of an unbalanced phenomenon distorts reality. If the political dynamics of Washington are unlikely to change any time soon, at least we should change the way that reality is portrayed to the public."

Nearly a decade later, this distortion of reality has only grown worse, thanks in part to Donald Trump's rise to power and his ironclad grip on an increasingly craven Republican Party.

Positive proof was in the recent coverage of congressional efforts to investigate the Jan. 6 insurrection at the Capitol.

The Democratic leadership has been trying to assemble a bipartisan panel that would study that mob attack on our democracy and make sure it is never repeated.
Republican leaders, meanwhile, have been trying to undermine the investigation, cynically requesting that two congressmen who backed efforts to invalidate the election be allowed to join the commission, then boycotting it entirely.
And the media has played straight into Republicans' hands, seemingly incapable of framing this as anything but base political drama.
…
The bankruptcy of this sort of coverage was exposed on Tuesday morning, when the Jan. 6 commission kicked off with somber, powerful, pointedly nonpolitical testimony from four police officers who were attacked during the insurrection.
Two Republicans, Liz Cheney and Adam Kinzinger, even defied McCarthy's boycott to ensure their party would be sanely represented.
…
Mainstream journalists want their work to be perceived as fair-minded and nonpartisan.
They want to defend themselves against charges of bias.
So they equalize the unequal. This practice seems so ingrained as to be unresolvable.
Sullivan does offer up some advice:
There is a way out. But it requires the leadership of news organizations to radically reframe the mission of its Washington coverage.
As a possible starting point, I'll offer these recommendations:

Toss out the insidious "inside-politics" frame and replace it with a "pro-democracy" frame.
Stop calling the reporters who cover this stuff "political reporters." Start calling them "government reporters."
Stop asking who the winners and losers were in the latest skirmish. Start asking who is serving the democracy and who is undermining it.
Stop being "savvy" and start being patriotic.

In a year-end piece for Nieman Lab, Andrew Donohue, managing editor of the Center for Investigative Reporting's Reveal, called for news organizations to put reporters on a new-style "democracy beat" to focus on voting suppression and redistricting.
"These reporters won't see their work in terms of politics or parties, but instead through the lens of honesty, fairness, and transparency," he wrote.
However, the backside: 'Making this happen will call for something that Big Journalism is notoriously bad at: An open-minded, nondefensive recognition of what's gone wrong.'
Bottom line — literally now or never.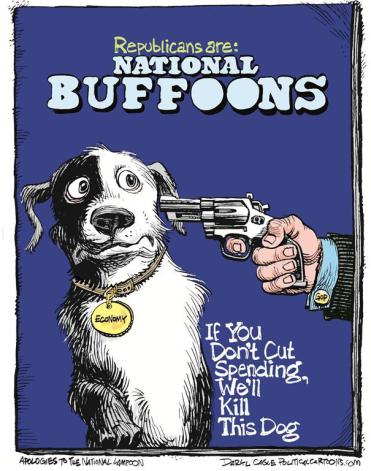 (Illustration out front: 'National Buffoons,' by Daryl Cagle, found here).