As the world weathers the accelerating impacts of climate change, attendees to COP26 in Glasgow, Scotland, finally reached an agreement, though, the entire affair could be another "blah, blah, blah" episode.
Nutshell via The Washington Post this afternoon:
Saturday's agreement, however, does not achieve the most ambitious goal of the 2015 Paris accord — to limit Earth's warming to 1.5 degrees Celsius (2.7 Fahrenheit) above preindustrial levels.
Instead, delegations left Glasgow with the Earth still on track to blow past that threshold, pushing toward a future of escalating weather crises and irreversible damage to the natural world.
In the truth of the matter, liken more to a watered-down arrangement — even the UN chief agrees:
The #COP26 outcome is a compromise, reflecting the interests, contradictions & state of political will in the world today.

It's an important step, but it's not enough.
It's time to go into emergency mode.

The climate battle is the fight of our lives & that fight must be won. pic.twitter.com/NluZWgOJ9p

— António Guterres (@antonioguterres) November 13, 2021
Details at the Guardian this afternoon:
The "Glasgow climate pact" was adopted despite a last-minute intervention by India to water down language on "phasing out" coal to merely "phasing down."

The pledges on emissions cuts made at the two-week Cop26 summit in Glasgow fell well short of those required to limit temperatures to 1.5C, according to scientific advice. Instead, all countries have agreed to return to the negotiating table next year, at a conference in Egypt, and re-examine their national plans, with a view to increasing their ambition on cuts.
…
António Guterres, the UN secretary-general, also warned that further urgent work was needed: "Our fragile planet is hanging by a thread. We are still knocking on the door of climate catastrophe. It is time to go into emergency mode – or our chance of reaching net zero [emissions] will itself be zero."

The return to negotiations next year, to begin an annual process of revising national targets on greenhouse gases, will be a fraught process, as some countries contend that they are already doing their utmost. Even the small step of agreeing to revise the plans was only achieved after overcoming stiff opposition, yet revision is essential if the world is to avoid surpassing the 1.5C threshold.

One of the fiercest disagreements in the final hours was over the wording of an intention to abandon coal, which was watered down from a "phase-out" to a "phase-down". Yet it marked the first time that such a resolution had been made under the UN climate process.

Jennifer Morgan, executive director of Greenpeace International, said: "It's meek, it's weak and the 1.5C goal is only just alive, but a signal has been sent that the era of coal is ending. And that matters."

Poor countries were also left frustrated at the pact, which they said did not address their concerns about "loss and damage". This refers to the destruction caused by extreme weather, which is now hitting vulnerable countries far harder and more frequently than had been predicted.
…
One of the most contentious clauses in the final decision was a vaguely worded resolution to phase down "inefficient" fossil fuel subsidies. Energy experts are clear that phasing out coal will be essential to stay within 1.5C of global heating, but the opposition to the inclusion of the reference to a phase out – particularly from major coal-using countries including China, India and South Africa – showed how hard it will be to gain a global end to the dirtiest fossil fuel in time to avoid a 1.5C rise.

Fatih Birol, executive director of the International Energy Agency, told the Guardian that more than 40-percent of the world's existing 8,500 coal plants would have to close by 2030, and no new ones could be built, to stay within the limit.
He said: "I would very much hope that advanced economies take a leading role and become an example for the emerging world. If they don't do it, if they don't show an example for the emerging world, they shouldn't expect the emerging world to do it."
After all the hoopla, the conference was just an added do-about-nothing episode to halt climate change. The main problem is that we have to do something mega-drastic — like stop all our shit right now.
Two years ago, almost to the day, the UN itself issued its most bleak, dire, and considering today's bullshit, hopeless warning: 'Global greenhouse gas emissions must begin falling by 7.6 percent each year beginning 2020 — a rate currently nowhere in sight — to meet the most ambitious aims of the Paris climate accord, the report issued early Tuesday found. Its authors acknowledged that the findings are "bleak." After all, the world has never demonstrated the ability to cut greenhouse gas emissions on such a scale.'
Meanwhile, back to COP26,  noted climate activist Bill McKibben at The New Yorker last week examined how young people doubt this whole mock-up:
It's not clear who exactly is supposed to level this mountain of bad faith.
Greta Thunberg, the eighteen-year-old Swedish climate campaigner, may be the most honest broker left, and, though she wasn't formally invited to speak in the hall, her voice has been loud on the streets of Glasgow. "That is not leadership — this is leadership," she said last week, gesturing to her fellow youth activists.
The rise of illiberal leaders around the world means that too many governments are beyond their reach: India's equivalent of Thunberg, Disha Ravi, an activist in her early twenties, was arrested earlier this year, and, in China, Ou Hongyi, who is also just eighteen, has been called in for questioning by the police.
But the big pools of capital — the great banks of New York and London, the giant pension funds of the West — are within the reach of young activists, so retail branches and brokerage houses may make for more promising targets than governments.
It seems likely that, as the Glasgow summit concludes, that's where they will turn their attention in a last-ditch effort to hold someone actually accountable for wrecking the planet.
In this the newest Gilded Age, accountability is most-way-usually far from reach.
And all bets are off in case of worldwide fire:
Here we are, once again…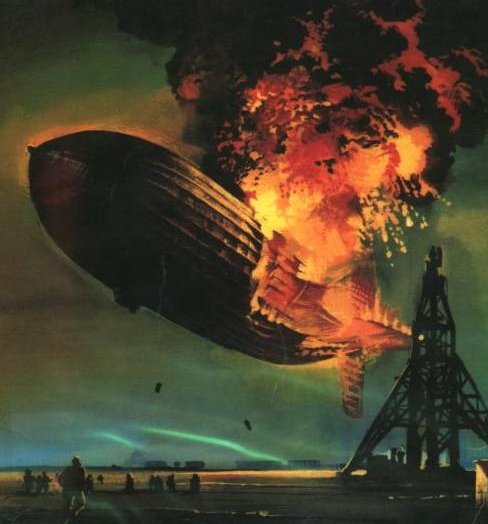 (Illustration out front found here).