Despite the horror of American democracy under fire from all things Republican, that fire is blazing right out in the broad daylight — those who love the T-Rump and truly believe he's the president (or act that way for many nefarious reasons) run their mouths, create treasonous, illegal plots and then perform in pubic as if in a Twilight Zone-influenced Aaron Sorkin film.
Walking hallways sprouting plots and conspiracy points in books and TV.
What makes these asshole think — Mark Meadows, and Kayleigh McEnany to name a couple — they can say anything about anything, lying full bore, and get away with it. Especially now with T-Rump economic advisor/insurrection instigator Peter Navarro's new tome, a memoir, "In Trump Time: My Journal of America's Plague Year," and loves him some coup.
Even worse in an interview:
They're saying what the January 6 plan was out loud: PETER NAVARRO: "increase public pressure on then-Vice President Mike Pence to send the electoral votes back to six contested states, where Republican-led legislatures could try to overturn the results." https://t.co/08prmZ7k0H

— Amanda Carpenter (@amandacarpenter) December 28, 2021
Navarro and longtime asshole Steve Bannon hatched a plan, code-named the "Green Bay Sweep," in a Hail Mary-like play during the Congressional election count Jan.6 to halt certification of the 2020 election results. And apparently doesn't give a shit about what they attempted to pull off — via The Daily Beast last night (updated this morning):
"We spent a lot of time lining up over 100 congressmen, including some senators. It started out perfectly. At 1 p.m., Gosar and Cruz did exactly what was expected of them," Navarro told The Daily Beast.
"It was a perfect plan. And it all predicated on peace and calm on Capitol Hill. We didn't even need any protestors, because we had over 100 congressmen committed to it."

That commitment appeared as Congress was certifying the 2020 Electoral College votes reflecting that Joe Biden beat Trump. Sen. Cruz signed off on Gosar's official objection to counting Arizona's electoral ballots, an effort that was supported by dozens of other Trump loyalists.

Staffers for Cruz and Gosar did not respond to requests for comment. There's no public indication whether the Jan. 6 Committee has sought testimony or documents from Sen. Cruz or Rep. Gosar. But the committee has only recently begun to seek evidence from fellow members of Congress who were involved in the general effort to keep Trump in the White House, such as Rep. Jim Jordan (R-OH) and Rep. Scott Perry (R-PA).

This last-minute maneuvering never had any chance of actually decertifying the election results on its own, a point that Navarro quickly acknowledges. But their hope was to run the clock as long as possible to increase public pressure on then-Vice President Mike Pence to send the electoral votes back to six contested states, where Republican-led legislatures could try to overturn the results.
And in their mind, ramping up pressure on Pence would require media coverage. While most respected news organizations refused to regurgitate unproven conspiracy theories about widespread election fraud, this plan hoped to force journalists to cover the allegations by creating a historic delay to the certification process.

"The Green Bay Sweep was very well thought out. It was designed to get us 24 hours of televised hearings," he said.
"But we thought that we could bypass the corporate media by getting this stuff televised."

Navarro's part in this ploy was to provide the raw materials, he said in an interview on Thursday. That came in the form of a three-part White House report he put together during his final weeks in the Trump administration with volume titles like, "The Immaculate Deception" and "The Art of the Steal."

"My role was to provide the receipts for the 100 congressmen or so who would make their cases… who could rely in part on the body of evidence I'd collected," he told The Daily Beast.
"To lay the legal predicate for the actions to be taken." (Ultimately, states have not found any evidence of electoral fraud above the norm, which is exceedingly small.)
…
Navarro told The Daily Beast he felt fortunate that someone cancelled his scheduled appearance to speak to Trump supporters that morning at the Ellipse, a park south of the White House that would serve as a staging area before the violent assault on the U.S. Capitol building.

"It was better for me to spend that morning working on the Green Bay Sweep. Just checking to see that everything was in line, that congressmen were on board," he said during the interview.
"It was a pretty mellow morning for me. I was convinced everything was set in place."
…
When asked if Trump himself was involved in the strategy, Navarro said, "I never spoke directly to him about it. But he was certainly on board with the strategy. Just listen to his speech that day. He'd been briefed on the law, and how Mike [Pence] had the authority to it."
…
Navarro said he's still surprised that people at the Trump rally turned violent, given the impression he got when he went to see them in person during an exercise run that morning.

"I'm telling you man, it was just so peaceful. I saw no anger. None. Zero," he said.
Bannon played it out on his podcast that morning, explaining the 'Green Bay Sweep" as if from a football movie: '"We are right on the cusp of victory," Bannon said on the show. "It's quite simple. Play's been called. Mike Pence, run the play. Take the football. Take the handoff from the quarterback. You've got guards in front of you. You've got big, strong people in front of you. Just do your duty."'
Creepy-weird, American fetish dumb, and extremely dangerous.
And right out in the freaking open with its galling ignorance:
Here we are, yet once again…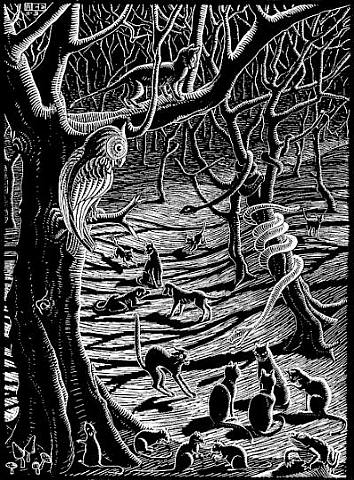 (Illustration out front: M.C Escher's 'Scholastica,' found here)