Just turning dark this Sunday evening here in California's Central Valley, a beautiful, sunshine-splashed day with some chilly temperatures earlier, but got warm in the dazzling sun.
And news just to keep the future bright, a new variant discovered off the old variants — via Bloomberg News from yesterday:
A strain of Covid-19 that combines delta and omicron was found in Cyprus, according to Leondios Kostrikis, professor of biological sciences at the University of Cyprus and head of the Laboratory of Biotechnology and Molecular Virology.

"There are currently omicron and delta co-infections and we found this strain that is a combination of these two," Kostrikis said in an interview with Sigma TV Friday.
The discovery was named "deltacron" due to the identification of omicron-like genetic signatures within the delta genomes, he said.
However, with the Omicron COVID strain still spreading like wildfire, it's only a matter of time, supposedly:
"I don't think it's a foregone conclusion that everybody will get COVID-19," UCLA infectious disease expert Otto Yang told the "Today" show last month.
"It really depends on the public health response and what we do in terms of vaccination."
A lot of virus shit has taken place in a short space of time:
Oh man, https://t.co/fjygttLVFA

— Molly Jong-Fast (@MollyJongFast) January 9, 2022
This particular variant loose on the public has scared me the most yet. I  had an appointment at the VA Hospital down in Fresno for tomorrow, but the virus is spreading so quickly, easily here in California — second biggest day yet in the whole pandemic for my county, and LA County set a one-day record yesterday — I canceled my appointment as it wasn't for anything in particular and not an emergency.
Just too much worry without the need.
A new jolt of a virus scenario:
Meanwhile, in other science-explaining items from across the InterWebs this evening comes research about law enforcement and racism and the impact of police killings upon actually continued police operations.
A reminder of what African-Americans have been living with since seemingly forever, and continue to live with  — black Americans' view of/reaction to contact with police. A new study — published yesterday at the journal Criminology —  indicates nothing new, but substantiates strongly the different view of law enforcement between black and white.
From the Abstract:
The mission of policing is "to protect and serve," but recent events suggest that many Americans, and especially Black Americans, do not feel protected from the police. Understanding police-related fear is important because it may impact civilians' health, daily lives, and policy attitudes … Most White respondents felt safe, but most Black respondents lived in fear of the police killing them and hurting their family members. Approximately half of Black respondents preferred to be robbed or burglarized than to have unprovoked contact with officers. The racial divide in fear was mediated by past experiences with police mistreatment. In turn, fear mediated the effects of race and past mistreatment on support for defunding the police and intentions to have "the talk" with family youths about the need to distrust and avoid officers. The deep American racial divide in police-related fear represents a racially disparate health crisis and a primary obstacle to law enforcement's capacity to serve all communities equitably.
Racism in this country is embedded. America needs to face the past in order to really handle the future correctly.
In context, other new research on the effect high-profile police killings have on actual police work — from ScienceDirect, and the study's Abstract:
Do highly publicized police killings of civilians have a widespread effect on policing activities? Focusing on such incidents in the United States during 2014–2016 and adopting different identification strategies, we study the effect in large U.S. cities. We conduct a single-city analysis of St. Louis and a multi-city analysis of 60 large cities. Our regression discontinuity and difference-in-differences estimates provide consistent and strong evidence that those high-profile killings reduced policing activities, including police self-initiated activities and arrests. The estimated reduction in self-initiated activities shows that police officers proactively withdrew from law enforcement activities, providing direct evidence of de-policing.
Take it as you will.
And once again, here we are…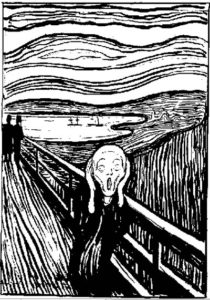 (Illustration out front: Edvard Munch's 'The Scream,' lithograph version, found here)