Last night's SOTU is now history, but Russians in Ukraine and Republicans in America keep clogging the news drain pipe this mid-day Wednesday in California's Central Valley — warm again, too, feels like it's getting warm all over the world.
Enough of that shit, though, spot on — most-likely biggest news so far this morning is the action taken by the whole-wide world at the UN (the Guardian):
The United Nations has voted overwhelmingly for a resolution deploring Russia's invasion of Ukraine and called for the immediate withdrawal of its forces, in a global expression of outrage that highlighted Russia's increasing isolation.

In an emergency session of the UN's general assembly, 141 of the 193 member states voted for the resolution, 35 abstained, and five voted against. The only countries to vote no in support of Moscow were Belarus, North Korea, Eritrea and Syria. Longstanding allies Cuba and Venezuela joined China in abstaining.

The resolution, said the UN "deplores in the strongest terms the aggression by the Russian Federation against Ukraine". It demanded that "the Russian Federation immediately cease its use of force against Ukraine" and "immediately, completely and unconditionally withdraw all of its military forces."
Although not legally binding, the resolution is high on planet unification against a single foe: '"It isn't going to stop Russian forces in their stride, but it's a pretty enormous diplomatic win for the Ukrainians and the US, and everyone who has got behind them," Richard Gowan, UN director at the International Crisis Group, said.'
Despite all that, the war continues, but not unabated. Vlad Putin has probably made one of those weird-ass, throw-aways decisions which will come back and bite him sharply on his cheap, military-narcissistic ass. Despite winning Ukraine — the situation way-too troop/weaponry lopsided for the Ukrainians to be anywhere victorious — Russia and Putin will face consequences way beyond the Ukrainian border and this war.
The Russian military has proven to be fairly shitty, and helter-skelter lead. They have got the hardware and the troops but are actually getting knocked hard:
A destroyed Russian military column in Kherson Oblast. https://t.co/KBBvWRxgHF pic.twitter.com/AwUYHiaNU1

— Rob Lee (@RALee85) March 2, 2022
Meanwhile here in the US of A, Republicans are displaying some wondrous, crazy shit, and despite the world condemning Putin, a large flock of GOPers claim it's still better to have a white supremacist, war nut than a Democrat.
And some right-angled nit-twits are making absolute assholes of themselves in conduct unbecoming for any kind of polite society. These people are beyond the pale — this from last night:
Real classy stuff https://t.co/g1hEQiXFI9

— Molly Jong-Fast (@MollyJongFast) March 2, 2022
You've probably already heard about the details of Boebert and Greene acting the middle-school cut-ups during Joe Biden's SOTU — unbelievable behavior for any sane adult in a set scenario such as the freaking-ass US Congress. They are two shitheads in a pod.
And then this morning, cruelty, nastiness and being a self-centered whine-horse arrives:
pArTy oF PeRsOnAl FrEeDoM https://t.co/E5tkvzN5OP

— Aaron Rupar (@atrupar) March 2, 2022
Nutshell via the Sarasota Herald-Tribune this afternoon:
Irked by the sight of students wearing masks at his press conference Wednesday, Gov. Ron DeSantis encouraged them to remove the facial coverings, calling their use "COVID theater."

"You do not have to wear those masks," DeSantis said in video captured by WFLA News Channel 8, Tampa's NBC station.
"Please take them off. Honestly, it's not doing anything. We've gotta stop with this Covid theater. So if you wanna wear it, fine, but this is ridiculous."

DeSantis then shakes his head in apparent frustration before launching into the press conference at the University of South Florida, which he visited to tout $20 million in funding for cybersecurity training. At least two people removed their masks at the governor's request, according to the video.

The Hillsborough County School District told WFLA News Channel 8 that seven students from Middleton High School attended the press conference.

"As always, our students should be valued and celebrated," Hillsborough Schools Superintendent Addison Davis told WFLA.
"It is a student and parents' choice to protect their health in a way they feel most appropriate. We are proud of the manner in which our students represented themselves and our school district."
Pure asshole — and that asshole could some-fucking-how become president in two years.
Beyond theater and a booted Twilight Zone episode, once again here we are…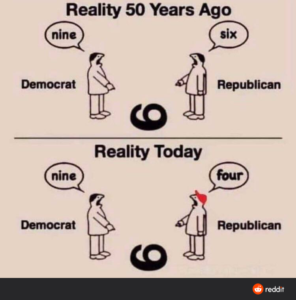 (Illustration out front found here).