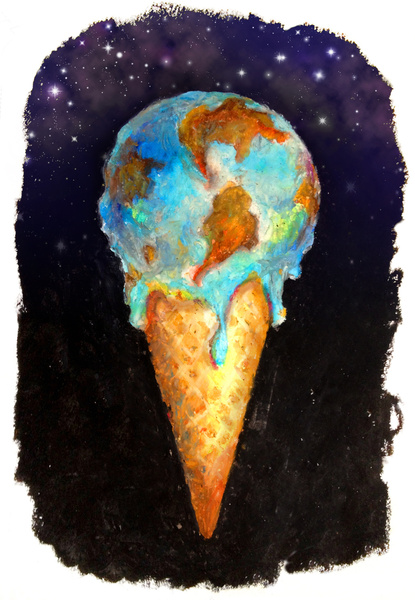 Considered 'partly cloudy,' right now, though maybe in a few minutes the word, 'partly,' will be replaced by its opposite, 'wholly,' as heavy rain is forecast for this afternoon on this little stretch of California's north coast — more 'partly cloudy' due tomorrow, with rain rainfall supposedly lessening.
In the scope of politics and climate change, longtime, 1-percenter Republican George Shultz can buck the idiots' tide: '"The potential results are catastrophic," he said in an interview. "So let's take out an insurance policy."'
Via Bloomberg: 'Two years ago, Shultz was alarmed when a retired Navy admiral showed him a video of vanishing Arctic sea ice and explained the implications for global stability. Now, the former Cold Warrior drives an electric car, sports solar panels on his California roof and argues for government action against global warming at clean-energy conferences.'
(Illustration above found here).
Shultz, 93, never does explain in the Bloomberg piece what this "insurance policy" really is, or what agent/company would insure 7 billion people. Unless he means all the environmental innovative stuff like solar panels. The main excitement in Shultz, who goes way back a generation to Dick Nixon's first term, is that most GOPers nowadays are pure assholes when it comes to the climate, and he seems to buck the system, just a bit.
For instance, Oklahoma's James Inhofe, a giant turd who in January will become chair of the Senate Environment and Public Works Committee, the major environmental player in that august body — Inhofe claims climate change the "biggest hoax" ever.
Or, Rep. Fred Upton of Michigan, who has tried to stop the EPA from doing its job, and to climate change? '"I don't – I accept that. I do not say that it is man-made."'
Or, on and on…
George is just oddly curious, I guess.