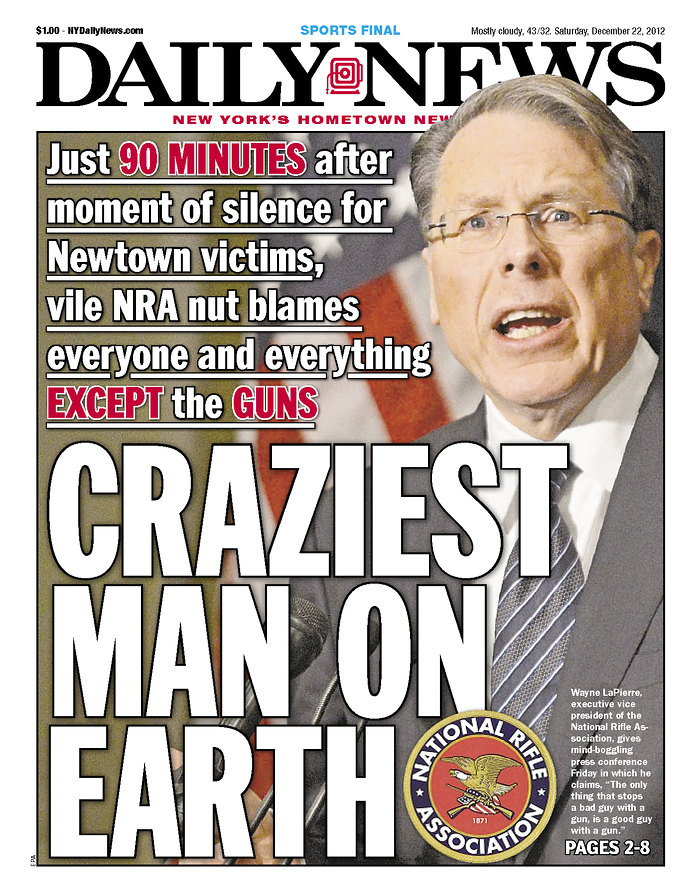 Sunshine this Monday afternoon on California's north coast with a fog bank drifting in place just down the street, creating cooler temperatures than yesterday — overall, however, we're shooting mostly for good weather for awhile.
In the context of shooting, hard to fathom the National Rifle Association actually existing, one of the most-horrid organizations in the world — from MarketWatch on Friday
NRA membership dues skyrocketed by a staggering 62 percent in the year after Sandy Hook, from $108 million to $176 million.
Total revenue in 2013 hit a third of a billion dollars.
As a result, the massive organization saw profits — excuse me, "surpluses" — rocket 2,750 percent to $57 million.
(Illustration: New York's Daily News, Dec. 22, 2012, found here).
Further-fucking-more:
Of course, that's before taxes.
But, then, it didn't pay any taxes, for it is a nonprofit charity.
The NRA estimates it was also helped by 150,000 volunteers.
How many corporations could boast as much?
The NRA top executives shared that year in a treasure chest of more than $8 million in salary, bonuses, nontaxable benefits, deferred pay and other compensation — a nice payout for an organization that enjoys charitable exemption from U.S. taxes.
LaPierre alone made a million bucks a year, which is, ironically, equal to about $100 for every man, woman and child murdered with a gun in America.
Just a really, really pisser of an item.
And splash headline of the New York's Daily News?
Daily News columnist Linda Stasi this past weekend (via Mediaite):
"Between 2012 and 2015, according to University of Maryland's Global Terrorism Database, ISIS has murdered approximately 12,138 civilians, Boko Haram,10,092, the Taliban 9,427 and Hamas, 85," Stasi writes.
"In that time, Americans have murdered or spree killed via gun and assault rifle, 87,423 people in the United States."
"Therefore the NRA should take its rightful place on the State Department list of terrorist organizations, because its influence is more of an immediate threat to the lives of our citizens than foreign terrorists," she concluded.
Try a little reality…