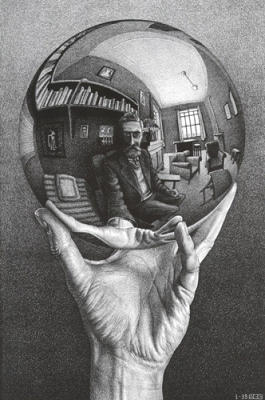 (Illustration: M.C Escher's 'Three Spheres II,' found here).
Cloudy and cold this early-evening Tuesday here on California's north coast. Bright sunshine for most of the day, and real-chilly breezy, too. Started darkening-up late this afternoon, with rain forecast for tonight and tomorrow.
Sunshine back supposedly on Thursday for a couple of days, then the cycle of rain again by next weekend…
Some inside legal shenanigans out of the T-Rump today, all kinds of idiocy with with the penal-pinch getting closer — first out of the chute from the New York Times:
As federal prosecutors in Manhattan gathered evidence late last year about President Trump's role in silencing women with hush payments during the 2016 campaign, Mr. Trump called Matthew G. Whitaker, his newly installed attorney general, with a question. He asked whether Geoffrey S. Berman, the United States attorney for the Southern District of New York and a Trump ally, could be put in charge of the widening investigation, according to several American officials with direct knowledge of the call.
Mr. Whitaker, who had privately told associates that part of his role at the Justice Department was to "jump on a grenade" for the president, knew he could not put Mr. Berman in charge because Mr. Berman had already recused himself from the investigation.
The president soon soured on Mr. Whitaker, as he often does with his aides, and complained about his inability to pull levers at the Justice Department that could make the president's many legal problems go away.
Just tip of the proverbial ice berg:
An examination by The New York Times reveals the extent of an even more sustained, more secretive assault by Mr. Trump on the machinery of federal law enforcement.
Interviews with dozens of current and former government officials and others close to Mr. Trump, as well as a review of confidential White House documents, reveal numerous unreported episodes in a two-year drama.
Mr. Whitaker, who this month told a congressional committee that Mr. Trump had never pressured him over the various investigations, is now under scrutiny by House Democrats for possible perjury.
On Tuesday, after The Times article published, Mr. Trump denied that he had asked Mr. Whitaker if Mr. Berman could be put in charge of the investigation.
"No, I don't know who gave you that, that's more fake news," Mr. Trump said.
"There's a lot of fake news out there. No, I didn't."
Read the whole piece, a depressing, detailed look at a sorry-ass, mean-spirited asshole, who is way-indeed an idiot:
A week after the firing, The Times disclosed that the president had asked Mr. Comey to end the Flynn investigation.
The next day, the deputy attorney general, Rod J. Rosenstein, appointed Mr. Mueller, a Republican, as special counsel.
Instead of ending the Russia investigation by firing Mr. Comey, Mr. Trump had drastically raised the stakes.
An idiot in charge…
And even old-timer Michael Flynn was pushed back into the light (PBS)::
Senior White House officials pushed a project to share nuclear power technology with Saudi Arabia despite the objections of ethics and national security officials, according to a new congressional report citing whistleblowers within the administration.
Lawmakers from both parties have expressed concerns that Saudi Arabia could develop nuclear weapons if the U.S. technology were transferred without proper safeguards.
The Democratic-led House oversight committee opened an investigation Tuesday into the claims by several unnamed whistleblowers who said they witnessed "abnormal acts" in the White House regarding the proposal to build dozens of nuclear reactors across the Middle Eastern kingdom.
And speaking/writing of Flynn and the T-Rump, Andrew McCabe in an interview published this morning via The Atlantic sees a cruel gangster mentality.
McCabe was fired last year by the T-Rump just hours away from retiring:
It was very hard to leave the organization that I loved, and still love to this day, under those circumstances.
To spend 21 years as an FBI agent, living under the ideals of fidelity, bravery, and integrity, and then to be branded a liar the day before you were gonna retire.
It was very tough.
But in some ways, it's also entirely predictable.
The facts are that this president has a long and illustrious history of attacking the credibility of people who say things that he doesn't like, and I believe strongly that that's what's happened here.
Firing me for lack of candor was a perfect way to undermine my ability to, who knows, provide testimony against him, to tell these stories that I've now told in the book.
I never, ever intentionally misled the FBI inspection division, the office of the inspector general, or any director of the FBI, ever.
Not ever.
I completely reject the findings, the conclusions, and the recommendations in that [inspector general] report.
I am very familiar with investigative reports.
I've been writing them and reading them for 21 years.
That is not an investigative report.
That was a pretext to reach the conclusion that was being demanded by the president of the United States.
…
There are a lot of patterns in what Director Mueller is doing that are very familiar to me.
Those patterns of targeting and investigating people who may have had more of a hands-on role, albeit at a lower level, and using those investigations to develop information and informants and cooperators — I mean, it is really the classic enterprise investigation that Director Mueller and his team have pursued.
So do I think the case into Trump is open or closed?
There's absolutely no reason for me to believe that it's closed.
And you can certainly look at what Mueller's done so far to say he is doing exactly what we would do with the investigation of a cartel or an organized-crime family.
…
"Well, that was my own experience with him, right?" he asked out loud.
"That kind of overwhelming or overriding focus on loyalty and sorting everybody out immediately — like, you're either with us or you're against us.
Those are all traits that you see in organized-crime enterprises."
McCabe is on book tour for "The Threat: How the FBI Protects America in the Age of Terror and Trump" (officially released today), so there's going to be more ugly shit to come…terrifyingly surreal,' terror' and 'Trump' as one in the same.