Another Saturday in a scenario where all seven days of the week seemed to have clogged together like we're all living in a way-weirdly-elongated weekend, time gets fuzzy and hard to grasp.
Not going out and about is a wear-and-tear process, because when you do go out, the trip is bizarre, akin to awkwardly walking through a clip from a science-fiction movie.
Yesterday, we had seven new COVID-19 cases reported here in Merced County, California, moving our local total to 59 — and including this from the Merced Sun-Star: 'Friday's news release from Merced County brought some good news, as the number of people who've recovered from the virus rose to 16, an increase of eight recoveries. A COVID-19 recovery is defined as being symptom free with no medication for 72 hours, according to Public Health.'
Statewide as of yesterday, 20,479 cases with 555 deaths.
As a country we're now number-one in the COVID-19 scheme of things — the US leads the world in virus-related deaths with more than 20,000, (a figure experts have called 'an underestimation'), and we've got at least 527,111 confirmed cases. New York state has more cases than any country. And supposedly we haven't peaked yet.
Midst all that, Anthony S. Fauci put a damper on the darkness by saying there's hope for "a real degree of normality" by November.
Read, as in the month of 'November.'
And to make worse matters that are already horrible, the T-Rump (h/t Daily Kos):
Major news orgs should consider running headlines like this. Too often they sanitize Trump's unhinged behavior. pic.twitter.com/lxXQpncDvw

— Oliver Darcy (@oliverdarcy) April 10, 2020
COVID-19 is a terror, but the US has the capability to get a handle on it, if presented correctly, and responded to in a normal manner. However, this is the T-Rump we're talking about here.
There's a long, detailed piece on how totally-sucked the T-Rump's response was/is to the coronavirus at the New York Times this afternoon — he was told explicitly in early January the virus could easily get out of control, but because he's an ignorant, narcissistic imbecile he waved the concern away. Read the whole thing, etc., but a couple of snips stood out (h/t/ LGM):
Even after Mr. Azar first briefed him about the potential seriousness of the virus during a phone call on Jan. 18 while the president was at his Mar-a-Lago resort in Florida, Mr. Trump projected confidence that it would be a passing problem.

"We have it totally under control," he told an interviewer a few days later while attending the World Economic Forum in Switzerland.
"It's going to be just fine."
And this little bit:
That was the case when the National Security Council convened a meeting on short notice on the afternoon of Jan. 27.
The Situation Room was standing room only, packed with top White House advisers, low-level staffers, Mr. Trump's social media guru, and several cabinet secretaries.
There was no checklist about the preparations for a possible pandemic, which would require intensive testing, rapid acquisition of protective gear, and perhaps serious limitations on Americans' movements.

Instead, after a 20-minute description by Mr. Azar of his department's capabilities, the meeting was jolted when Stephen E. Biegun, the newly installed deputy secretary of state, announced plans to issue a "level four" travel warning, strongly discouraging Americans from traveling to China.
The room erupted into bickering.
Flows down from the mouth and soul of the T-Rump: 'bickering.' He's a creator of chaos, loves it and apparently lives to sow it whenever/wherever he can, no matter the circumstances.
A further glimpse into the 'bickering' failure of the T-Rump is a story from The Washington Post, also this afternoon, on even though there's a shitload of 'task forces' to so-call battle COVID-19, there's no plan, or anything resembling a strategy to get a grip on the pandemic:
One of the biggest obstacles to the virus response is Trump himself. Even the most dutiful plans and projects often get caught up in the chaos of the White House. Advisers spend significant time trying to manage the president and his whims — from successfully dissuading him from seeking to reopen the country at Easter to tempering his impulse to push unproven drugs as miracle elixirs.
Even the progress can feel halting. Scientists are working on a vaccine, but that is expected to take at least a year. Basic hospital supplies are still so lagging that on Thursday, Pence suggested that medical professionals "recycle gowns." And some states have begun to formulate their own collective plan for defeating the virus without the help of the federal government.
…
The Situation Room seating chart — sent out every morning by Short in a PowerPoint — has become one of the task force's hottest documents.

Aides parse the power map for signs of who is up, who is down and who is likely to speak during the news conference that evening, with those closest to Pence having the best odds.
Birx is almost always on Pence's right while other, less senior aides are along the back wall or in an overflow room.

One senior administration official described it as a "little reality show drama.
Every day we wait for the email.
It's like 'Game of Thrones.' "
WTF!
There goes the weekend…
'Hold tight, we're in for nasty weather…'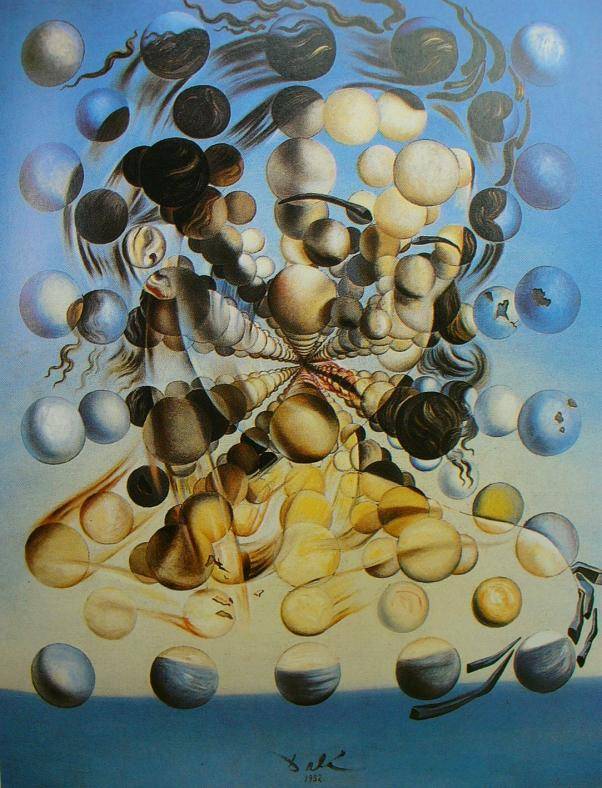 (Illustration: Salvador Dali's 'Galatea of the Spheres,' found here)