Last week, Joe and Jill Biden went down to Georgia in celebration of his 100th day in office and to attend a rally in Atlanta. While in the state, they also paid a visit to Jimmy and Rosalynn Carter in Plains, and last night the Carter Center released a photo of the two couples together, and it got the InterWebs in a storm.
The image reflected a stop-by at the home of Hobbits:
We're pleased to share this wonderful photo from the @POTUS and @FLOTUS visit to see the Carters in Plains, Ga.!

Thank you President and Mrs. Biden! pic.twitter.com/QcA33iUev4

— The Carter Center (@CarterCenter) May 4, 2021
Apparently from all indications, a wide-angle lens was used: Some explanation via the Guardian this morning — and does the pix appear strange?
It sure does. Where to begin … The scale of Biden v Rosalynn is very unusual — he looks three times the size of her and even though the natural physical changes during old age may be playing a role here, I don't think ageing shrinks you that much.
Also, the scale of Jimmy Carter's feet compared to the rest of his body is weird — sort of like a reverse statue of David. Finally, notice the lounge chairs, they look like they are from a doll's house. That seems unlikely.

So the Bidens are not, in reality, about three times bigger than the Carters?

No, they aren't. I'm sure Joe Biden is quite a bit taller than Rosalynn, but not by that much.
The image is possibly distorted by using a wide-angle lens. When taking photos in a smaller space you often don't have room to move far enough back to get everyone in the frame, so you use a lens that can take it all in.
Unfortunately, if you use a lens that is really wide, while also standing very close to the subjects, it will distort the photo, making those close to the camera appear giant while shrinking those further away.
And the article continues with technical aspects of how this shit could happen — further clarification from The Washington Post, also this morning:
Another factor in the optics of the photo, perhaps, is Carter's slim build, Alter (Jonathan; author of "His Very Best: Jimmy Carter, A Life") said.
The former president regularly ran long distances while living in the White House, learned to ski in his 60s, and — even well into his 90s — traveled to exotic locales like Siberia for fly-fishing trips.
He was also a skilled carpenter who crafted many pieces of wooden furniture, including the round coffee table on display in the image.

Alter noted that Carter went decades post-presidency without using a walker and began to use one only in 2019.
Even now, at age 96, he tries to swim most days in a pool by the Carters' modest ranch home in Plains, Ga., Alter said.
When the Bidens dropped by for a visit, Carter skipped his swimming hour to have tea with them and take the photo in question.

Throughout it all, Rosalynn — a pioneering force in mental health policy who some say was the most powerful first lady in U.S. history — was right alongside him in terms of physical endurance.
This year, the couple is set to celebrate their 75th wedding anniversary.
And the Post also included this tweet:
There. I fixed it. pic.twitter.com/dmjLiX3oXk

— ? Deonardo La Vinci ? (@DeonardoLeVinci) May 4, 2021
So, out of Hobbit land.
And on a bang-my-drum personal note: While a near-rookie police reporter for The Montgomery Advretiser in Montgomery, Ala., sometime in late spring/early summer of 1976, I interviewed Rosalynn Carter when she made a quick-stop visit to the Montgomery airport during that year's presidential campaign. There was a gaggle of other local journalists/photographers there and I did get to ask her a question or two, don't remember about what, and then everybody else departed as Mrs. Carter was about to leave.
However, I stuck around (I really don't remember how I ended up there, it wasn't my normal beat, guess no one else in the newsroom was available) and hung outside for awhile. She could see me through the glass windows, and even came out once to ask if I had any more questions. I stuttered an answer, "no" — what an idiot!
Anyway, the whole affair seemed to end, but surprise, surprise, Cornelia Wallace showed up. She was then the second wife of Gov. George C. Wallace, who was also in running for president.
Cornelia and Rosalynn met and chatted a bit (Cornelia had published a memoir earlier that year, "C'nelia." and she carried it face-out, close to her chest so apparently all could see, and maybe get photographed, but alas, all the other reporters, including the Advertiser's photographer had long gone).
I did get a scoop, though, being the only media guy there, and although there were no photos, my story did make the Associated Press wire. My biggie.
In a further note, I got to know Cornelia pretty good the following year during her highly-publicized divorce from Gov. Wallace — I was even subpoenaed to give a deposition in the divorce proceedings, but they settled out of court the day before I was scheduled to appear. Further flag waving: I was called a liar by the governor's lead attorney during proceedings before the Court of Civil Appeals — if I remember correctly, but 45 years is a long time, we'd reported the governor's lawyers had visited the family judge prior to filing divorce papers, a legal no-no.
And a further, further note: Jimmy Carter, to me, was the last of the real American presidents to hold office in a so-called 'normal' America, and he's been considered, "perhaps the most misunderstood president in American history," and although he served only one term, what followed has really, really sucked.
From Ronald Reagan onward the political atmosphere in the US became more and more toxic as time went on, and up to the horrifyingly way-high toxic levels of the nowadays.
A new documentary on Carter, "Carterland," will hopefully change the historical perspective.
Good wishes to Jimmy and Rosalynn…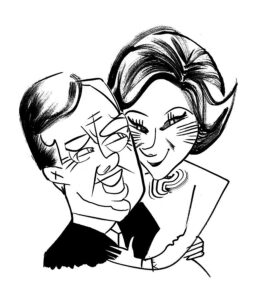 (Illustration: 'Jimmy & Rosalynn Carter,' drawing by Tom Bachtell, and found here).