In surfing the InterWebs this afternoon, scrolling across news stories on Joe Biden's speech, COVID anti-vaxxers, Texas Demo legislators fleeing the state to keep Repubs from choking-to-death the right to vote, a new T-Rump book revealing he's an even worse piece-of-shit/asshole then we all thought (shock!), along with numerous other headline items, I ventured onto a more-personal subject matter — all this intolerable hot weather and climate change.
Especially how quickly it was scientifically noted that epic, 'mega-heat-wave' late-last month was a global-warming example:
It used to take months or years to link extreme weather events to climate change. Now it takes days, thanks in part to a team of scientists who work in around-the-clock shifts to study those disasters. My latest @TIME https://t.co/YJTpzRv2Je

— Alejandro de la Garza (@AlexSdelaGarza) July 13, 2021
Climate change was quickly popped into news tories about the heat wave which covered from California, through the US Pacific Northwest and into British Columbia with record-breaking, fatal conditions — details from Time this morning:
"Friederike and I looked at each other over the Zoom," Van Oldenborgh told Dutch newspaper NRC on July 5. "The heat wave would peak that day. We said, 'This is so beyond the expectation of a heat wave. We must investigate this.'"

So began a nine-day round-the-clock scientific sprint, with dozens of climate researchers worldwide working in shifts to analyze the unprecedented temperatures that killed hundreds and hospitalized thousands across Oregon, Washington and Canada's British Columbia.
While it was clear that the blistering temperatures were caused by a heat dome—an atmospheric phenomenon wherein air heated by the ocean gets trapped over large areas of land — Van Oldenborgh and Otto's team was racing to determine what role global warming played in triggering that condition.
The results of that work — published on July 7, just days before another heat wave descended on the West Coast — were headlined by a disturbing conclusion: the heat wave that sent temperatures spiking to an unheard-of 116 in Portland, Ore., last month would have been virtually impossible without the effects of human-caused climate change.

A decade ago, it might have taken months for such work to be published.
The ability for scientists to determine within days the role human-caused global heating played in a given weather phenomena — a complex statistical process known as "extreme event attribution," involving enormous quantities of weather data and cutting-edge climate models — has been years in the making, though it's recently been accelerated by improved methodology and coordination among a small group of climate researchers, including Van Oldenborgh, of the Royal Dutch Meteorological Institute, and Otto, of the University of Oxford.
…
For those seeking to point to big, newsworthy weather events to emphasize the need to address climate change, such speed is crucial.
Being able to confidently say that a given weather disaster was caused by climate change while said event still has the world's attention can be an enormously useful tool to convince leaders, lawmakers and others that climate change is a threat that must be addressed.
But that speed hasn't been possible until relatively recently, thanks to the work of Van Oldenborgh, Otto and others like them.

"The problem has always been [that] if you want to have a very sophisticated statistical attribution, usually you're not going to have the answer until the event itself is out of the news cycle," says Jonathan Overpeck, a professor of environmental education at the University of Michigan, who was not involved in Van Oldenborgh and Otto's recent study.
Maarten van Aalst, director of the Red Cross Red Crescent Climate Centre and a co-author of the July 7 report: '"Years ago, most of the questions were still about, 'Is the climate changing, and, if it is, are humans to blame?' … Now we're really interested in the questions, 'If the climate is changing, how is it going to materialize? What sort of impacts should we be worried about? How fast is it changing? And particularly not just how the average is changing, but how are these really extreme events that hit us much harder changing?'"'
And again, a pure, 100-percent great warning — we be fucked way-bad if we don't do something close-to-immediately to mitigate the horrors we're already going to experience within a short space of time.
No, sonofabitch, not Pinball again:
Classic on-pointiness…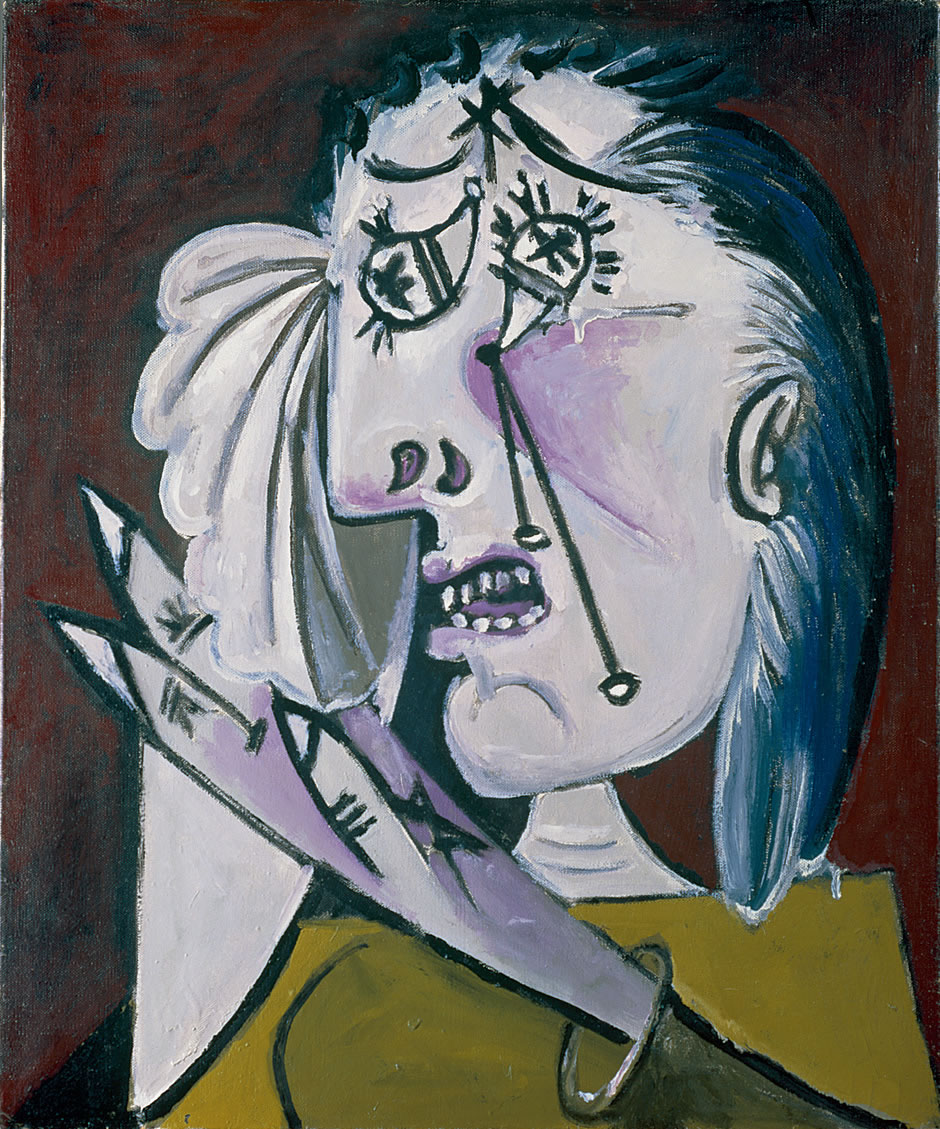 (Illustration out front: Pablo Picasso's 'The Weeping Woman [La Femme qui pleure],' found here)