America is of two camps, one humane and thoughtful, the other, cruel and insane. In the dark shadow of the vicious future of murder and firearm control created by the Kyle Rittenhouse acquittal, the House earlier today passed Joe Biden's $1.9 trillion social safety net expansion legislation (the BBB — Build Back Better bill), but seemingly was a back burner event compared to the letting loose of a young, nutcase killer.
Both examples show how shitty Republicans have become — they've made Rittenhouse a hero while cursing the very things most of their constituents want, approve of, and really need.
GQPers don't give a shit about anything except winning at all costs (and owning the libs in the process), certainly not in governing:
Every single Republican voted against the American Rescue Plan and direct checks to Americans. Every single Republican just voted against lower drug prices, cheaper healthcare, and universal pre-K and… they're still leading in the polls for the midterms. https://t.co/Gygvoa6Vyf

— Mehdi Hasan (@mehdirhasan) November 19, 2021
And on that bullshit, long-ass-winded, idiotic speech Kevin McCarthy blubbered-out last night and this morning made to supposedly keep the BBB from passing, Jen Psaki summed it up precisely (via the Guardian's live blog):
White House press secretary Jen Psaki touched on House minority leader Kevin McCarthy and the 8.5-hour speech he launched on the floor to delay the vote on the Build Back Better Act:

"Kevin McCarthy said a lot of words, a lot of words, I just want to emphasize that over the course of eight and a half hours," Psaki said.
"For those of you who did not watch all of it, he shared his wish that he could have been in Tiananmen Square. He mused about whether or not Abraham Lincoln was actually assassinated.
He shared his thought or dream, I'm not sure, about picturing America in swim meet after World War II against every other country.

"But in eight and a half hours, what he did not talk about was cutting the cost of childcare, cutting the cost of elder care, what we were going to do around the country to bring more women into the workforce, to protect the climate for generations to come.
"That, in our view, tells us all you need to know about Kevin McCarthy's agenda and what he supports."
Yet in actuality, McCarthy was just speechifying for one listener, one Orange-turd asshole in Florida, and the MAGA base, plus a hoped-for increase in stature among assholes. As it developed, the shit speech was a self-imposed burn — from Nancy Pelosi's press office during McCarthy's mutterings:
We're glad we're not the only ones who can't follow Minority Leader McCarthy's meandering rant that has nothing to do with the Build Back Better Act.
Tonight, Kevin McCarthy previewed Republicans very best attacks against the deficit reducing, inflation crushing Build Back Better Act.
As he hopefully approaches the end, we're all left wondering: does Kevin McCarthy know where he is right now?
What can you describe in sharpie:
I drew my visual interpretation of KKKevin McKKKarthy's blathering

How did I do? pic.twitter.com/fpniKdsQzj

— Jon Lion Fine Art ???? (@jonlionfineart2) November 19, 2021
And in the reality of the House vote on the BBB, Republicans revealed the reality of where their souls are located (Newsweek this morning):
New polling released Thursday by Data for Progress showed that 42-percent of Republican voters "somewhat" or "strongly" support the large social and climate spending package.
Overall, 64-percent of Americans support the package, with majorities of Democrats (87-percent) and independents (63-percent) saying they back the Build Back Better plan.

Some of the specific provisions of the legislation are even supported by a majority of GOP voters.
For example, 62-percent of Republicans say they support providing "$150 billion to improve the quality of and increase access to long-term care for seniors and people with disabilities."
Additionally, 55-percent of GOP voters say they approve of including "$35 billion to expand Medicare coverage so that it includes hearing coverage."
As I wrote, there are folks who care, and then there's those who could care less.
And once again, here we are…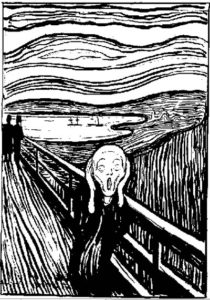 (Illustration out front: Edvard Munch's 'The Scream,' lithograph version, found here).