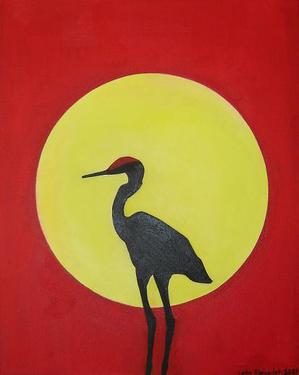 Brightly-lit sunshine and warm this near-noon Wednesday on California's north coast — chances racking higher for some good rain this weekend, supposedly starting Friday afternoon (maybe 80 percent chance Friday night) and lasting through Sunday.
Winds are way-calm, too, which makes the heat stick awhile.
Not calm and highly, disgustingly sticky: 'Two members of a local TV station's news team were fatally shot Wednesday during a live TV broadcast near Roanoke, Va., setting off an intense manhunt that ended with the suspect shooting himself, Virginia State Police said.'
In America: 'For decades, the most dangerous piece of machinery was an automobile. But now, it's a gun.'
(Illustration found here).
Due to US people's crazed obsession with guns, the shit has hit the firing-range fan — we are up to our eyeballs in killing one another with firearms, but do let the NRA be the only scapegoat.
Yesterday, from The Week:
Since 1966, the U.S. has had more mass shootings than the next several countries combined, according to a new study by University of Alabama criminologist Adam Lankford.
Between 1966 and 2012, there were 291 documented mass shootings in the world, and 31 percent of those were in the U.S., Lankford says in a paper being presented this week at the American Sociological Association's annual meeting in Chicago.
That's five times the rate in the second-ranked country, the Philippines.
A big reason for this unwanted top ranking is America's unusually high rate of gun ownership, the Los Angeles Times reports: 88.8 firearms per 100 people, according to a 2007 survey.
Yemen, the No. 3 country for mass killings, comes in a distant second, with 54.8 firearms per 100 people.
The No. 3 and No. 4 countries in per-capita gun ownership, Finland and Switzerland, are also in the Top 15 for mass shootings, Lankford found.
"Because of its world-leading firearm ownership rate, America does stand apart," he wrote, "and this appears connected to its high percentage of mass shootings."
But it isn't the only reason.
The poor U.S. system to care for mental illness plays a role, Lankford noted, though that's a trait not unique to the U.S.
One thing that is unique is the "American dream," he said, and when people fail to achieve that upward mobility, some of them express their frustration in violence.
The last big element? Fame.
"Increasingly in America — perhaps more than in any other country on the globe — fame is revered as an end unto itself," he wrote.
"Some mass shooters succumb to terrible delusions of grandeur and seek fame and glory through killing."
Add to the horror of a disgruntled family member, or co-worker, and just some random guy on the street, getting all depressed, then getting hold of a firearm, we have hard-ass, hard-knock The Donald, paving the way for racial violence — in the words of Pinball: "Or as they say in Ebonics, 'We be fucked.'"
*****
The above was posted about five hours ago — since then:
Two men were shot to death in broad daylight on a sidewalk in South Los Angeles on Wednesday afternoon, police said.
Just after 12:12 p.m., a youth or young man walked up to two men, described as being in their late 30s or early 40s, shot them both and ran away, said Sgt. William Carty of the Los Angeles Police Department's Southeast Division. (LA Times).

LAFAYETTE, La. — State police have confirmed that a police officer is among three people shot in Sunset after an apparent hostage situation at a convenience store.
There was no word on the extent of the injuries.
…
An Instagram photo uploaded in Sunset apparently depicts the scene.
The photo shows a vehicle inside a store and shows a body lying on the ground (blacked out in the photo below).
The user says the suspect ran people over, ran his car into a store and "in the store with a shotgun looking like Rambo." (USAToday).

BENTONVILLE, Ark., Aug. 26 (UPI) — Walmart officials Wednesday said the retail giant will no longer sell assault rifles, semi-automatic shotguns or high-capacity firearms.
…
Walmart is selling off the last of its stock of modern sporting rifles and intends to replace it with "other hunting and sportsman firearms such as shotguns and rifles based on customer demand," Lundberg said.
Guns and guns and guns and guns on demand…