Overcast and breezy this late-afternoon Wednesday in California's Central Valley. Never got real hot today, not bad weather-wise and pleasant.
Did go shopping this morning, which is always a treat. Most people wore masks, and the store carried plenty of shoppers, but they all seemed to carry-on in a freakish 'normal' sort of way and everything seemed cool, keeping distant and going-about their business. There were a few unmasked folks, but mostly few and far between.
Outside movement wears me out, just too bizarre to be real. Yet it is most-certainly.
As of 2 PM this afternoon, Merced County had reported 180 confirmed cases of COVID-19 and four dead. The fourth one just yesterday after weeks of only three deaths, which was a positive in a real-negative way. No longer even that.
Statewide, we've 71,141 confirmed cases and 2,934 deaths.
In the US, 1,390,250 cases and 84,106 deaths; worldwide, 4,343,269 cases with 296,784 deaths.
Those numbers change quickly, and there's no real end in sight.
Beyond the actual imagination is the fuck-up factor from the T-Rump during this entire coronavirus calamity, and the asshole is trying to blame Obama, in all sorts of ways. However, opposite is true (h/t Digby):
#Obamagate
The world needs to see this.
Please retweet. pic.twitter.com/KDVZulHEom

— Alex Mohajer (@AlexMohajer) May 10, 2020
Pretty-much hammers home the story-line, and the bottom line. In order to rattle heads away from such information, the T-Rump and his boys are stirring-up baseless shit to throw against the wall of the public brain.
Obviously idiotic, but what the shit — per the Guardian's live blog:
Donald Trump has ratcheted up his "Obamagate" conspiracy theory to implicate Joe Biden and other former White House officials in what critics say is a desperate attempt to distract from the coronavirus pandemic.

Ric Grenell, the acting director of national intelligence, on Wednesday sent Congress a list of high-ranking Obama administration members he alleged were involved in the "unmasking" of retired general Michael Flynn, in intelligence reports dating from the presidential transition.

Alumni of Barack Obama's staff gave the move short shrift.

"Sideshow to distract from the shitshow," tweeted David Plouffe, a former Obama campaign manager.

"Rather talk about unmasking than masks," observed Matthew Miller, an ex-justice department spokesperson.

Trump's aggressive tactic looks set to deepen fears that he will stop at nothing to damage Obama and his vice-president, Joe Biden, the presumptive Democratic presidential nominee.

It also provides a counter-narrative to criticism of Trump's handling of the pandemic, which has killed more than 80,000 in the US.
Fox News and Fox Business have mentioned Flynn and the FBI more frequently than the virus in recent days, according to data compiled by the Internet Archive and analysed by GDELT.
An all-out bullshit bombardment in the face of people dying. And while T-Rump's people barf-up shit, tomorrow Dr. Richard Bright, fired director of the Biomedical Advanced Research and Development Authority (BARDA), and who last week filed a whistleblower's complaint against the T-Rump administration, will testify before a House subcommittee. He supposedly will deliver a warning, a bad one, too:
"Our window of opportunity is closing. If we fail to develop a national coordinated response, based in science, I fear the pandemic will get far worse and be prolonged, causing unprecedented illness and fatalities," Bright is expected to say Thursday, according to his prepared testimony obtained by CNN.
"Without clear planning and implementation of the steps that I and other experts have outlined, 2020 will be darkest winter in modern history."
Crazy-ass world, and I ain't nothing but tired…
'Messages keeps gettin' clearer
Radio's on and I'm movin' 'round my place…'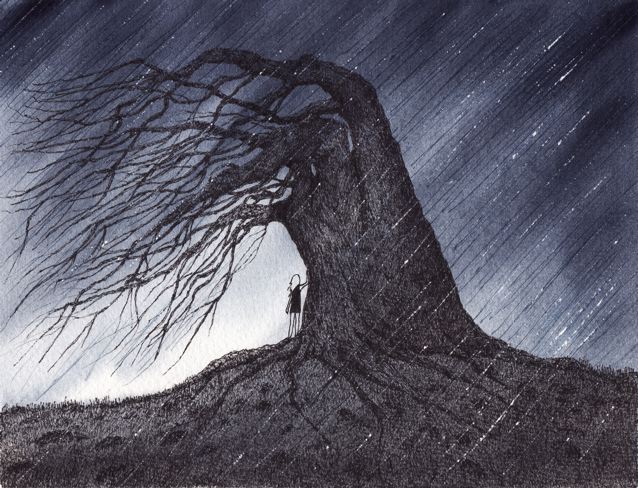 (Illustration: 'Shelter From The Storm,' found here).