A couple of big stories this Monday afternoon, neither a big surprise, but one kind of sudden — the Electoral college voted correctly with Joe Biden once again proclaimed President-Elect (how many times now?), and in a kind of aftershock, US AG Bill Barr resigned, an action of "a mystery wrapped inside a riddle."
First, the electoral college results:
BREAKING: Electoral College members in all six battleground states where President Donald Trump most fiercely contested the results cast their ballots for Democrat Joe Biden, effectively cutting off the president's path to overturning the election https://t.co/tFmzvL6tsQ pic.twitter.com/xDg0mXLmgL

— Bloomberg (@business) December 14, 2020
And even Republicans are coming around:
.@RoyBlunt to Senate press pool: "We've now gone through the constitutional process and the electors have voted so there's a president elect… We'll deal with Vice President Biden as the president elect."

— Bryan Lowry (@BryanLowry3) December 14, 2020
Early details via NPR:
President-elect Joe Biden and Vice President-elect Kamala Harris received the needed majority of votes in the Electoral College on Monday in another step putting them closer toward taking the White House in January.

Following a presidential election year like no other in American history, the day included many unprecedented arrangements as electors met in state capitols — some locked down for fear of political violence — in convention centers and online to dole out the nation's 538 Electoral College votes.

California's 55 Electoral College votes pushed the ticket over the threshold of 270 needed to win.
Congress is set to meet on Jan. 6 to count the votes.
Biden and Harris are scheduled to take their oaths of office on Jan. 20.
Further from the Guardian:
The president-elect will address the electoral college vote count in a speech to the nation on Monday night, capping a day marked by heightened security, some political theater and an unusual level of public interest in the constitutionally-mandated affair.

"In this battle for the soul of America, democracy prevailed," Biden will say, according to excerpts released by his transition team.
"We the People voted. Faith in our institutions held. The integrity of our elections remains intact. And so, now it is time to turn the page. To unite. To heal."
…
Yet the process was relatively seamless, as electors from all 50 states and the nation's capital cast their ballots in a process that will conclude when Hawaii votes at roughly 7pm ET.
Biden is scheduled to deliver his remarks shortly thereafter.
Biden did put a burn on the T-Rump in his speech: '"By his own standards, these numbers represented a clear victory then, and I respectfully suggest they do so now."'
Further even more, some have had enough:
??BREAKING: @RepPaulMitchell, retiring congressman from Michigan, announces that he's leaving the GOP

Watch this clip w/ @jaketapper. A deeply emotional rebuke of Trump's past xenophobic attacks on @AOC, @RashidaTlaib, @IlhanMN and @AyannaPressley from a lifelong Republican pic.twitter.com/f6tDSoEw8Q

— John Kruzel (@johnkruzel) December 14, 2020
Mitchell per CNN:
"I supported the administration policies 95, 96-percent of the time the last two terms.
I've been actual in the national state party. But this party has to stand up for democracy first, for our constitutional first and not political considerations.
It's not about a candidate. It's not simply for raw political power and that is what I feel is going on and I've had enough." 
The big question, however, is why didn't Mitchell make a move before now? In relation to the T-Rump's idiotic, self-reference to The Snake (even if he tried to make it out to be about 'immigration,' in reality, it was a finger on himself — "You knew damn well I was a snake before you took me in" — everyone knew he was a monster/snake a long, long time ago, though, some not understanding how 'big' a monster/snake).
When all the votes are finally counted, probably sometime this early evening, they will be tallied at a joint session of Congress Jan 6, where Mike Pence as the vice-president will formally announce the result. A long-shot attempt will be made then by some asshole GOPers with a possible hare-brained scheme 'challenging the election results in Arizona, Pennsylvania, Nevada, Georgia and Wisconsin, all states that Joe Biden won and where some Republicans have baselessly claimed voter fraud and illegal voting took place.'
These assholes never say enough.
Meanwhile, we have Bill Barr, most-likely the most-vile worst AG in American history, and despite bending rules and fucking with the DOJ to try and do the T-Rump's will the last two years, tendered his resignation this afternoon, supposedly effective a couple of days before Christmas — after a 'very nice meeting' with the T-Rump:
Just had a very nice meeting with Attorney General Bill Barr at the White House. Our relationship has been a very good one, he has done an outstanding job! As per letter, Bill will be leaving just before Christmas to spend the holidays with his family…

— Donald J. Trump (@realDonaldTrump) December 14, 2020
Story per the AP:
Barr went Monday to the White House, where Trump said the attorney general submitted his letter of resignation.
"As per letter, Bill will be leaving just before Christmas to spend the holidays with his family," Trump tweeted.

Trump has publicly expressed his anger about Barr's statement to The Associated Press earlier this month that the Justice Department had found no widespread fraud that would change the outcome of the election.
Trump has also been angry that the Justice Department did not publicly announce it was investigating Hunter Biden ahead of the election, despite department policy against such a pronouncement.

Barr told the AP that U.S. attorneys and FBI agents have been working to follow up specific complaints and information they've received, but "to date, we have not seen fraud on a scale that could have effected a different outcome in the election."

Barr's resignation leaves Trump without a critical ally as he winds down his final weeks in office, and it throws into question open Justice Department investigations, especially the probe into Hunter Biden's taxes.
Jake Tapper was puzzled:
"The question remains, why couldn't he stay a few more days and wrap it up like any normal attorney general would do?" asked anchor Wolf Blitzer.
"Why decide to leave a few weeks early?"

"It's a mystery wrapped inside a riddle," said Tapper.
"One of the things to point out, this letter was released by President Trump just minutes after the Electoral College declared that Joe Biden, the president-elect, secured enough electoral votes … I get that President Trump doesn't like doesn't like it when the spotlight is not on him. And to a lesser extent, a conservative congressman disassociating himself with the party, Paul Mitchell, because of all these extreme frenzied and baseless claims. But here we go. The end of a professional relationship that has ceased to do either man any more good."
Harm is the good in that relationship.
And absolutely-no sad for the Billy Barr — go fuck yourself:
Tomorrow's another fucking day…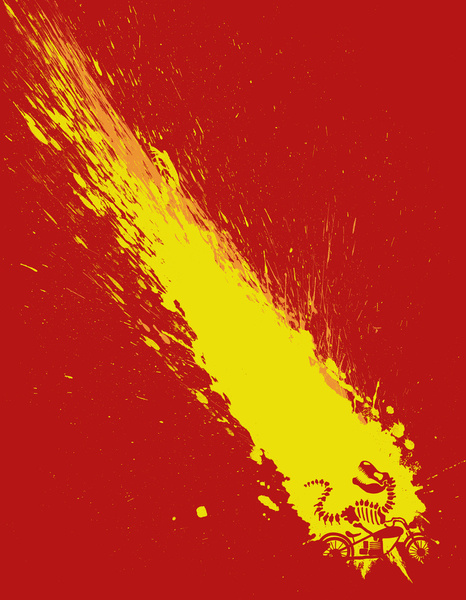 (Illustration: 'Meteor,' found here).