As this way-horrible time-frame of 2020 grinds down to mere hours, the pandemic will soon touch upon a full year of rampage in the US (The New England Journal of Medicine):
On January 19, 2020, a 35-year-old man presented to an urgent care clinic in Snohomish County, Washington, with a 4-day history of cough and subjective fever.
On checking into the clinic, the patient put on a mask in the waiting room.
After waiting approximately 20 minutes, he was taken into an examination room and underwent evaluation by a provider.
He disclosed that he had returned to Washington State on January 15 after traveling to visit family in Wuhan, China.
The patient stated that he had seen a health alert from the U.S. Centers for Disease Control and Prevention (CDC) about the novel coronavirus outbreak in China and, because of his symptoms and recent travel, decided to see a health care provider.
And the rest is horrid history — as of this morning the US has had 19.997,206 confirmed COVID cases with 347,074 deaths, with both categories upticking even as I write this shit. Yesterday, we tallied 3,700 new deaths, a record for one single day.  Also yesterday, more than 124,600 hospitalizations, of course, a record, too.
Hospitals are overbooked and running out of any availble space. Here in California we're fucked — in LA County, 7,200, are in hospitals: 'Almost 1,000-percent up from just two months ago.'
The deep-gut agony, however, is that it really didn't have to be this shitty. If anybody (and I literally mean, 'anybody'), but the T-Rump had been in charge, the virus would still most-likely be bad, but nowhere the horror-movie level we're seeing now. When you have the villian as monster running the show, bad, bad shit will naturally happen.
And he's going out the door with a nasty bang.
Most-appropriate display of T-Rump's COVID-19 'warp speed' vaccine repose (h/t for the tweet Daily Kos):
Visual approximation of US government support and planning for #covid19 vaccines to date pic.twitter.com/p5eWuRzMI4

— Josh Michaud (@joshmich) December 29, 2020
The vaccine roll-out as been a total bust, not unexpectedly considering it's the T-Rump running the show (CNBC):
More than 11.4 million doses of Pfizer and Moderna's two-dose vaccines have been distributed across the country as of Monday morning, but just about 2.1 million shots have been given to people, according to the Centers for Disease Control and Prevention.
That's a far cry from U.S. health officials' original goal of injecting at least 20 million Americans with their first shots before the end of the year.
Yet again T-Rump blames the states:
The Federal Government has distributed the vaccines to the states. Now it is up to the states to administer. Get moving!

— Donald J. Trump (@realDonaldTrump) December 30, 2020
Fuck you! Joe Biden had a comeback (CNN):
President-elect Joe Biden said Tuesday that the Trump administration's plan to distribute Covid-19 vaccines across the country has fallen "far behind."

"As I long feared and warned, the effort to distribute and administer the vaccine is not progressing as it should," Biden said, delivering remarks on the Covid-19 crisis from Wilmington, Delaware.
"A few weeks ago, the Trump administration suggested that 20 million Americans could be vaccinated by the end of December. With only a few days left in December, we've only vaccinated a few million so far," he added.

Biden said if the vaccination program continues at the current pace "it's going to take years, not months, to vaccinate the American people."
The President-elect had received a briefing from his Covid-19 advisory team earlier Tuesday, a transition official told CNN.

The President-elect has laid out a plan to distribute 100 million vaccine shots, which is enough to cover 50 million people, in his initial 100 days in office. He reiterated on Tuesday that Congress would need to provide the necessary funding in order to reach that goal.

But Biden cautioned that even with the funding, vaccinating the entire US population would still take time. He said even if the vaccinations were ramped up to 1 million shots per day, it would still take months to vaccinate the majority of the population.

"This is going to be the greatest operational challenge we've ever faced as a nation," Biden said.
"But we're going to get it done. But it's going to take a vast new effort that's not yet underway."

Dr. Anthony Fauci, the nation's top infectious disease expert, said on CNN's "State of the Union" on Sunday that he is still "pretty confident" that a Covid-19 vaccine would be available to most Americans by April.
"Of course, obviously when you compare 2 million to 20 million, that's a big difference," Fauci said.
"But whenever you roll out a large program that's a comprehensive vaccine program with a brand new vaccine like this, in the beginning it always starts slow and then starts to gain momentum," Fauci said.
Even as we wait, there's still 20 days, 23 hours, and 15 minutes until we start real relief measures.
Until then…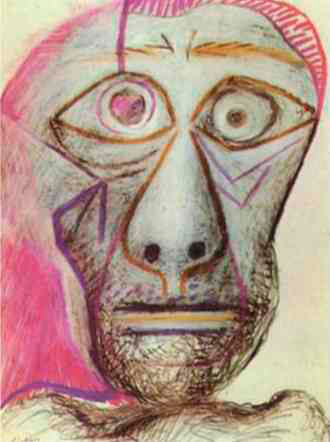 (Illustration: Pablo Picasso's 'Self Portrait Facing Death' (June 30, 1972), was originally found here).