In a matter of hours, an era of weird-ass shit of constant lying and whining and bitching comes to an end. America did indeed have a first with the T-Rump — a way-obvious villain in the White House. All the shitty presidents past, James Buchanan, Franklin Pierce, so forth, and even Dick Nixon, at least carried some form of sense (no matter how small) in going about the people's business, and weren't conspicuously racist and cruel, crooked and criminally incompetent.
A mean, nasty idiot. And all in the open.
Also out in the open today, and a most-evident contrast to the fucked-up outgoing leadership, was Joe Biden and Kamala Harris paying tribute to the sad mass of American lives lost to COVID in less than a year. During a ceremony at the Lincoln Memorial this afternoon, Biden and Harris gave brief remarks honoring the-now 401,000 dead in the US version of the worldwide pandemic.
The Spousal Units also attended. If nothing real-shitty happens, it should be an interesting year or two ahead for goverment operations, especially with a female VP, who is black, with her husband, the 'Second Gentleman,' Douglas Emhoff, also Jewish, leading a way-more diversified cultural view, away from a coarse-whitewash unpleasantness.
Jill Biden, meanwhile is herself, and will kick your ass if need be.
Joe delivered just a few words, but it was enough — sounded way-empathetic and like he spoke at a funeral service in a really-huge cemetery:
Biden delivers remarks at a Nationwide Memorial service honoring 400,000 lives lost to the Covid-19 pandemic:

"Between sundown and dusk, let us shine the lights in the darkness along this sacred pool of reflection and remember all who we lost."https://t.co/U4UZMHn7bF pic.twitter.com/7pGfza8rvI

— NBC News NOW (@NBCNewsNow) January 19, 2021
What did the T-Rump do today? Released a video (recorded yesterday) without the slightest bit of awareness about the country's dire pandemic predicament, didn't mention Biden's name, and concluded as if at the end of a job well done: "We did what we came here to do — and so much more."
If you mean fuck-up absolutely everything, allow thousands and thousands of Americans to die, incite an insurrection, then, yeah, you are correct.
Fucker!
Meanwhile today, too, an anniversary of some consequence (New England Journal of Medicine): 'On January 19, 2020, a 35-year-old man presented to an urgent care clinic in Snohomish County, Washington, with a 4-day history of cough and subjective fever. On checking into the clinic, the patient put on a mask in the waiting room. After waiting approximately 20 minutes, he was taken into an examination room and underwent evaluation by a provider. He disclosed that he had returned to Washington State on January 15 after traveling to visit family in Wuhan, China.'
Tomorrow one year ago: 'On January 20, 2020, the CDC confirmed that the patient's nasopharyngeal and oropharyngeal swabs tested positive for 2019-nCoV by real-time reverse-transcriptase–polymerase-chain-reaction (rRT-PCR) assay.'
Less than three weeks later (Feb.6), the first US COVID death, and it's been pulsating right along since then.
Currently, an American dies from the virus every 30 seconds.
Bad, but not yet real bad:
First half of "The Stand," the book, is incredible, especially in the description on how the virus spreads is gothically-hypnotic; the second part nowhere near-so.
The mini-series sucked (in my estimation).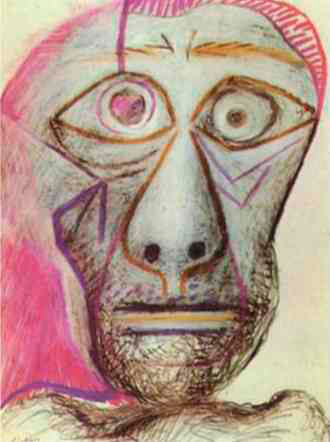 (Illustration: Pablo Picasso's 'Self Portrait Facing Death' (June 30, 1972), was originally found here).