As Joe Biden continues to be as popular as ever, and carries on with poise and determination, the wallowing-in-pity T-Rump maintains his lying status as a goof-ball dipshit, and after hyjacking a wedding repection over the weekend to rant bullshit, today he lashed-out at his own COVID historical reality.
In a blathering statement released from the bowels of Mar-a-Lago, T-Rump tried to bash/backstab Anthony Fauci and Deborah Birx, who along with other medical people were part of a CNN interview program blistering T-Rump's non-work on the COVID pandemic last year — lying through his fat face, T-Rump bloated away:
I haven't shared most of the post-presidential ones, but this one is a doozy. pic.twitter.com/GyeXBTfG8D

— Josh Dawsey (@jdawsey1) March 29, 2021
Details via The Hill this evening:
Trump issued a lengthy statement in which he argued that he ignored both Fauci and Birx while in office as a benefit to the country and boasted that he was responsible for getting vaccines rapidly developed and approved.

"Based on their interviews, I felt it was time to speak up about Dr. Fauci and Dr. Birx, two self-promoters trying to reinvent history to cover for their bad instincts and faulty recommendations, which I fortunately almost always overturned," Trump said in a statement Monday.
"They had bad policy decisions that would have left our country open to China and others, closed to reopening our economy, and years away from an approved vaccine—putting millions of lives at risk."

Trump also mocked Fauci for his wayward first pitch at the Washington Nationals game last year and labeled him the "king of 'flip-flops,'" citing his changing guidance as experts learned more about the pandemic.
…
The former president also swiped at Birx for traveling for Thanksgiving to see her family despite emphasizing guidance to avoid nonessential travel.
Trump delivered the criticism despite traveling frequently for campaign events throughout the pandemic, including holding a host of largely maskless rallies in the weeks leading up to the election.
Enough of that shit.
This is how reality looks:
Trump's failures positioned Biden to look even more effective; Biden's competence makes Trump look like even more of a failure. https://t.co/mk0XrESJyG

— The Hoarse Whisperer (@TheRealHoarse) March 28, 2021
According to the ABC News/Ipsos poll
Overall, around three in four Americans approve of how Biden is handling the distribution of coronavirus vaccines (75-percent) and the response to the virus itself (72-percent).
Sixty percent approve of how Biden is handling the country's economic recovery.
Some bottom-like findings, however:
At the same time, Biden is underwater on both gun violence and the situation at the border, as a majority disapprove of his handling of those issues (57-percent each).

Most Americans, 54-percent, believe the situation with migrants and unaccompanied children showing up at the U.S.-Mexico border is currently a crisis.
Forty-two-percent characterize the situation as a serious problem, but not a crisis.
Just four-percent say it is not a serious problem.
A situation due to Republicans lying and the media jerking off — there's no real crisis.
And in the Ipsos poll's fucking gun violence, a contradiction between GOPers and the rest:
By a two-to-one margin, more Americans say enacting new laws to try to reduce gun violence is the higher priority at the moment.
There is widespread agreement on this issue, with Americans of all ages, education levels, racial or ethnic backgrounds, and from all regions in agreement.
However, just over one in three Republicans (36-percent) believe enacting new laws is the priority.
Instead, 64-percent say protecting the right to own a wide variety of guns should be a higher priority.
The clincher — 'a wide variety of guns' — is the damage done.
And Joe, it is a big fucking deal:
Onward…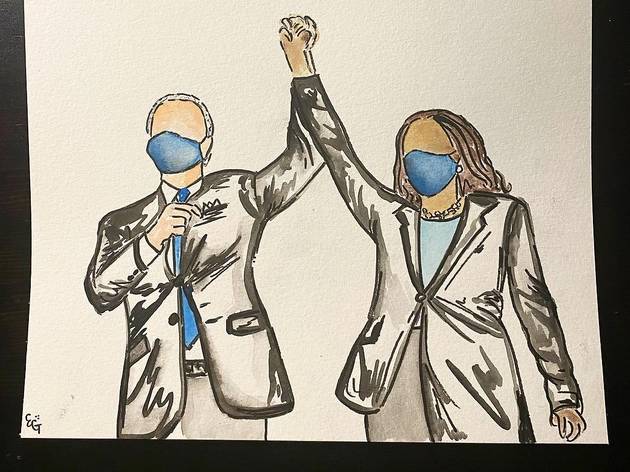 (Illustration by Emily Grace Tucker and found here).