If you think just a minute, it's utterly way-way-inconceivable that the T-Rump could be causing such chaos of a shitstorm because the man is a pure, 100-percent idiot.
Today supposedly, he returned to his self in announcing a new platform in which he will perform his national duties, which as it turns out, is nothing more than a glorified blog:
His retro webpage, billed "From the Desk of Donald J Trump," appears at DonaldJTrump.com/desk and features a small photo of the 45th president writing in a book on his desk.

A video includes archive material announcing Trump's ban from Twitter and images of his Mar-a-Lago estate in Florida and of a desktop, overlaid by captions: "In a time of silence and lies, a beacon of freedom arises. A place to speak freely and safely. Straight from the desk of Donald J Trump."
What a crock of shit:
Trump's "new communications platform" is a website that looks like it was designed by me in 15 minutes pic.twitter.com/1pVgz0XqdF

— Aaron Rupar (@atrupar) May 4, 2021
Coincidentally, the roll-out comes a day before Facebook is supposed to announce whether the asshole can return to its fold after being banned in January — details via Vox this evening:
Trump senior adviser Jason Miller told Fox News after it published its initial article that the website is "not a new social media platform" but instead a "great resource to find [Trump's] latest statements and highlights from his first term in office," and that his team would have new information about a social media platform soon.

For now, Trump's new website appears to be more like a blog — essentially for posting texts and images with some basic sharing functionality.

Users can read posts Trump has shared, "heart" them, and then reshare them to Twitter and Facebook, but they cannot directly comment on the former president's posts or post their own content on the platform.
Trump appears to be the only user posting content on the website at this time.

After Trump was accused of encouraging his followers to incite violence in the lead-up to and during the January 6 Capitol riot, virtually every social media platform, including Facebook, Twitter, and YouTube, banned Trump from their platforms.
And, of course:
Let me guess Trump's blog has a donation feature

— Erin Brockovich (@ErinBrockovich) May 4, 2021
Amazing the ignorance of not only the T-Rump (which is way-well-known), but the dim-bulbs around him, and the shit they go through to appease the asshole, or keep him from doing worse shit than he already does — at The Wrap this afternoon, T-Rump's whole enterprise shadow episodes of 'The Office' and a blog that's not a blog:
Four months after getting kicked off Twitter and Facebook, former President Donald Trump has launched his own online platform. Here's the thing: it's solely for Trump to post to — no one else can make any comments.
So yes, in essence, Donald Trump has created a blog.
And as a result, he's become Twitter's new Creed Bratton.

Creed Bratton is a character from the hit NBC comedy, "The Office," played by Creed Bratton, the actor. (The comedy used the names of multiple actors for their characters).
Back in Season 3, an episode aired in which Creed "launched" his own blog — or so he thought.
In reality, Ryan (BJ Novak) had set him up with a Word document and told Creed it was a blog.
As is — not:
In the vapors with nothing…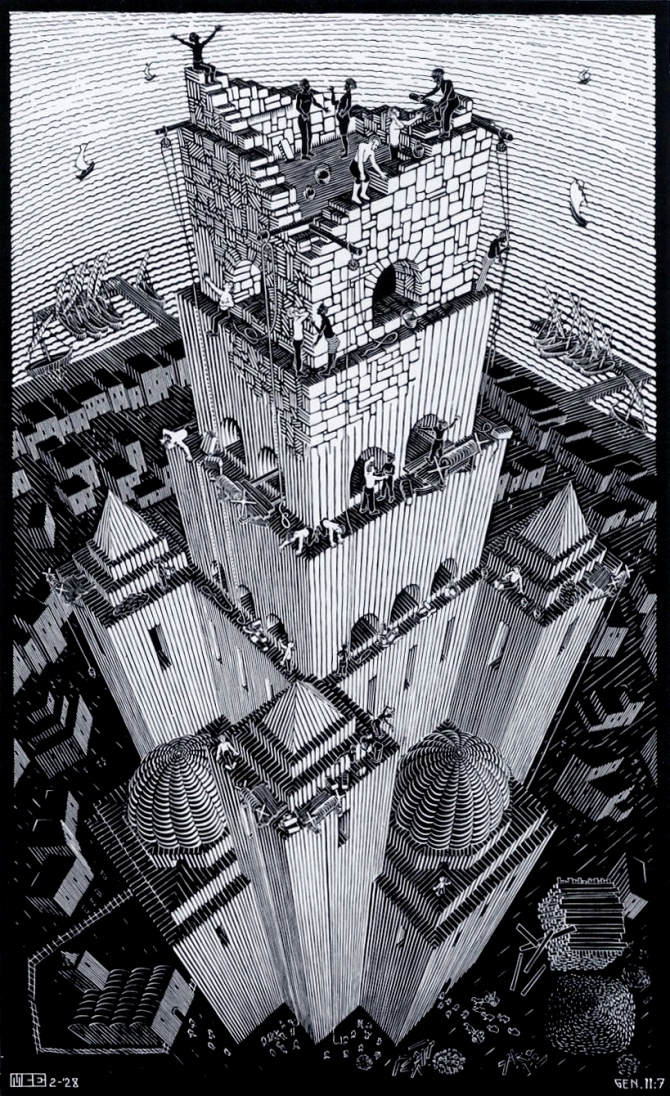 (Illustration: 'Tower of Babel,' a 1928 woodcut by M. C. Escher, found here).