As we stand this Thursday morning, America's version of democracy is on the ropes.
Latest assault on our system came from/in Texas, and was nearly hidden by an oversized, cruel abortion law, a free-for-all gun law, and a shitload of the state's citizens suffering and dying from COVID — Asshat Abbott on Tuesday signed into law more voter suppression bullshit, though, a ruling way-thinly clothed in a hypocritical attempt to curb voter fraud. The new law hinders mail-in voting, applies strict-crazy ID requirements, forces polling sites into shorter hours, and on and on, becoming another of 30 laws in 18 states to shit on voting for democracy.
A nationwide problem as President Biden responded: 'After Abbott signed the law, Biden wrote on Twitter, "We're facing an all-out assault on our democracy."'
Beyond the legislative-grifting angle, the anti-democratic vibe is physical, and implies personal violence for those actually working to maintain democracy:
Reuters identified more than 100 threats of death or violence made to U.S. election workers and officials, part of an unprecedented campaign of intimidation inspired by Trump's lies.

The response so far: only four known arrests and no convictions.https://t.co/98UZpAh7dS

— Kyle Griffin (@kylegriffin1) September 9, 2021
And like the entire MAGA system, people who threaten physical harm are chickenshit thugs, and like their fearless leader, T-Rump, lies and cruel intimidation the plan of action —  from Reuters yesterday:
The case illustrates the glaring gaps in the protection that U.S. law enforcement provides the administrators of American democracy amid a sustained campaign of intimidation against election officials and staff.
The unprecedented torrent of terroristic threats began in the weeks before the November election, as Trump was predicting widespread voter fraud, and continues today as the former president carries on with false claims that he was cheated out of victory.

In an investigation that identified hundreds of incidents of intimidation and harassment of election workers and officials nationwide, Reuters found only a handful of arrests.

Local police agencies said in interviews that they have struggled to identify suspects who conceal their identities and to determine which threats are credible enough to prosecute.
The U.S. Justice Department has acknowledged that law enforcement has not responded well to the surge in threats to election officials.

"The response has been inadequate," John Keller, a senior attorney in the DOJ's Public Integrity Section, told a meeting of secretaries of state in Iowa on Aug. 14.
Keller heads a task force created in July to investigate threats of violence to election workers and to coordinate with local and state authorities that receive most initial reports of intimidation.

After this story was published, Justice Department spokesman Joshua Stueve issued a statement to Reuters about the wave of threats.
"The Justice Department is committed to aggressively addressing threats of violence directed toward state and local election workers and will work tirelessly with our federal, state, and local partners to strengthen our collective efforts to combat this recent and entirely unacceptable phenomenon," Stueve wrote.

The Reuters investigation revealed a breakdown in coordination and accountability among various levels of law enforcement. Some election officials fumed that police investigators or federal agents didn't appear to take the threats seriously and that it was unclear which agency, if any, was investigating.
Some said they never heard from investigators again after reporting threats of violence.
When pressed about the status of some cases, several police officials said they had no involvement and pointed to the Federal Bureau of Investigation (FBI).
Federal officials, by contrast, bemoaned a lack of information-sharing by local authorities.

Through public records and interviews, Reuters documented 102 threats of death or violence received by more than 40 election officials, workers and their relatives in eight of the most contested battleground states in the 2020 presidential contest.
Each was explicit enough to put a reasonable person in fear of bodily harm or death, the typical legal threshold for prosecution.

Almost all of the 102 threats of violence appeared to be inspired by Trump's debunked claims that the election was rigged against him.
The messages often included highly personal, sometimes sexualized threats of violence or death, not only to the officials themselves but also to their family members and their children.
And this kicker:
Often, police have failed to identify the person making reported threats to election workers. But some police who have identified suspects have determined they committed no crime.
In the Nevada incident, the investigating detective concluded in his summary of the case that the threats constituted legally protected speech because the suspect merely said he "wished" election workers would die.
Nothing heavy.
A threat personal and public:
Maybe just a 'wish' for the guy to be a 'dead man' on the phone.
Once again, here we are…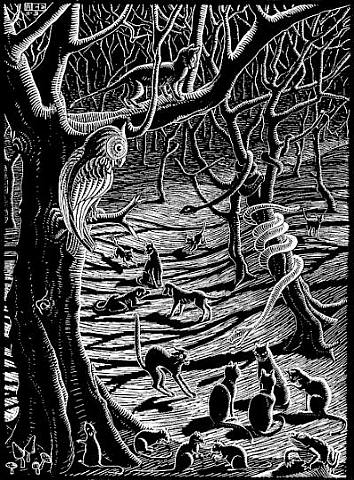 (Illustration out front: M.C Escher's 'Scholastica,' found here)