Beyond Ukraine this Friday evening, which is quickly becoming a BFD (as Joe would say), is this news, which should be a reveal of a way-obvious law-breaking event:
It has become clear — with mountains of tangible evidence — that Trump tried to steal the election. And not in the opportunistic, shambling way most people think. It was planned & deliberate. And now we're just stumbling toward a Trump '24 run. https://t.co/enemZo97mO

— David Roberts (@drvolts) January 21, 2022
This is just the latest on-going development where testimony, documents and idiot interviews have show that the T-Rump and his minions/henchmen/lackeys were bound for glory — per the Guardian this afternoon:
In the heady days between Donald Trump's defeat in November 2020 and the January 6 insurrection at the US Capitol, an executive order was prepared.
It commanded the defense secretary to seize voting machines in battleground states, as part of Trump's "big lie" that the vote was rigged.

The draft executive order, obtained and published by Politico, was never sent and its author is unknown. It was part of a cache of documents handed over to the House committee investigating the January 6 violence, after the supreme court ruled this week that Trump could not shield himself from oversight on grounds of executive privilege.

The disclosure of the draft order adds to evidence of the lengths to which Trump and his close advisers were prepared to go to keep him in the White House, against the will of the American people.
Under the draft order, the defense secretary would have been required to carry out an assessment of the voting machines "no later than 60 days from commencement of operations".
That would have pushed the chaos that Trump assiduously attempted to sow around Joe Biden's legitimate victory well beyond the handover of power at the inauguration on 20 January.
In this course, the news will follow.
And it's worse as is the shit-filled soul of the T-Rump:
Analysis: Donald Trump's rationale for seizing voting machines was worse than you might have assumed https://t.co/zXSCcTbb4Q

— The Washington Post (@washingtonpost) January 21, 2022
Philip Bump at The Washington Post this afternoon:
The main predicate President Donald Trump cited as his rationale for having federal officials seize every voting machine in the nation as part of his doomed effort to prove that the 2020 presidential election was stolen from him was that Sheryl Guy had forgotten to update something on her computer.

Not directly, of course. In a draft executive order obtained by Politico, her mistake is framed as part of a sweeping international conspiracy to hijack the election to Trump's detriment. Dated Dec. 16, 2020, here's how it articulates the mistake in Michigan's Antrim County, where Guy served as county clerk.
And in the face of a local election problem being accidental, not voter fraud, T-Rump's asshole minions/think-alikes forged bogus, illegal shit where none existed:
A right-wing media ecosystem primed by Trump to look for evidence of "fraud" decided that fraud was precisely what had happened in Antrim County.
Despite the fact that the results didn't effect the state outcome.
Despite the fact that the error was explained. Despite the fact that it was a Republican county that Trump had won. Antrim County became a shorthand for "fraud committed via electronic voting machines."
…
Last June, a legislative committee run by Michigan Republicans released a lengthy report examining the state's election processes in 2020.
It found no evidence that anything suspect had occurred. But it took special pains to address the situation in Antrim County.

"The strongest conclusion comes in regard to Antrim County," it read.
"All compelling theories that sprang forth from the rumors surrounding Antrim County are diminished so significantly as for it to be a complete waste of time to consider them further."
Just create chaos — allow/steal T-rump another swing-time in the Oval Office (The Horror!).
The fictional too-close-for-comfort reality of nefarious military shenanigans:
Yet once again, here we are…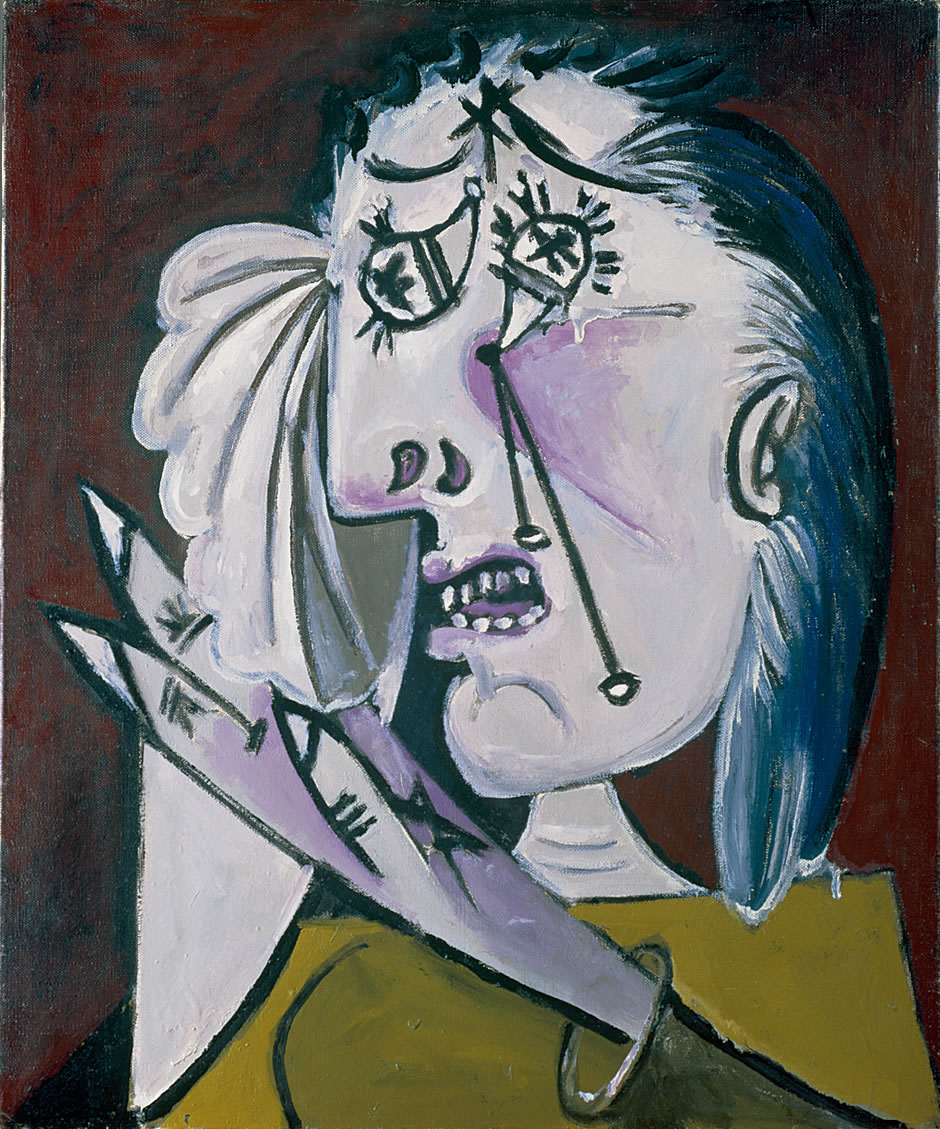 (Illustration out front: Pablo Picasso's 'The Weeping Woman [La Femme qui pleure],' found here)