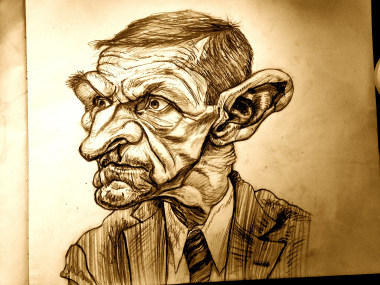 Low-clouds and light, misty rain this late-afternoon Tuesday on California's north coast — a fairly-decent storm forecast for later tonight, and continuing through tomorrow.
Good news off the wet is supposedly starting Thursday, a start to more-than-a-week's-worth of dry, sunshine-filled days.
A scenario long overdue…
Also long overdue is some kind of fairly-decent investigation into the T-Rump's intrigue with Russia, in all its variations.
(Illustration: '(F)lying Flynn,' by illustrator/academic-innovator Christopher Sharrock, found here).
And just today, more bullshit under the Russkie theme — Michael Flynn, retired general and recently-fired national security adviser, apparently didn't disclose payment's from RT, Putin's TV outlet, and lobby payments from a Turkish company, linked to the government.
Via NPR this afternoon:
Senior lawmakers on the House Oversight Committee say Michael Flynn, the former national security adviser, appears to have violated the law when he took payments from groups associated with foreign governments.
Chairman Jason Chaffetz, R-Utah, and ranking member Elijah Cummings, D-Md., spoke at a news conference Tuesday, after they received a classified briefing.
"I see no data to support the notion that Gen. Flynn complied with the law," Chaffetz said.
Appears as if Chaffetz is going to get involved before he can get the shit out of Dodge — he says he ain't running next year, and might just cut-n-run even before then. The Russia problem is a major-major.
Yet even with investigations reportedly ongoing in both the US House and Senate, there's been continuous bullshit — foot-dragging to a scandal that's got the makings to be really, really bigly.
Polls show most Americans want to find out the total goings-on between the T-Rump's operation and the Russkies, and they seek an independent, non-partisan probe. The latest NBC News/Wall Street Journal survey: 'Seventy-three percent of respondents prefer the independent investigation, versus 16 percent who pick Congress.'
The GOP will never, ever…unless the shit gets too deep.
Just right from right-winger/thinker Jennifer Rubin at the Washington Post this morning:
As with the ethics scandals, any legitimate investigation of the Russia scandal is hampered by Republicans' utter lack of seriousness and their determination to play defense for the White House.
When meddling by a foreign government is at issue, you'd think that Republicans would take their oaths of office seriously.
Alas, no.
Russian efforts to hobble Hillary Clinton and the possible secret collusion by the Trump team (in addition to Trump's open reliance on WikiLeaks material and Russian propaganda) have not sufficiently impressed GOP lawmakers.
In demonstrating their small-minded partisanship, they are making Democrats' 2018 argument for them, namely that the GOP is not performing its constitutionally mandated role.
Party before country…