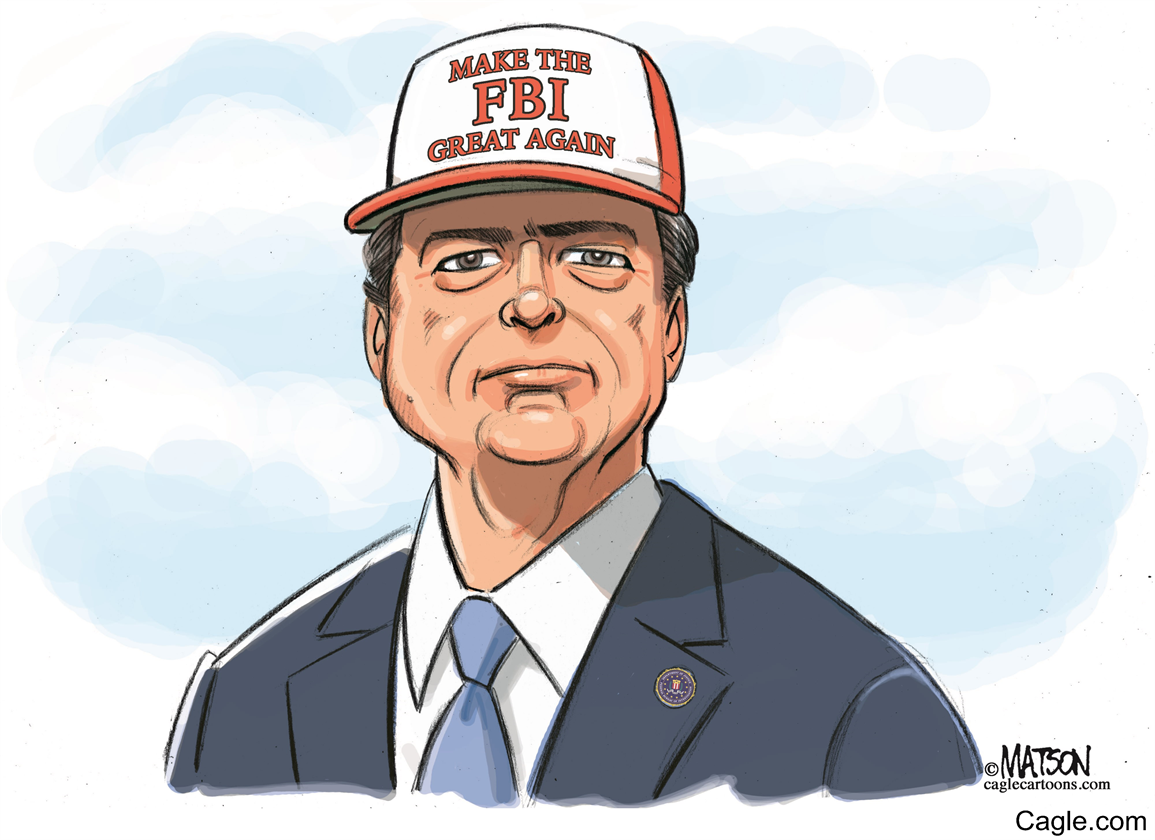 Bright sunshine and clear skies this late Tuesday afternoon on California's north coast — again some gusty winds, too, but not a bit tedious.
Rain expected early Thursday, and then on-and-off wet weather for a few days.
James Comey is a cretin-asshole, but what-the-fuck! Josh Marshall at TPM signals a sense 'This is a very, very dark development.'
The T-Rump cluster-fuck continues…
(Illustration: 'FBI Director James Comey,' by editorial cartoonist R.J. Matson, found here).
The T-Rump's firing of Comey, considered by Marshall as 'totally unexpected and substantially shocking,' has blanketed the news cycle this afternoon — all the cable outfits have panels out-the-ass, trying to explain the whole fucked-up scenario, which points to the Russkies.
A summary-of-sorts via New York magazine this afternoon:
Indeed, all we need is a leak or two to promote the suspicion that Comey is hitting the bricks three years into a ten-year term because he was getting uncomfortably close to some sort of pay dirt in the FBI's investigation of Russian meddling in the 2016 elections and/or Trump campaign communications with Putin's government.
There could, of course, be some reason unrelated to Clinton or to Russia that Comey was no longer welcome.
If so, you'd figure the leaks from the administration offering any innocent rationale would soon be pouring like a faucet.
But even if the currently maintained rationale for firing Comey falls apart down the road, it does reflect considerable cunning: Why not pin him for mishandling a case that one party thought should have driven Clinton from the campaign trail to prison, and the other party thought robbed her of the presidency?
It is entirely true that not many will weep bitter tears for the truncated career of James Comey.
Another suspicion reported from CNN (via TPM):
This was a very closely kept credit at the White House.
I'm told only a handful of top advisories knew this was coming.
I am told just moments ago that the President himself has been considering this, been thinking about this for at least a week.
Did not necessarily have the rationale when they first started talking about this but then asked the Attorney General and the Deputy Attorney General to look for that rationale and that explanation.
And that is what we got this afternoon.
The timing of this, of course, so interesting, Erin because the Russian investigation front and center, it is one of the things that aggravates this president more than anything at all.
The T-Rump shit is getting deep…