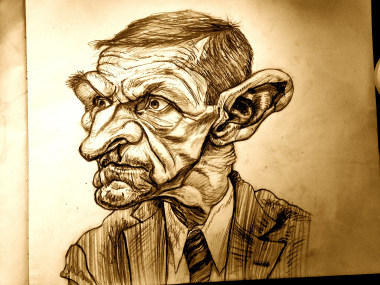 Gusty winds this afternoon, but still gorgeous outside — went for a doggie walk and it was way-pleasant.
Not so the on-going Mike Flynn saga, a terrible tale of a terrible time in American history, and even pretty-damaging testimony during a Senate Judiciary Committee panel won't jolt the T-Rump out of the White House.
In a not-so-distant past, this shit wouldn't have been tolerated for this long.
T-Rump personifies the word, nefarious…
(Illustration: '(F)lying Flynn,' by illustrator/academic-innovator Christopher Sharrock, found here).
If you saw any of the testimony from today's Senate Judiciary Committee panel on the Flynn/Russkie tie-in with the T-Rump administration, former AG Sally Yates was a knock-out — in a crisp, unfaltering country-like voice, she opened the festering can of worms finally of the insane Russkie influence on our country.
And adding to the fined-tuned drama, tucked at the table with her was near-curmudgeon James Clapper, former director of national intelligence, who didn't appear happy he was there — from the Atlantic this afternoon: '(Clapper, a veteran of many testy exchanges with congressional panels, said at the outset that he'd thought he was done with such testimony when he left the government, and he made little attempt to conceal his displeasure at being there for the remainder of the hearing.)'
Heart of Yates' testimony on the meeting with White House White House counsel Don McGahn: '"We believed that General Flynn was compromised with respect to the Russians..Logic would tell you that you don't want the national security adviser to be in a position where the Russians have leverage over him."'
And the White House response: 'Yates said McGahn asked her, "Why does it matter to the DOJ if one White House official lies to another official?" She explained that the American public was being misled, and that the Russians knew that.'
Hard to believe…
However, Republicans on the panel tried to steer subject matter to Yates and handling of the T-Rump's asinine, amoral immigration ban. She was fired by T-Rump because she wouldn't enforce it.
Shit, though, is out of the bottle…
Per Time, also this afternoon:
The partisan skirmishing didn't overshadow Yates' explosive testimony — or a report published by NBC News earlier Monday that said President Obama had warned Trump against hiring Flynn in November 2016.
"It's true that President Obama made it known that he wasn't exactly a fan of General Flynn's," press secretary Sean Spicer said during his Monday briefing.
These new details confirm that the White House had numerous warnings about Flynn, both before Trump appointed him and during the 24 days he worked in one of the most sensitive roles in the president's inner circle.
"We felt it was important to get this information to to the White House as quickly as possible," Yates explained.
"This was a matter of some urgency."
It was 18 days after Yates met with the WH that Flynn was finally fired, then only after the Yates meeting was leaked to the press.