A major logjam unjammed this Monday afternoon after all the dumb-ass time:
#Breaking: GSA's Emily Murphy signs off and says the transition can begin, per @KristenhCNN pic.twitter.com/S6YKKQBrQR

— Manu Raju (@mkraju) November 23, 2020
Murphy's been stonewalling in face of way-conspicuous evidence Joe Biden won the election, and won by more than a certainty — after 16 days the scenario a T-Rump ploy (via CNN):
The letter is the first step the administration has taken to acknowledge President Donald Trump's defeat, more than two weeks after Biden was declared the winner in the election.

Murphy said she had not been pressured by the White House to delay the formal transition and did not make a decision "out of fear or favoritism."
"Please know that I came to my decision independently, based on the law and available facts," Murphy wrote.
"I was never directly or indirectly pressured by any Executive Branch official — including those who work at the White House or GSA — with regard to the substance or timing of my decision. To be clear, I did not receive any direction to delay my determination."
Obvious too, Murphy is full of shit. In addition: 'But Murphy said she did receive threats "online, by phone, and by mail directed at my safety, my family, my staff, and even my pets in an effort to coerce me into making this determination prematurely. Even in the face of thousands of threats, I always remained committed to upholding the law."'
Threats to name Biben president-elect? She's been around long enough to know how shit works. And she was under pressure from the House to appear and explain herself. She declined last week, dispatched an aide instead, but was apparently about to be subpoenaed. Enough is maybe enough.
However, this is the T-Rump. A short while after Murphy sent her letter the orange turd contradicted her, and as they say, threw Miss Emily under the bus:
…fight, and I believe we will prevail! Nevertheless, in the best interest of our Country, I am recommending that Emily and her team do what needs to be done with regard to initial protocols, and have told my team to do the same.

— Donald J. Trump (@realDonaldTrump) November 23, 2020
She lied. Of course, the T-Rump is a lying asshole, lying for him is normal as breathing. Probably a verbal message was relayed to Miss Emily awhile ago about not signing off on transition, discreetly, of course — as his former consigliere Michael Cohen said, the T-Rump 'never directly ordered him to lie, but instead made his wishes clear by speaking in "code" understood by anyone who works with him.'
And from another front, T-Rump's forays into the legalities based upon non-existent voter fraud and other wisps of ballot-box bullshit about the election have fsllen through way-thin ice. Today, Michigan certified it results — Biden by 154,000 and 16 electoral votes — and Pennsylvania is set to certify their shit also today.
No wonder Miss Emily bailed.
And T-Rump's imbecilic lawyers are making him have a sad (h/t BJ):
President Trump is worried that his campaign's legal team, which is being led by his personal lawyer Rudy Giuliani, is comprised of "fools that are making him look bad," @NBCNews reports. https://t.co/Cc2hDTzAMT

— CNBC (@CNBC) November 23, 2020
You think?
From CNBC:
Trump is worried that his campaign's legal team, which is being led by his personal lawyer Rudy Giuliani, is composed of "fools that are making him look bad," NBC News reported Monday.

That group, which has unironically called itself an "elite strike force team," to date has failed to win any legal victories that would invalidate votes for Biden, the former Democratic vice president, even as they tout wildly broad claims of fraud for which they have offered no convincing evidence.

On Sunday, one of the team's members, conspiracy theorist Sidney Powell, was effectively fired after suggesting — again without any proof — that the Republican governor and secretary of state of Georgia were part of a plot to rig the election for Biden.

Powell's ouster came days after she made similarly over-the-top claims at a press conference at the Republican National Committee headquarters in Washington.

Trump has complained to White House aides and outside allies about how Giuliani and Powell conducted themselves at that event, NBC reported.

On Sunday before Powell got the axe, former New Jersey Gov. Chris Christie, a close Trump ally and former top federal prosecutor, called the president's legal team a "national embarrassment."

But when asked why Trump doesn't fire Giuliani and other attorneys who remain on the team, a person familiar with the president's thinking gave a profane shoulder shrug of an answer.

"Who the f— knows?" that person said to NBC News.
Most-mainly is because T-Tump is an idiot.
Side note — a most-excellent related piece in a different setting is one this morning at Lawyers,Guns&Money by Eric Loomis, who has a regular feature visiting graves of the famous and infamous in cemetaries all over the country. Great stuff, interesting historical figures way-past, and recent. The burial site today was Vito Genovese, a friggin' brutal asshole involved in the nastiest aspects of organized crime, killing people right-and-left — most-likely strangled (or had strangled) his second wife's husband (she was married to the guy at the time, and Vito married her 12 days after the murder). Nice guy.
Anyway, in certain aspects the T-Rump is a monster like Genovese, a cruel, turn-on-you-in-a-second bully. He'd kill, or have you killed, if he could get away with it.
Genovese is buried in Saint John Cemetery, Queens, New York.
The T-Rump was born at Jamaica Hospital Medical Center, also in Queens,
Just saying…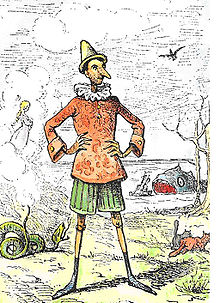 (Illustration: 'Pinocchio,' by Enrico Mazzanti (1852-1910), found here).