In this high-tech, social-media world, it's not really surprising a new study shows the impact of T-Rump's massive deception tactics on the faint of brain — since he's been off Twitter, misinfornation online has way-dropped;
(Illustration by Christopher Weyant, The Boston Globe, and found here).
Leader of the free world, and the unfree world as well, in lies and bullshit, the T-Rump is way-widely known as an enormous perpetrator of misinformation and deceit, yet it's staggering how much he blows — from The Washington Post this morning:
Online misinformation about election fraud plunged 73-percent after several social media sites suspended President Trump and key allies last week, research firm Zignal Labs has found, underscoring the power of tech companies to limit the falsehoods poisoning public debate when they act aggressively.

The new research by the San Francisco-based analytics firm reported that conversations about election fraud dropped from 2.5 million mentions to 688,000 mentions across several social media sites in the week after Trump was banned from Twitter.

Election disinformation had for months been a major subject of online misinformation, beginning even before the Nov. 3 election and pushed heavily by Trump and his allies.

Zignal found it dropped swiftly and steeply on Twitter and other platforms in the days after the Twitter ban took hold on Jan. 8.
…
"Together, those actions will likely significantly reduce the amount of online misinformation in the near term," said Kate Starbird, disinformation researcher at the University of Washington.
"What happens in the long term is still up in the air."
…
Researchers have found that Trump's tweets were retweeted by supporters at a remarkable rate, no matter the subject, giving him a virtually unmatched ability to shape conversation online.
University of Colorado information science professor Leysia Palen declared in October, after months of research: "Trump's amplification machine is peerless."

"Bottom line is that de-platforming, especially at the scale that occurred last week, rapidly curbs momentum and ability to reach new audiences," said Graham Brookie, director of the Atlantic Council's Digital Forensic Research Lab, which tracks misinformation.
"That said, it also has the tendency to harden the views of those already engaged in the spread of that type of false information."
And like COID-19 and maskless shitheads: 'Disinformation researchers consistently have found that relatively few accounts acted as "superspreaders" during the election, with their tweets and posts generating a disproportionate share of the falsehoods and misleading narratives that spread about election fraud, mail-in ballots and other topics related to the vote.'
And a hand-in-hand companion piece:
It was hard, but I've picked the 15 most notable lies of Donald Trump's staggeringly dishonest presidency: https://t.co/vzYC1Cajoe

— Daniel Dale (@ddale8) January 16, 2021
Dale's list is at CNN, and this one of my favorites (there's so many choices), which revealed the weight of one asshole's lying:
Trump tweeted in 2019 that Alabama was one of the states at greater risk from Hurricane Dorian than had been initially forecast. The federal weather office in Birmingham then tweeted that, actually, Alabama would be unaffected by the storm.
Not great, but fixable fast with a simple White House correction.
Trump, however, is so congenitally unwilling to admit error that he embarked on an increasingly farcical campaign to prove that his incorrect Alabama tweet was actually correct, eventually showcasing a hurricane map that was crudely altered with a Sharpie.

The slapstick might have been funny had White House officials not leaped into action behind the scenes to try to pressure federal weather experts into saying he was right and they were wrong.
The saga proved that Trump was not some lone liar: he was backed by an entire powerful apparatus willing to fight for his fabrications.
Reveal the huskter in life, or just the asshole behind the character/curtain:
"I can make 'em eat dog food, think it's steak…"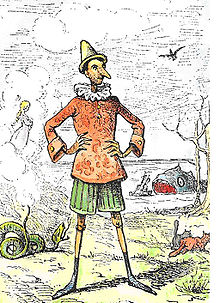 (Illustration: 'Pinocchio,' by Enrico Mazzanti (1852-1910), found here).