(Illustration found here).
Another mass murder event — 10 killed yesterday at a Boulder, Colorado, grocery store — three days ago, one killed, five injured at a Philadelphia house party, and last week, of course, eight killed at a couple of spas in Atlanta, as we return to 'normal' after a lockdown pandemic year.
'Normal' my fucking ass.
The problem is a small slice of American gun-nuts — via Vox this morning:
The US has by far the highest number of privately owned guns in the world.
Estimated for 2017, the number of civilian-owned firearms in the US was 120.5 guns per 100 residents, meaning there were more firearms than people.
The world's second-ranked country was Yemen, a quasi-failed state torn by civil war, where there were 52.8 guns per 100 residents, according to an analysis from the 2018 Small Arms Survey.
…
That does not, however, mean that every American adult actually owns guns.
In fact, gun ownership is concentrated among a minority of the US population, as surveys from the Pew Research Center and General Social Survey suggest.
…
And American gun ownership is beyond anything else in the world.
At the same time, these guns are concentrated among a passionate minority, who are typically the loudest critics against any form of gun control and who scare legislators into voting against such measures.
Worse, those 'scared' assholes are Republican assholes:
Excellent analogy, Sen. Kennedy.

Let's have licensing, registration, and insurance requirements for firearms like we do for cars. https://t.co/pKIadqSdDk

— Miranda Yaver, PhD (@mirandayaver) March 23, 2021
Of course, nothing will happen. There's a long history of zero action after a mass shooting, outside of a lot of thoughts and prayers, and long-winded bullshit about gun ownership and so forth will come, but actual needed laws for control of these useless attacks will drivel-down to silence in a few days.
And it's fucking Republicans — per BuzzFeed this afternoon:
GOP senators on Tuesday framed gun control as part of a long and racist history of restricting the rights of minority groups during a Senate Judiciary Committee hearing on gun violence.
While they still put forward traditional arguments that gun laws infringe on Second Amendment rights and punish law-abiding gun owners, much of their questions to witnesses focused on minority communities needing guns to protect themselves.

"Very often, inevitably in American history but even prior to American history, we've seen it's rarely the empowered, very rarely the wealthy or those with political connections to the government, who have their rights interfered with," said Republican Sen. Mike Lee.

"Thoughts and prayers alone are not enough. We need action," said Sen. Ted Cruz at Tuesday's hearing, echoing the words usually spoken by Democrats when calling for politicians to move beyond mere condolences to shooting victims.

In fact, Cruz was making an argument against measures like universal background checks and an assault rifle ban, calling it "ridiculous theatre where this committee gets together and proposes a bunch of laws that would do nothing to stop this violence."
He was talking about action on his own legislation, a much more limited plan that centers on increasing funding to law enforcement.
Cruz is a pure-piece of shit:
Sen. Ted Cruz (R-TX): "I agree it's a time for actions and by the way, I don't apologize for thoughts or prayers … and the contempt of Democrats for prayers is an odd sociological thing." pic.twitter.com/phILTGoTSA

— The Recount (@therecount) March 23, 2021
WTF does he mean with the 'sociological' thing. Cruz hasn't a clue on the functioning of human society. An American society which unlike the rest of the whole-wide world has to go through this horrific shit day-in-and-day-out over the last three decades, with no end in sight.
What do we do? Continue on, wait until the next mass murder incident, rinse and repeat?
Robin Givhan at The Washington Post, also this afternoon, took a view on the short-term mental mourning of Americans for victims of gun violence — go read the whole piece, pretty insightful.
Some snips:
In the days after a mass shooting, the nation mourns and those who died are named. The hearts of our elected officials have been broken so many times that surely they must be in shards by now.
The flags are lowered to half-staff. And the president speaks. Joe Biden, a man who is expert at consoling, did the best that he could to say something true that did not sound like a cliche.

"I even hate to say it because we're saying it so often: My heart goes out. Our hearts go out for the survivors, the — who had to — had to flee for their lives and who hid, terrified, unsure if they would ever see their families again, their friends again," Biden said Tuesday afternoon from the State Dining Room.
"The consequences of all this are deeper than I suspect we know. By that, I mean the mental consequences — a feeling of — anyway, it just — we've been through too many of these."

The images from these shootings can be gut-wrenching. In video and still images, people see shellshocked survivors pouring out of the school, the night club and, this time, the grocery store. There's blood in these images, sometimes even the blurred image of one of the deceased.
There's nothing sanitized about them. The shooting may happen behind closed doors, but the death is in the open. The terror rises off the survivors like a stench; the sound of fear reverberates.
Numbers are just numbers, even with more than half-a-million Americans dead from COVID-19, are we numb:
If that number is too big for people to grapple with, what is the right number? What number is small enough that each death touches the heart and therefore motivates people to act, to be better?
Is it 58 — the number of people a man shot at a Las Vegas country music festival in 2017? Is it 49 — the number who were shot in Orlando's Pulse nightclub in 2016?
Or perhaps the motivating number is nine, which accounts for those who were shot in Charleston during a prayer meeting.
Is it eight — the number who were shot in Georgia just last week? It surely can't be one because there are singular deadly shootings in communities all too often and still nothing happens.
Nothing.

We have not gone numb to death. To "go numb" suggests that once there was feeling, once there was sensitivity.
When was that? Perhaps it was back in 1968 when, after the deaths of John F. Kennedy, Martin Luther King Jr. and Robert F. Kennedy, Congress passed gun laws that formed the basis of federal regulation that has been regularly eroded and only occasionally strengthened.
We haven't cared for a long time. Not when the dying were schoolchildren, people in the midst of prayer or contented folks just living quiet lives.
…
We are not numb to death. We stubbornly, selfishly dismiss it. We shake it off.
But there is always an assault that has the capacity to bring an individual low. Some bracing gut punch that stings and startles.
The pain might finally register in a way that is deep and lasting. And that person begins to feel something.

But that may require death coming directly to their own doorstep, since that's the only one that, for many of us, seems to matter.
And to one where death came close it matters, and she cries out:
Today it's a tragedy in Boulder, Colorado. This past weekend it was a house party in Philadelphia. And last week it was an armed attack on Asian American women in the Atlanta area. It doesn't have to be this way. It's beyond time for our leaders to take action.

— Gabrielle Giffords (@GabbyGiffords) March 23, 2021
A terrible, heart-wrenching time…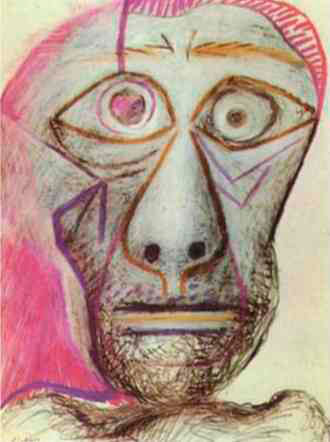 (Illustration: Pablo Picasso's 'Self Portrait Facing Death' (June 30, 1972), was originally found here)