Bullshit is part-and-parcel of life it seems, but new research seems to indicate an ability to bullshit effectively is 'an honest signal of intelligence' — science debunks bunk?
The study originated from the Departments of Psychology at the University of Waterloo, Ryerson University, and the University of Guelph, all in Ontario, Canada. and published today at Saga Journals — from the Abstract:
Bullshitting, communication characterised by an intent to be convincing or impressive without concern for truth, is ubiquitous within human societies. Across two studies (N = 1,017), we assess participants' ability to produce satisfying and seemingly accurate bullshit as an honest signal of their intelligence.
We find that bullshit ability is associated with an individual's intelligence and individuals capable of producing more satisfying bullshit are judged by second-hand observers to be more intelligent.
We interpret these results as adding evidence for intelligence being geared towards the navigation of social systems.
The ability to produce satisfying bullshit may serve to assist individuals in negotiating their social world, both as an energetically efficient strategy for impressing others and as an honest signal of intelligence.
And a pair of snips from the study — first, the overall position of bullshit on society:
On this basis, it has been hypothesized that bullshit can be used to gain a competitive advantage in any domain of human competition where the criteria for determining who succeeds and fails at least partially relies on impressing others.
In this way, bullshit may serve as an honest signal of a person's intelligence (and therefore their fitness), even though the specific content of the bullshit itself may be false.
And the eventual slap-down: 'For example, a person who is capable of producing good bullshit may be perceived as especially charming, convincing, or competent as long as their deception is left undiscovered.'
Shit then hits the fan, no bull.
Even when dumb, the shit is bull:
wow if you can't trust a mercenary group called cyber ninjas to count to 200 who can you trust https://t.co/EKrvblIV1N

— kilgore trout, junky horse (@KT_So_It_Goes) May 17, 2021
As in Arizona and the idiot vote recount that's been called "a grift disguised as an audit" — via The New York Times this evening:
The senior Republican in Maricopa County, Jack Sellers, the chairman of the board of supervisors, said flatly that the county would stop cooperating with the review and suggested that it would challenge in court any of its conclusions that pointed toward improprieties.

"This board is done explaining anything," Mr. Sellers said at a special meeting of the five-member board, four of whose members are Republicans.
"People's ballots and money are not make-believe. It's time to be done with this craziness, and get on with this county's critical business."

It was an extraordinary pushback to an election review that was supposed to placate voters who insisted that Donald J. Trump's narrow loss in the state was a result of fraud, but which has mushroomed into a political spectacle with what experts call serious procedural lapses.
Or bullshit exposed: '"I will not be responding to any more requests from this sham process," he (Sellers) said.
"Finish what you call an audit and be ready to defend your report in a court of law. We all look forward to it."'
Republicans bullshit, but doesn't reveal any kind/level of intelligence.
And a push back:
Yeah…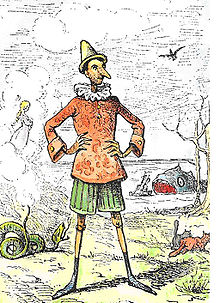 (Illustration: 'Pinocchio,' by Enrico Mazzanti (1852-1910), found here).