Delusion apparently is the centerpiece for the Republican party, grafted from outlandish lies and spread like a virus to the low-mental nit-twits who form the bottom of the MAGA-hatters crowd — and America is in danger because of it.
Despite tons of evidence to the way-contrary, a majority of GQPers dwell inside a mirage:
A new #poll conducted between May 17-19, 2021 finds that over half of #Republicans believe Donald #Trump is the actual President of the United States. https://t.co/i07sewMSVX pic.twitter.com/Z1qZPJ1O34

— Ipsos US (@ipsosus) May 21, 2021
In the Ipsos/Reuters poll released last Friday, not only do 56-percent of Republicans still believe T-Rump is the actual president, but a mass-chunk also think other unhinged shit, too — via Newsweek yesterday:
Eighty-seven percent of Republicans surveyed said it's important for the government to place new limits on voting to protect future elections from fraud, and 54-percent agreed the Capitol riot was led by "violent left-wing protestors trying to make Trump look bad."
One-quarter of Americans from all political affiliations said they think Biden's victory was the result of illegal ballot-counting or election rigging, compared to a 55-percent majority overall who say it was "legitimate and accurate."
Despite the fanatical and unfounded claims otherwise, Trump lost to Biden by large margins in both Electoral College votes and the popular vote.

Fewer than one-third of Republicans, 30-percent, said they are confident that absentee or mail-in ballots were accurately counted during the November presidential election.
By comparison, an overwhelming 86-percent majority of Democratic Party voters said they believe such votes were counted with accuracy.
Thirty-nine percent of Republican respondents said they "strongly agree" that the 2020 election was stolen from Trump.
…
Looking ahead to 2024, nearly two-thirds of Republican-leaning voters said they think Trump should run for president again during the next election.
Only 12-percent of Republicans said they strongly agree that Trump played some role in the deadly January 6 U.S. Capitol insurrection.
A grave concern from all this insane shit is violence. Remember, these people have a torch-song of 'fuck your feelings,' which also means violence, or the threat of it.
Michael Gerson at The Washington Post last Thursday grappled with an American political party now hosted by violence:
If Trump has a political philosophy, one of its main tenets is toxic masculinity — the use of menace and swagger to cover his mental and moral impotence. And the mini-Trumps have taken their master's lead.
When Trump operative Stephen K. Bannon proposed that Anthony S. Fauci should be beheaded, when Trump ally Joseph diGenova said a federal cybersecurity official should be "taken out at dawn and shot," when Trump lawyer Rudolph W. Giuliani urged Trump supporters to engage in "trial by combat," all of this was more than paunchy, pathetic, aging White men talking smack they could never back up.
It exemplified a type of politics where cruelty is the evidence of commitment, brutality is the measure of loyalty and violence is equated with power.
And to drive that point home — as in Congress-people returning home for the Memorial Day break with violence on their minds. In a report earlier this month from the US Capitol Police: 'As the Department has previously reported, the number of threats made against Congress has increased significantly. This year alone, there has been a 107-percent increase in threats against Members compared to 2020. Provided the unique threat environment we currently live in, the Department is confident the number of cases will continue to increase.'
Also this afternoon, The Washington Post story on the subject had this lede: 'As House members head out of Washington for three weeks, anger at each other is turning into fear of what could await them back home.'
Maybe not to worry — just laugh in fright on doing it your way:
OMG CICELY STRONG pic.twitter.com/gidMYhRvnv

— Charlotte Clymer ???? (@cmclymer) May 23, 2021
"Yes, there were times I'm sure you knew
When I bit off more than I could chew…"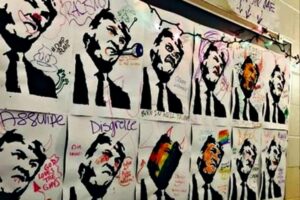 (Illustration is of a New York state high-school student exhibit: 'The piece was displayed during student-driven art show at Shenendehowa High School. It consisted of at least 12 identical black-and-white pictures of Donald Trump. There was also a sign above the pictures that read, "Draw on Me." Using markers from the art classroom, some students opted to scribble critical messages and profanities on the pictures' — and found here).