So far this Friday morning there's at least two major news stories rolling out, both have current significance as well as somewhat longer-range connotations. Oddly, too, the pair also should be of no big surprise.
Shock maybe with the overriding lead item (Washington Post): 'At least 159 people are unaccounted for following a condo building's sudden collapse in Surfside, Fla., near Miami Beach, officials said Friday. The search for survivors pushed into Friday morning as rain fell on the wreckage, where at least four people are dead. Authorities have braced for bad news of more deaths.'
A real-time humanity-horror story:
Video showing the building collapse from this morning? | #ONLYinDADE @wsvn pic.twitter.com/x8FzgvWAOU

— ONLY in DADE (@ONLYinDADE) June 24, 2021
Yet beyond the enormous, immeasurable tragedy, there's a future sinking in for places like Miami — climate change directly, or indirectly, and rising-sea levels, — a good-detailed piece on the subject at the Palm Beach Post this morning:
Saltwater and brine-soaked air settle into the pores of coastal construction, growing a rusty crust around the steel skeletons that reinforce oceanfront structures. It weakens the bonds between metal and concrete creating cracks and crumbles in vulnerable areas.

Some building experts wondered Thursday if that kind of environmental assault supercharged by climate change could have played a role in the catastrophic collapse at the 40-year-old Champlain Towers South Condo in Surfside, Fla.

"Sea level rise does cause potential corrosion and if that was happening, it's possible it could not handle the weight of the building," said Zhong-Ren Peng, professor and Director of University of Florida's International Center for Adaptation Planning and Design.
"I think this could be a wakeup call for coastal developments."

Sea level rise, the gurgle of more frequent king tide flooding, and changes in soil consistency or location are elements dealt with by any building on a barrier island.
…
A 2019 analysis by the National Oceanic and Atmospheric Administration found that high tide flooding the previous year broke records at more than a dozen locations, including Miami and Cedar Key on the Gulf Coast.
At the same time global sea-level rise is about 1 inch every eight years.

Between 2000 and 2017 alone, sea-level rise at the Key West tide gauge measured about 3.9 inches, according to the Southeast Regional Climate Change Compact's 2019 sea-level rise report.

South Florida's coastal waters could jump 10 to 17 inches by 2040 and 21 to 54 inches by 2070 above the 2000 mean sea level in Key West.
The long-term sea-level rise is predicted to be 40 to 136 inches by 2120, the report says. The compact stresses that South Florida's sea-level rise could be faster than the global rate because of a slowing of the Gulf Stream current.

"Climate change can play a role," said Atorod Azizinamini, chair of Florida International University's College of Engineering.
"It can cause settlement of the ground with sea level rise, and corrosion."
Or just a major construction fuck-up:
Eugenio Santiago, a structural engineer and former chief building official at the Village of Key Biscayne, isn't convinced rising seas or wet concrete had anything to do with Thursday's collapse.
He said the way the building "pancaked" makes him think it was the failure of a column holding up a slab of floor. When it fails, one slab punches through to the next in a chain reaction until it reaches the ground.
As I've written numerous times, the influence-word for climate change is 'exacerbate.' indirectly making shit worse.
Updates on the disaster at the Post, along with this tweet and story:
This is my son's friend David. He and his family live a block from the #SurfsideCollapse scene. This morning he handed out candy and soda to first responders. A small, simple act that really warmed my heart this morning. ???? @CBSMiami pic.twitter.com/RbM8gPtXOn

— Lauren Pastrana CBS 4 (@LaurenPastrana) June 25, 2021
Meanwhile, the other big feature in the news cycle is finally a federal DOJ legal challenge to Republicans' voter suppression laws hitting the books nationwide — way-about time, too, and with 'For The People Act" in limbo for the time being, the only real course against this anti-democratic shit;
Breaking WaPo: The Justice Dept. will file a federal lawsuit against the state of Georgia for its efforts to enact new voting restrictions that federal authorities allege discriminate against Black Americans, according to people familiar with the matter. https://t.co/jsITqWRqyq

— Kyle Griffin (@kylegriffin1) June 25, 2021
In the wake of the T-Rump's and mainstream GQPers Big Lie push, Republican-led states have tendered bills and passed laws which hamper voting by all kinds of ways, but especially hamstringing Black Americans in a diverse set of restrictions — in Georgia it's the shits, like new ID stipulations for absentee ballots, limits ballot drop boxes, and even makes criminal to give voters in line food or water.
Undoing that shit would have been 'For The People Act,' shot-down by Senate Republicans last Tuesday. As AG Merrick Garland said this morning: '"This lawsuit filed is the first of many steps we are taking to ensure that all eligible voters can cast a vote that all lawful votes are counted and that every voter has access to accurate information."'
Hopefully, this will just be the first of many against other states with asshold voting statutes — details on the Georgia filing from The Washington Post:
The legal challenge takes aim at Georgia's Election Integrity Act, which was passed in March by the Republican-led state legislature and signed into law by Gov. Brian Kemp (R).
The law imposes new limits on the use of absentee ballots, makes it a crime for outside groups to provide food and water to voters waiting at polling stations, and hands greater control over election administration to the state legislature.

The action came as GOP-led state governments across the country have been seeking to impose broad new voting restrictions in the wake of President Biden's victory over Donald Trump last November.
Trump has spent months waging a baseless effort to discredit the result, making false and unsubstantiated allegations of widespread voter fraud.
…
"Georgia experienced record voter turnout and participation rates in the 2020 election cycle. … This is cause for celebration," Attorney General Merrick Garland said in announcing the lawsuit.
Instead, he said, the Georgia legislature passed a bill whose provisions "make it harder for people to vote. The [federal] complaint alleges that the state enacted those restrictions to deny or abridge the right to vote on the basis of race or color."
Kristen Clarke, the head of the Justice Department's Civil Rights Division: "The Justice Department will not stand idly by in the face of unlawful attempts to restrict access to the ballot … Today's filing demonstrates our commitment to this cause."
And Garland reiterated: "We are looking at laws that were passed before and those that were recently passed … We will make the same judgments we made with respect to this one. We have a process for evaluating" each of the cases.
Also with that announcement this morning, Garland reported the formation of an effort to get a handle on dangerous shit happening to election workers and officials — more of the conservative/right-wing notion to cause one-sided chaos in voting:
The Justice Department has announced that it is launching a task force to address the rise in threats against election officials, according to a memo sent to all federal prosecutors and the FBI. https://t.co/foPSlpE1TF

— CNN (@CNN) June 25, 2021
Per the UK's Independent this morning:
The US Department of Justice will launch a task force to investigate "menacing and violent threats" against generally nonpartisan officials and volunteers who help run the nation's elections following an exodus of election workers and "alarming" reports of widespread threats stemming from election lies and right-wing disinformation.
Deputy Attorney General Lisa Monaco said 'Justice Department officials in the agency's civil rights and criminal divisions will work with the FBI to probe and prosecute threats.'
"The Department of Justice has a long history of protecting every American's right to vote, and will continue to do so," she said in a Justice Department memo.
"To that end, we must also work tirelessly to protect all election workers — whether they be elected officials, appointed officials, or those who volunteer their time –– against the threats they face."
…
That report also revealed that one in three election workers feel unsafe because of their jobs, and one in six workers have faced threats as they help run the nation's elections.

"All of this represents a mortal danger to American democracy, which cannot survive without public servants who can freely and fairly run our elections," the report says.
"We must ensure that they feel not only safe but also supported and appreciated for their vital efforts."
As was stated, this is a good start…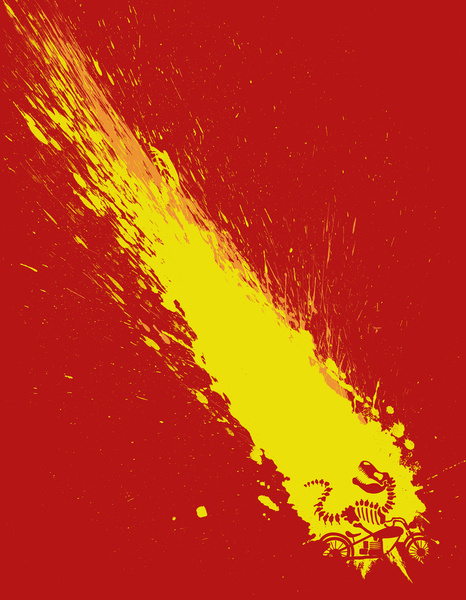 (Illustration out front: 'Meteor,' found here).